Kelly Taylor & Melly Magrath's THANK U, EX to Play 2023 FRIGID Fringe Festival at UNDER St. Marks
Join Violet as she exams her past relationships, kicks her exes to the curb and finds her way to self-discovery.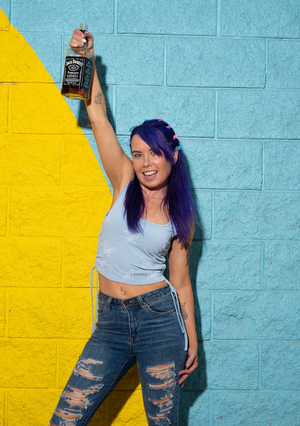 Mad Butterfly Creative will present Thank u, ex written by Kelly Taylor and Melly Magrath and directed by Madelaine Rose as part of the 2023 FRIGID Fringe Festival at UNDER St. Marks (94 St Marks Pl, New York, NY 10009) with performances on Feb 22 at 6:30pm, Feb 26 at 5:20pm, Feb 27 at 9:50pm, March 2 at 11pm, and March 3 at 9:50pm Tickets ($15) are available for advance purchase at www.frigid.nyc. The performance will run approximately 60 minutes
Thank u, ex is a coming of age story about a young girls journey through her love life. Bringing you 90's nostalgia forms of heartbreak, loss, love and of course the teenage mutant ninja turtles' delicacy, pizza! Join Violet as she exams her past relationships, kicks her exes to the curb and finds her way to self-discovery. Written and performed by Kelly Taylor.
Kelly Taylor
(Co-Writer/Performer) is a jill-of-all-trades who has extensive experience wearing many different creative hats. Hailing from a family of literal- clowns, comedy runs through this purple haired millennial veins. Kelly is a voice actor specializing in animation, a writer, a producer and an actor. Kelly creates comedy inspired by her zany life and engages her audiences through her personal flare and eternal optimism.
Melly Magrath
(Co-Writer) is a multidisciplinary artist from Toronto. Past credits include: Mulan (Director/ Beijing) Till Death Do Us Part The Musical (Writer/SBM Productions), The Life (SM/ Call it a Day Productions),Villains: An 80's Musical Cabaret (Director/Playwright/SBM productions), Wake and Smell the Coffee (Stage Manager/ Lowdown Theatre), Den of Thieves (Triple Bypass Company), Love You to Death (Director, Playwright/ SBM Productions), Death do us Part the Musical (SBM Productions), The Grid (Writer/Tree of Life Productions), Stuck in the Sky (Writer/ Daisy Productions). You can read Melly's passage by purchasing "The Stage Light Flickers" on Amazon by Emerson Arts and Pandamonium Publishing House.
Madelaine Rose
(Director) is a Toronto based actor, producer, and all around creative. She received her B.A in Drama Studies in 2015 from York University, and hasn't stopped learning since! While being in any theatre space will always feel like home to her, she has also begun expanding her experience into film as well, which is what made the digital piece of the project such a treat as it blended both worlds. She is forever grateful to her creative partner-in-art, Kelly Taylor, for continuing to trust her and challenge her as an artist, and giving her the opportunity to make her directorial debut with Thank U Ex! She is incredibly proud of Kelly, and the rest of the team that worked on this project, and hopes you enjoy the show!
Meredith Wolting
(Set & Props Design) is a theatre scenic painter, graphic designer, and illustrator. She loves musical theatre, and since studying set and costume design at York University, she has been busy building dragons, painting forests, and creating castles to come alive on the stage. Meredith also paints custom murals for homes, leads workshops for young artists, and illustrates children's books. She recently illustrated The A-G Piano Book Series, a brand new series full of fun songs to help beginners learn to play the piano!
FRIGID Fringe Festival is an open and unjuried theatre festival that gives artists an opportunity to let their ingenuity thrive in a venue that values freedom of expression and artistic determination. In true support of the Indie Theater Community, 100% of box office proceeds go directly to the artists whose work is being presented. FRIGID is here to chill out the New York independent theatre scene's ideas of what a theatre festival can be! www.frigid.nyc