Clubbed Thumb's Fall Developmental Lineup to Feature Eliza Bent And More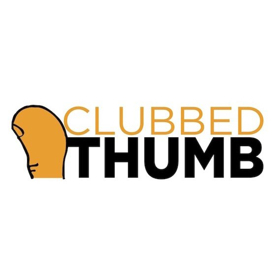 Five-time Obie Award-winning theater company Clubbed Thumb (Maria Striar, Producing Artistic Director; Michael Bulger, Associate Artistic Director) is proud to announce upcoming developmental projects and opportunities for Fall 2018.
This summer, Clubbed Thumb, with the support of the Howard Gilman Foundation, will offer a new commissioning initiative for writers of color, which will include an open-application commission. This commission, like Clubbed Thumb's Biennial Commission, will be read blind by a panel of artists and Clubbed Thumb staff. The selected proposal will receive a $15,000 commission (or two winners may split the award if the panel so elects). The application is now live at www.clubbedthumb.org, the deadline for submissions is Monday, October 8th at 11:59pm.
In September, Clubbed Thumb will collaborate with Playwrights Horizons Theater School on a workshop production of INDEED, FRIEND! written by Eliza Bent (Aloha, Aloha Or When I Was Queen) and directed by Knud Adams (Tin Cat Shoes). INDEED, FRIEND! will feature a cast and design team of PHTS / NYU alumni. Performances will take place September 12-15 in the Robert Moss Theater at Playwrights Downtown. Tickets are $15, or free for NYU students, and will go on sale on August 20 at www.clubbedthumb.org.
Clubbed Thumb is also proud to announce the 2018/19 Directing Fellows: Tara Ahmadinejad, Sarah Blush, and Kate Eminger. This fall, they'll partner with playwrights Sarah Einspanier, Amina Henry and Bryna Turner to work on new plays with student actors from Playwrights Horizons Theater School. These new plays will be presented with professional casts at the fourth annual WINTERWORKS in January 2019. In addition to Playwrights Horizons Theater School, the Directing Fellowship is supported by Piece by Piece Productions and Jody Falco & Jeffrey Steinman.
SUMMERWORKS 2018 ran May 19 through June 30 at The Wild Project, located at 195 E. 3rd Street. World premiere productions included TIN CAT SHOES by Trish Harnetiaux and directed by Knud Adams, WILDER GONE by Angela Hanks and directed by Margot Bordelon and PLANO by Will Arbery, directed by Taylor Reynolds.
With its track record for discovering and supporting new playwriting talent - in many cases providing writers with their very first production in New York or anywhere - SUMMERWORKS is one of the most eagerly anticipated theatrical offerings of the year.
Highlights from the previous 22 festivals include the NYC premieres of Gina Gionfriddo, Jordan Harrison, Lisa D'Amour, Jason Grote and Sarah Ruhl; professional debuts of Rinne Groff, Sylvan Oswald, Clare Barron, Susan Stanton and Ariel Stess; and new works by Anne Washburn, Adam Bock, Gregory Moss, Jenny Schwartz, Ethan Lipton, Erin Courtney, Sheila Callaghan, Tanya Saracho, Jaclyn Backhaus, and Heidi Schreck, whose production of WHAT THE CONSTITUTION MEANS TO ME recently ran at Berkeley Repertory Theatre, and will play at New York Theater Workshop this fall. All of these artists continue to make Clubbed Thumb an artistic home.
Past SUMMERWORKS directors include Pam MacKinnon, Lee Sunday Evans, Lear deBessonet, Anne Kaufman, Davis McCallum, Leigh Silverman, and Ken Rus Schmoll.
Clubbed Thumb commissions, develops and produces funny, strange and provocative new plays by living American writers. Since its founding in 1996, the company has earned five Obies including the Ross Wetzsteon Award for sustained artistic excellence. We have presented plays in every form of development, including almost 100 full productions.
Clubbed Thumb is supported in part by public funds from the National Endowment for the Arts, the New York State Council on the Arts with the support of Governor Andrew Cuomo and the New York State Legislature and the New York City Department of Cultural Affairs. Additionally, Clubbed Thumb receives major support from the Andrew Mellon Foundation, the Harold & Mimi Steinberg Charitable Trust, the Howard Gilman Foundation, the Shubert Foundation, the Jerome Robbins Foundation, SEG Voices, and the Mental Insight Foundation.
FOR MORE INFORMATION