Review: The Curtain Falls On Musicals Tonight! With Hilarity and Warmth In CALAMITY JANE: A MUSICAL WESTERN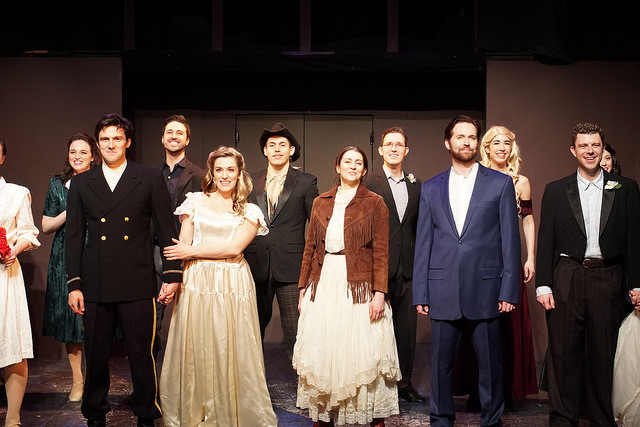 Often described as an off-Broadway (or off-off Broadway) version of Encores!, Musicals Tonight! presents its 100th and final production, CALAMITY JANE: A MUSICAL WESTERN, at the Lion Theater. Currently in its 20th season, the series received a Village Voice Obie award and grant in 2004. Unlike other revivals which substantially alter old musicals to appeal to modern audiences, Mel Miller's brainchild and labor of love allows a new generation to enjoy the lesser-known works of Cole Porter, Rodgers and Hart, and the Gershwins, among others, in their original form.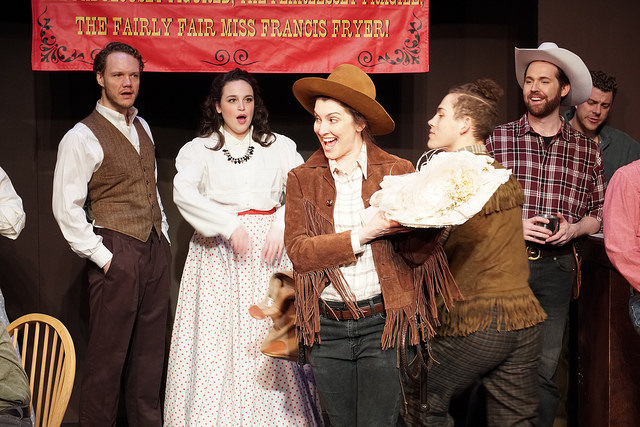 It's fitting that Musical Tonight! concludes with a Western-themed work, both because the series often revives obscure or forgotten musicals pre-Oklahoma!, and because that musical represents a turning point in musical comedy, which is generally regarded as America's unique contribution to the art of theater.
Given its rare, valuable place in New York's theatrical landscape over the past two decades, it's worth paying tribute to Mel Miller and reviewing the history of Musicals Tonight! for younger fans. (I was surprised to learn that an opera-trained, MAC-winning cabaret performer in New York 15 years hadn't heard of Musicals Tonight!, though she did know about the current production of CALAMITY JANE.)
A graduate of Bronx Science, Miller had no theater background. He doesn't hail from a showbiz family and once said his mother "knew bupkis" about theater. A chemical engineer educated at Columbia, Miller received his M.B.A. from Xavier in Ohio and worked in corporate America for decades. After seeing Fiddler on the Roof on Broadway, Miller immersed himself in musical theater. Encouraged by the response to Encores!, the unassuming yet gregarious New Yorker with no qualms about enlisting the help of family and friends, founded the series that put on an astounding five shows a season on a shoestring budget.
Early installments, which were staged concerts rather than full-scale productions, ran at the modest 14th Street Y. As Roslyn Kramer described the series in 2002, "At
Musicals Tonight!,
you'll have to sit through some wobbly moments by inexperienced performers and eye-rolling run-ins with ossified plot and script lines. Yet a generous mindset will be rewarded by energetic and charismatic talent, surprisingly snappy dialogue, and those breathtaking songs. There's even an occasional dance routine, all for the low price of $19 dollars a ticket!" Cut to 2018. The performers are no longer inexperienced; many have performed in national tours of Broadway shows and nearly all boast an extensive list of off-Broadway and major regional credits.
Emily Larger
, who is spectacular as Adelaide Adams--the Chicago chanteuse Calamity Jane (ably played by
Kristin Wetherington
) travels from Deadwood City to retrieve--appeared in national tours of
Elf the Musical
(Kennedy Center,
Madison Square Garden
),
The 39 Steps,
and
Cabaret.
The phony, ruthless Adelaide provides a nice foil to the straight-talkin', gun-totin' Calam', a proto-feminist who dresses like a man and resists gender norms but secretly holds traditional desires for marriage and family. Both emerge when Katie (Rosalie Burke) moves into her unadorned cottage, more like a bachelor pad than a spinster's lodgings. The difference a tablecloth and photographs on a hearth can make!
The dance routines are no longer sporadic or perfunctory. The choreography by director Devin Vogel, with help from Christian Brown, is far more elaborate than in most productions of this scale. Not, in other words, a few kick ball changes followed by unimaginative, clunky, and repetitive pas de buerre. The high-energy ensemble combinations include double attitude turns, respectable tours (by the gents), strong jumps, high kicks, and complex footwork executed with relative levels of skill by the cast of sixteen, a few of whom clearly have real jazz and ballet training.
The songs remain breathtaking--and beautifully delivered. Without naming names, I can think of a few original Broadway and off-Broadway musicals written by well-known lyricists (and featuring Broadway stars) in the past two or three years, without a single song I wanted to hear again (either for an interesting lyric or a catchy melody).
Not every number in CALAMITY JANE: THE MUSICAL is a hit, but the vast majority of songs written by Paul Francis Webster, with music by Sammy Fain, are clever and entertaining. After a lackluster opening number ("The Deadwood Stage"), comes "Careless With The Truth," with the memorable chorus: "She's not exactly lyin'/But she's careless with the truth."
Other highlights in Act I include "I Can Do Without You," "Adelaide Ballet," and the riotously funny "It's Harry I'm Planning to Marry." "Men," featuring Calamity, Jo (Emily Larger in her second role), the Adelaide-impersonator Katie, and Susan (Alexis Kinney), is a riotously funny but good-natured rant about the maddening characteristics of the male sex. The harmonies are particularly strong in the all-male or all-female numbers, thanks to strong musical direction and vocal arrangements by Nevada Lozano.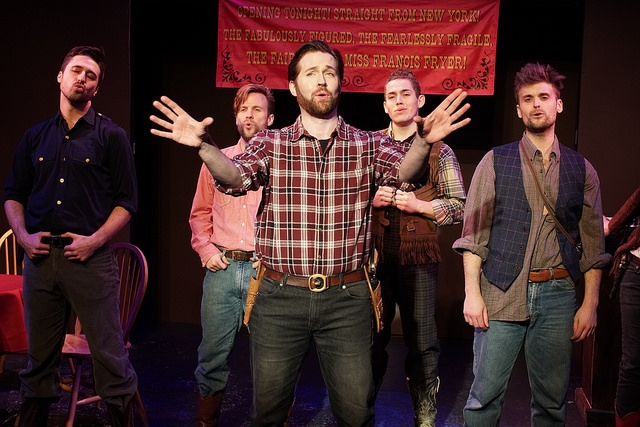 "Secret Love," which appears near the end of the show, was the musical's most famous song, though I have no idea why, as it's one of the show's dullest songs. Far more imaginative and moving is "High Hopes," sung poignantly by Jordan Bell (who plays Francis Fryer, a male performer mistakenly believed to be female and brought to perform at The Golden Garter), Susan (the dim but earnest niece of the none-too-bright Henry, the club owner), and Katie (Burke). "Hive Full of Honey," with Bell in drag is silly fun, as are the mistaken identity moments involving Katie and the Deadwood City clan.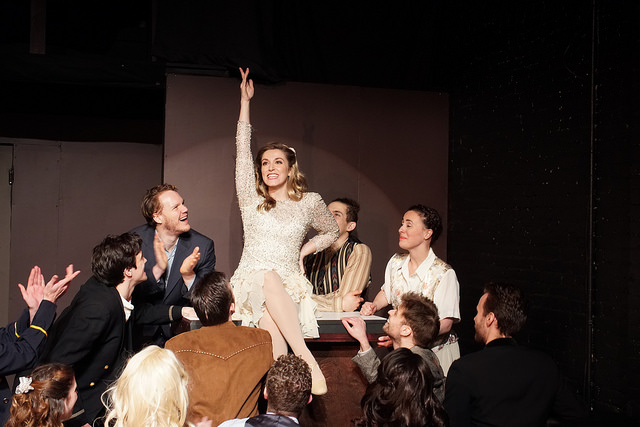 As for the story itself, CALAMITY JANE: A MUSICAL WESTERN (which runs two hours and fifteen minutes including the intermission) never lags. Full disclosure: I have no use for Westerns (literary or theatrical) and find Oklahoma both hokey and tedious, though I do like "O What a Beautiful Morning." But the characters and plot of this by-comparison unknown musical are to me far more sophisticated and therefore enjoyable than Oklahoma!.
Don't buy a ticket to CALMITY JANE: A MUSICAL WESTERN because it's the final installment of
Musicals Tonight!.
Buy a ticket because it's a worthy musical skillfully rendered by a talented, cohesive cast clearly having a ball (even before the actual ball to which Calamity wears a ridiculous, frilly dress!).