BWW Review: KINK HAÜS at La MaMa is a Rad, Dizzying Spectacle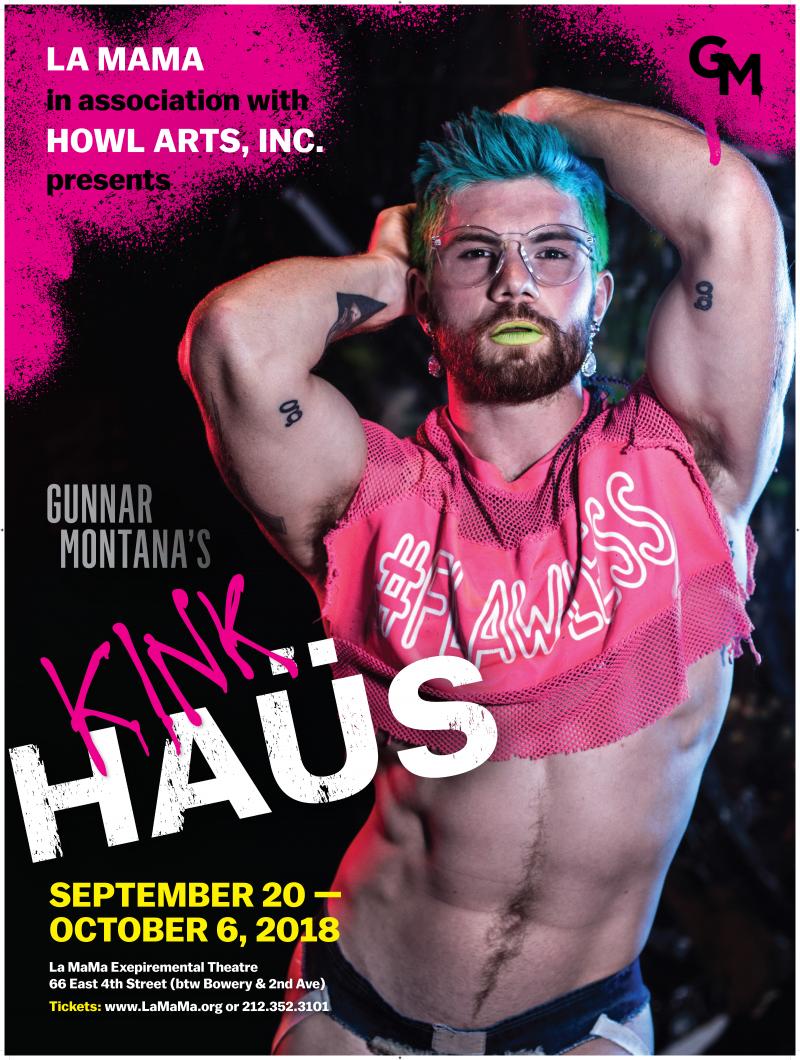 La MaMa is opening its 57th season with a crowd-pleasing bang by presenting Gunnar Montana's totally rad and dizzying performance art and dance spectacle KINK HAÜS. The piece and its creator are making their New York City debuts after a slew of positive notices in Philadelphia. This performance is just the kind of ebullient combination of high brow ballet principles and techniques mixed with low brow hedonism all played through a kaleidoscope of the futuristic punk trash aesthetic from 80s B movies that is sure to leave audiences spellbound and screaming for more.
Once you step past the red door in the lobby of LaMaMa and start to descend down the stairs to their basement theatre space, you have entered the mind of Montana. He has swapped out the standard lighting with blue and pink tubes, casting warm, neon glows that embrace you and enfold you in the aura of the show. The downstairs lobby features glowing, neon solo cups and straws littered about, and a large-scale painting of a woman in black leather dominatrix bunny drag. It all feels like your crashing a seedy nightclub after its been raided. But, once the doors open to the seating area, it becomes abundantly clear you haven't missed the party.
Likewise, Montana's installation for the theatre includes distressed couches and arm chairs that have been spray painted with queer friendly catchphrases (think "Yasss Bitch!"), large murals of men kissing men, street graffiti, and more. Every detail of the ambient scenic designs from Oona Curley is perfectly attended to and ensures that this experience - because show truly seems too small a word - envelops you in its ostentatiously gritty yet inviting environs.
Then, the lights dim, and the extravaganza begins. The show opens with a runway presentation that makes Fashion Week seem sexless, blandly wholesome, and entirely virginal in compassion. Gunnar Montana and his cast stomp the stage in looks clearly inspired by the worlds of drag and punk. These are outfits that are also touched by their unique imaginations and made complete with surprisingly glamourous kink couture. Leather, pleather, rubber, mesh, heels, glitter, feathers, and even a sexy Papal figure all take the stage to transport the audience to a deftly entertaining dimension where sex positivity reigns supreme.
After the opening bit, classical dance modalities are often vividly danced with gasp eliciting perfection while meeting titillating and lust educing burlesque head-on through a series of skits for the remainder of the all too brief 55-minute performance. CJ Coleman presides over the evening as DJ, turning beats while the cast turns both looks and heads. Avi Borouchoff revels in his youthful beauty and perfectly sculpted dancer's body as he writhes and acrobatically flies about gym equipment, leaving not one dry mouth in the house. Jessica Daley and Frank Leone introduce us to two rambunctious party monsters with an unyielding appetite for a certain powdery substance as they tumble and dance around a mound of the stuff. Dylan Kepp impeccably slays a lip-synch to "I Need a Hero," with back up from the rest of the cast. This joyous celebration of queer identities is so uplifting and powerful that you can actually feel the soul and bones of the East Village reverberating its message through the walls of the theater.
However, what goes up must come down, and in the show's first heart wrenching display, a straight-acting and masculine visage played by Montana runs Kepp off stage with the ominous threat of physical violence. Then, Montana is joined by a rougher and rugged character danced by Borouchoff to showcase the danger and violence of toxic masculinity that melts into violently rough sexual foreplay set to a slowed, evocative cover of "I Need A Hero."
Never fear, the reverie kicks back into full swing though. Stephi Lyneice enters the venue in a cherry red vinyl jacket, accompanied by two humans as pups before doing a burlesque segment that shifts into a sensual oil dance. Montana returns in delightful patriotic drag to deliver a rousing lip-synch of "God Bless America" that serves as a potent reminder of how much we take our freedoms to be openly and unabashedly queer in this country for granted. Daley returns to the stage for a solo dance with a bathtub that causes literal sparks to fly. The full cast brings the party to an all-time high with a spirited club scene set to Robin's "Dancing on My Own." Lastly, Leone closes the show with a glorious interpretive dance to a male cover of "Dancing on My Own," that examines how lonely, isolating, and unfulfilling existence, especially gay and queer existence, can be at times.
With an incredible attention to detail, Montana's choreography and direction for KINK HAÜS takes audiences on a whirlwind ride through the highs and lows of queer life in a 55-minute performance that seems to pass in a mere 55 seconds. However, I suspect that with the panoply of eye candy presented by the cast, there is not a single person that won't find themselves drawn in by at least one of the cast members and ultimately witness experiences or even just fleeting feelings from their own lives represented and portrayed on that stage. Rooted in the queer experience, KINK HAÜS finds its wings through masterfully exploiting the shared experiences of lust and desire.
KINK HAÜS runs at La MaMa through October 6, 2018. For tickets and more information, please visit http://lamama.org/kink_haus. Also, please be advised, the performance does contain nudity.