BWW Review: ACCIDENTALLY BRAVE at DR2 THEATRE
"A crisis is a terrible thing to waste," says Paul Rober, Stanford Economist. I doubt he had Maddie Corman in mind, but his statement certainly applies to her one woman show "Accidentally Brave." Written and performed by Ms. Corman, this story is something no one would ever want to experience. She doesn't waste a truly horrific crisis by any means!
Everything starts when her daughter calls her as she's on the way to her latest movie set. Being a mother myself, I always experience a jolt when I see any of my children's caller IDs, but I cannot even begin to imagine the news Corman received: her husband's computer was being confiscated due to his downloads of children performing lewd acts.
The harrowing plot unfolds as this dad and husband--Jace Alexander of SVU directing fame--is led away handcuffed in front of his daughter and two twin sons. The façade is shattered; life in Westchester, NY as a seemingly perfect nuclear family is over.
Throughout the piece, Ms. Corman embodies the characters in her narrative, including her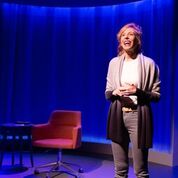 children, friends, therapists, and an Angel who gets her to completely own the situation. This includes everything from moving away from life as she once knew it to being cast as a pariah in some of her children's inner circles. One heartbreaking moment has Ms. Corman buying out a pumpkin patch for Halloween, knowing full well that no one will be trick or treating at her house: life goes on.
The question is, how does one really recover? First, Mr. Alexander does go off to a fancy rehab in Arizona, a place the general population would probably not have access to. Their daughter travels to Italy to study abroad for a year, so perhaps that is a good way to get her out of the horror. The twins go to therapy and are relocated to a different school in Harlem - where the family moves.
In the end, Mr. Alexander registers as a sex offender and goes back to the family. On paper, it seems mind boggling that Ms. Corman would take him back. How did she not know this was happening? Why didn't she see the signs? Were there signs? No one truly knows what it feels like to be in her shoes, which forces the audience to look inside and ask themselves what they would do.
The production at the DR2 Theatre has just the right space to give an intimate feel. It is almost like Ms. Corman is in her living room having an inner monologue. Kristin Hanggi of "Rock of Ages" fame directs with a visual nod to Ms. Corman's hipness while projections by Elaine J. McCarthy display montages of her life in all its phases.
Upon leaving "Accidentally Brave," I had feelings of extreme ambivalence. I was not prepared to feel such conflicted emotions on the subject. When I went in, I was ready to look at this head-on: poor Maddie! Yet, after listening to her truth and trying to understand her dilemma, I came away with a sort of empathy for the situation. I can't say that Corman's decision sits one hundred percent well with me, but at least I will not be judgmental as I was before. I am still haunted by this show.
Performances of Accidentally Brave are currently scheduled through July 14 at the DR2 Theatre (103 E. 15th St.).