BWW Interview: Ilia Volok Reflects on DIARY OF A MADMAN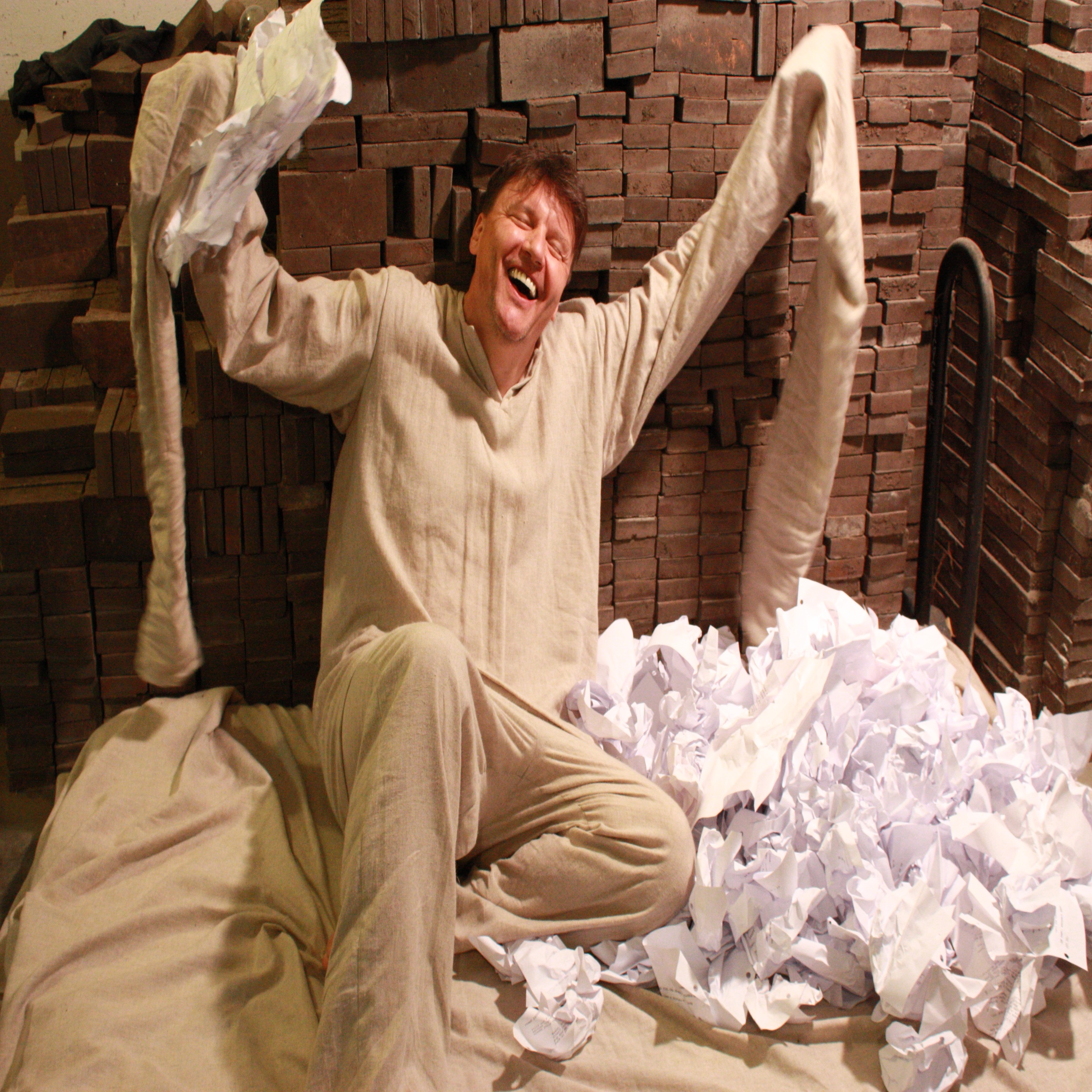 From the dictator in his palace, to the lone wolf shooter, distorted thinking has become a constant thread running through the news. Sometimes we can better confront dark realities through art.
In April of 2012, Ilia Volok debuted his one-man show, DIARY OF A MADMAN in Los Angeles. The production received both public popularity and critical acclaim. He has since brought it back several times in the L.A. area.
This month the production is slated to open at the American Theatre of Actors (Beckmann Theatre) in New York City.
I caught up with Ilia, briefly, to ask him a few questions about the show:
CS: What drew you to this project initially?
Ilia: Nicolai Gogol is one of my favorite writers. His ability to show the depth and the complexity of a common, "little" person is beyond words. This masterful combination of a realism, specificity, attention to detail and a heightened reality, as well as humor and drama of it was always extremely appealing to me.


CS: Have you read the text in both languages? And if so, did that process enlighten you to the nuances of the piece
Ilia:
Absolutely. I initially read it in both languages. The process of bringing the nuances and the authenticity of an original material into a translation is not an easy task! The main challenge was to adapt "
Diary of a Madman
", which is written in a form of a short story, and not specifically for stage, to a theatrical piece. "Diary of a Madman" has always interested me, but I wasn't sure how to approach it until I started working with the director Eugene Lazarev. Together we were able to find our own voice to interpret this wonderful material.
CS: How long was the rehearsal process?
Ilia:
Starting with our first meeting with the director, the rehearsal process for the original run-back in April of 2012 took around six months. That includes the adaptation of the material and finding the key to our interpretation.

CS: How did you go about preparing to play a character that descends into madness?
Ilia:
I think, the most important thing is
not
to play an insane person. In Poprishchin's world everything is logical. He finds an explanation for everything: talking dogs, the vacancy of the Spanish throne, etc. His imagination has no bounds... But for the people in the "real world" he looks insane. The main thing for me is to connect to a material and the character on the emotional, visceral level. Having that connection is like having a foundation for your house... After that it's a road of trial and error. Being a member of the
Actors Studio
and a graduate of the
Moscow Art Theater School
, I consider myself a "
Method Actor
". There have been plenty misconceptions and different interpretations of Method. But In fact it's quite simple: Method is making things personal for yourself. To create and live the imaginary life by using my own experiences... I work through substitution; putting myself in the circumstances of the character, envisioning as many specific details, freeing my imagination.
CS: What do you find most challenging about this role? Ilia: Like in many other roles--the first and foremost--to be able to bring myself into the role.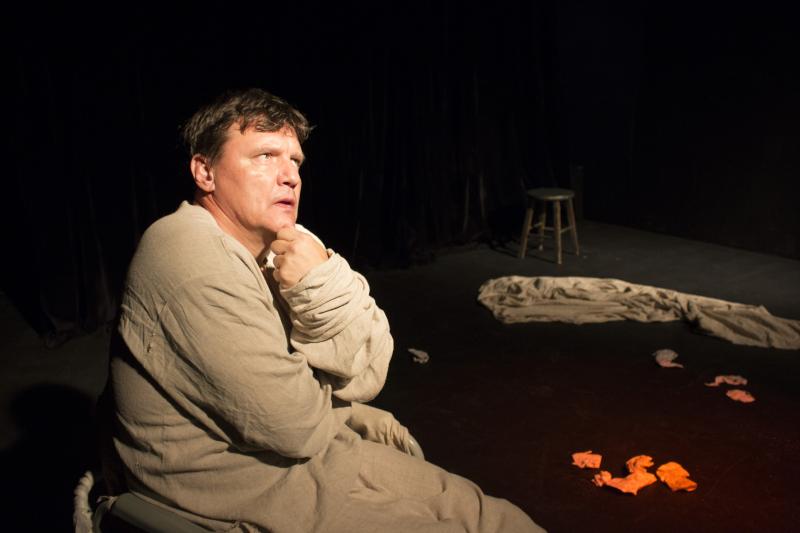 CS: What can you say about the individual truth of the character Poprishchin?Ilia:
His main conflict is a mismatch between his desires, his aspirations and the reality of his life. Poprisjchin's descent into madness is a gradual process, it is caused by his obsession with the daughter of his boss and inability to break out of the circle he is the victim of... Poprishchin creates the false reality to rebel against the pressures of society and challenge his offenders.
CS: Poprischin is an anti-hero. Is there a part of you that identifies with him?
Ilia:
I think in all of us there's a little bit of that quality. We all feel lonely sometimes, abandoned, like the whole world is against us. . . . I guess some of us have it more. . . Yes, definitely, the part of me identifies with that.
CS: Do you ever feel that if you were to scratch the surface of any community today, you'd find a lot of people like Poprishchin?Ilia:
The character and the story of Poprishchin is timeless and Universal. Anywhere in the world people can relate to it. It deals with love, desire, obsession, rejection, hope and broken dreams.
CS: Has portraying this character changed your own perspective on mental illness?Ilia:
It made me realize that mental illness is a huge and unknown territory and that it comes in many different forms. My maternal grandmother was diagnosed with Manic Depression since she was 19 years old. Throughout my childhood and teenage years I didn't question why is she like that? It was just a given. Now I would look at it from a totally different perspective.
CS: Poprishchin is a 19th Century character, and yet isolation is still a societal concern. How do you think Poprischin would fare in today's world? Would he tweet?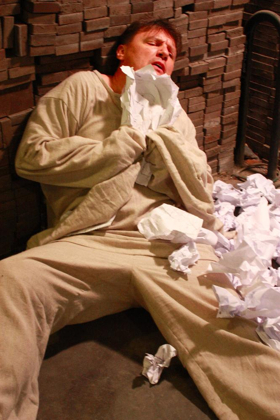 Ilia: I could only imagine what his tweets would be!

I think the reason why Poprishchin's character evokes such a compassion is that he is not violent in his madness- he doesn't hurt anyone, but himself. He suffers deeply from an unrequited love and then implodes from within.CS: The show has some strong political overtones. I think this is interesting because you opened in L.A. during the Obama administration and are now opening in New York under the Trump administration. Do you think this new political climate will make the show resonate differently with the audience?Ilia: I think the genius of such writers as Gogol, Dostoevsky, Pushkin, Tolstoy and Turgeniev is that it's shines through the political influences and nuances of their time. The main strength of those writers is the unique ability to create multicolored characters and reflect the intricacies of human psychology. CS: Do you feel a shift in energy from the audience when your character begins his descent into a darker realm of madness?Ilia: I think that together with the director Eugene Lazarev we were able to find a "flow" of the piece. I feel that the audience stays connected and follows Poprishin's wild journey...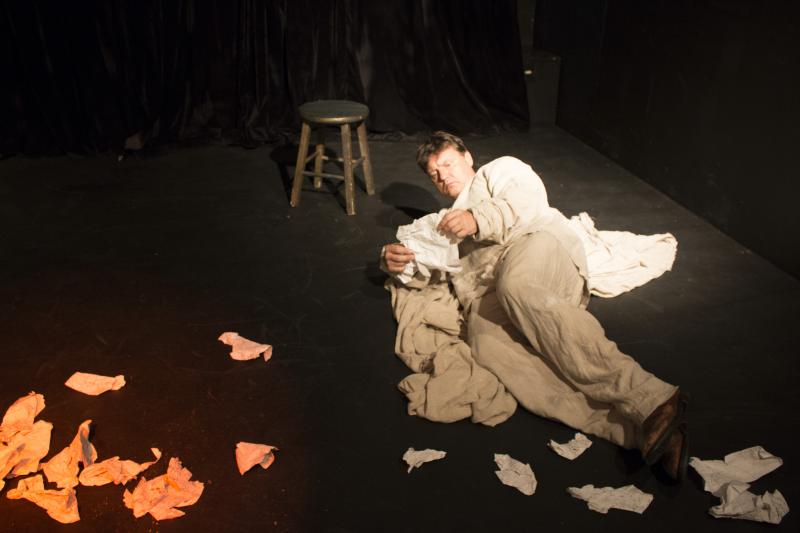 CS: This is an extremely demanding one-man show. How do you prepare for each performance?Ilia: Every time before I go up on stage it feels like I have to cross this gigantic ocean in this small boat... Over the years I have learned that no matter how turbulent and unpredictable the ocean can be- you should trust your boat! If you do so- it will bring you to a shore. In other words- trust yourself, your skills, your experience, your sense of inner truth.CS: How has your performance evolved?Ilia: I think Since the first, original run I have found more nuances,I learned to trust myself even more. I learned that being able to take a step into unknown, into an "abyss" can be a great thing!
CS: How do you feel after a show? Do you collapse after every performance?
Ilia:
Although the show is physically demanding--Poprishchin is not just reflecting on the past events, he is actively reliving them.--it doesn't leave me exhausted. I guess I can compare it with a feeling of climbing on top of a huge mountain--the "High" and the sense of accomplishment overcome the physical fatigue.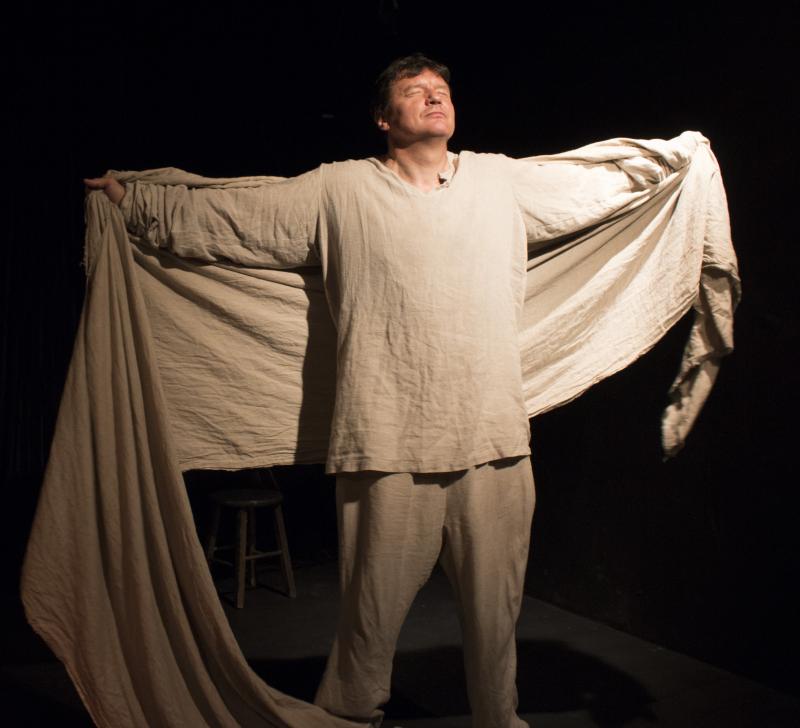 CS: What do you say when people ask you what the show is about?Ilia:
I think this line sums it up pretty well: "Only in his madness does a lowly anti hero attain greatness..."
CS: What are your goals for this show?Ilia:
Maybe take it to a bigger venue, take it on a tour, play it at the festivals, but, the main goal is to keep performing it, keep it alive!
CS: By now you've have had critical acclaim, accolades and popularity but can you pinpoint when you first knew this show was a success?Ilia:
In the rehearsal process Eugene and I followed our intuition, our artistic instincts. But we had no idea of how the show will turn out, how it will be received. It was a "leap into unknown." Only when we read our first reviews we knew that we had something special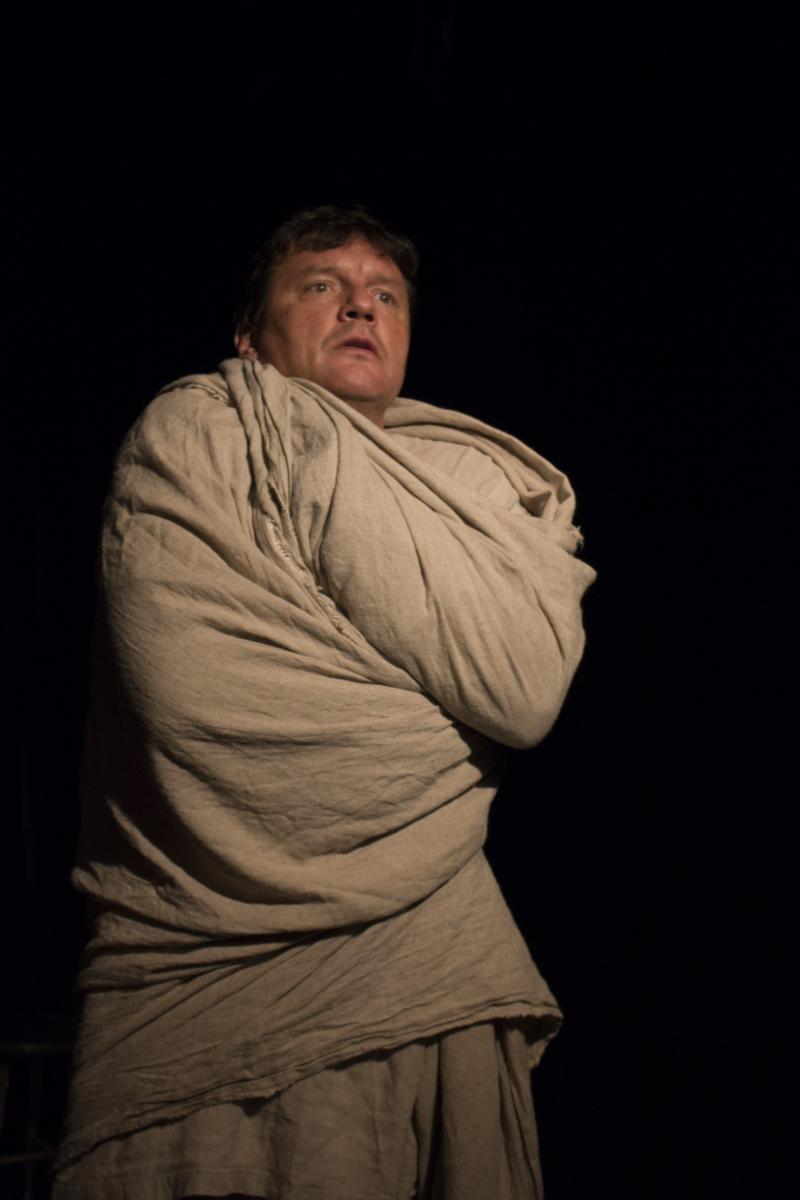 CS: You've chosen a challenging career. Any general thoughts on that?
Ilia:
I think pages and pages can be written about that, but I would like to quote "my friend" Konstantin Stanislavsky: "
Love the art in yourself and not yourself in the art
"
If you are in this profession for your 15 minutes of fame- I would suggest think twice before becoming an actor...
CS: We've all heard famous stories about people who develop their greatest strengths in response to their greatest challenges. Does your own success story fall into that category?Ilia:
I would like to believe so! Coming to this country without knowing a word of English and wanting to become an actor... It is pretty challenging, isn't it?
Also, the challenge never stops- either it comes from the outside world or you challenge your self-- for example, taking this show to NY. That's how you grow...
CS: Any last thoughts?Ilia:
The story of Poprishchin-is timeless and Universal. Anywhere in the world people can relate to it. It deals with love, desire, obsession, rejection, hope and broken dreams... I hope that the audience will feel compassion for Poprishchin it would be the best reward for me as an Actor.
*****
Diary of a Madman
October 24-November 12, 2017
American Theatre of Actors
Beckmann Theatre
314 W. 54th Street
New York, NY, 10019 Tues, Weds, Thurs, Fri at 8pm
Sat at 3pm & 8pm
Sun at 3pm TICKETS: $30
call: 212-868-4444
Related Articles View More Off-Broadway

Stories

Shows
Caroline Sposto is a writer, producer, actor and startup entrepreneur. More information about her can be found at http://www.whycaroline.com