BLACK ANGELS OVER TUSKEGEE: The Story Of The Tuskegee Airmen Enlightens And Educates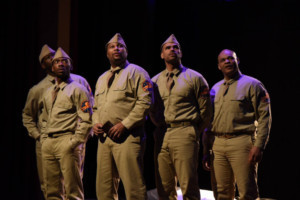 Vibrantly energetic and emotionally captivating, Black Angels Over Tuskegee enlightens and educates Off-Broadway audiences in its 9th year! The award-winning, historical docudrama is a narrative of six men embarking upon a journey to become the first aviators in the United States Army Air Forces during a tumultuous era of racial segregation and Jim Crow idealism in twentieth century American history. Black Angels Over Tuskegee, which is inspired by true events, is currently showcased Saturday Nights at 8pm, February 17- March 17 at the Actors Temple Theatre at 339 W. 47th Street between 8th and 9th Avenues in New York City.
Black Angels Over Tuskegee chronicles the stories of the Tuskegee Airmen, the first African-American fighter pilots in U.S. military history, who broke racial barriers during World War II. The play uplifts and inspires audiences as the narrative documents the lives of perspective aviator candidates as they seek to overcome a collective struggle to debunk myths regarding their ability, intelligence, patriotism, and ultimate dreams of an inclusive society.
In addition to performing at the Smithsonian Institute twice, Black Angels Over Tuskegee won a NAACP Award for Best Ensemble, A New York Audelco Award for Special Achievement and an Artistic Director Achievement Award for Best Play. It has been listed as a New York Times Readers Choice twice and is the longest running all African -American male play in New York City theatre history. The play has become a motivational and inspirational tool for many professional teams. Most recently performing in Arizona for the Arizona State University Athletic Department. The cast also performed a private show for New York Jets and the Buffalo Bills. Head coach Rex Ryan who has seen the show four times is one of the play's biggest fans. "The play was as good as advertised," Ryan said. "The message was outstanding, about teamwork, the way you have to take care of each other, the way you have to go through adversity and still go out and function on a high level." Several celebrities such as Cicely Tyson, and Hank Aaron have come to experience this powerful story. The play was also presented at the National Tuskegee Airmen Convention in Las Vegas for over 30 chapters.
Original Tuskegee Airmen Ted Lumpkin, President of the Los Angeles Chapter, said, "I love this play. It's real and it reminded me of my times at Tuskegee. It's a great show." The play tours around the country and internationally shedding light on these American Heroes.
The production has received rave reviews from top critics including The New York Times who describe the performance as "Uplifting and Inspirational: and "Tough to Resist!" Backstage says " "Some plays teach, others celebrate, and a few simply entertain. "Black Angels Over Tuskegee" manages to do all three and one thing more: It inspires." The United States Army at Fort Knox commissioned the play for its soldiers this past winter and U.S. Army Entertainment has scheduled a six Military base tour for July/August 2018. Black Angels Over Tuskegee is a play that elevates the human condition on and off the battlefield. Written and directed by Layon Gray.
Black Angels Over Tuskegee is produced Off-Broadway by Edmund Gaynes and The Layon Gray Experience. The playing schedule for Black Angels Over Tuskegee is Saturdays at 8pm. February 17th - March 17th. Tickets from $39.50 are available at Telecharge.com or by calling 212-239-6200.
For more information go to www.blackangelsovertuskegee.com.