Amas Musical Theatre to Host Fall Readings of New Musical PLAY IT BY HEART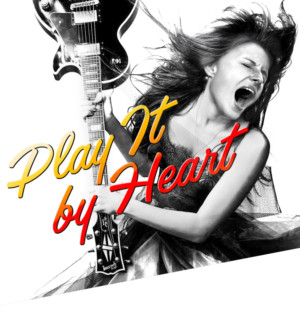 Amas Musical Theatre and The Amas Musical Theatre Lab will present staged readings of Play It by Heart, a new musical, with music by David Spangler, Jerry Taylor and Marty Dodson, lyrics by David Spangler, Jerry Taylor, R.T. Robinson, and Marty Dodson, and book by Willy Holtzman.
Directed by Jaki Bradley with music direction by Henry Aronson, the readings will be held on Monday, October 23 at 6pm and Tuesday, October 24th at 3pm and 7:00pm at Ripley-Grier Studios - Studio 312 (305 West 38th Street). The readings are free and the seating is limited. For reservations, email boxoffice@amasmusical.org or call 212-563-2565.
Play It by Heart is the story of the Jaspers, a singing family on the Christian circuit shepherded by the firm hand of the matriarch, Naomi Jasper. Her daughter Jeanine breaks out to become a huge country star and her youngest, Jamie Lynn, is sent to boarding schools to protect her from the limelight. When Jamie Lynn sings the heck out of her sister's signature hit in a Karaoke bar, a smart phone video goes viral, it sets the family on a crisis of identity and they are forced to confront a long-held secret. Like the title song says, "if you don't know your part, just play it by heart."
The cast will include Jeff Applegate (Mama Mia), Gail Bliss (A Closer Walk with Patsy Cline), Keith Buterbaugh (Phantom of the Opera), Lila Coogan (Mary Poppins), Carl Hsu (Mame), Javier Ignacio (Side Show), Kelsey Ryan Moore (Fiorello), David Rasche (Speed the Plough), Sam Rohloff (Kinky Boots), JJ Tiemeyer (Spamalot), Deborah Tranelli ("Dallas"), Nickolas Vaughan (I'll Take It!) and Bligh Voth (Million Dollar Quartet). Production Stage Manager is Katie Sammons.
"This show takes a close look at the music industry and the music as it evolves through three generations of a family of female singers," says Amas Artistic Producer Donna Trinkoff. "Being a woman in a male dominated industry brings a lot of challenges and impacts much of their decision making. It's a great story and the music speaks for itself."
These presentations are part of the ongoing Amas Musical Theatre Lab, a development series for writers, lyricists and composers to mount public readings of their new musicals. The Lab is supported by the New York City Department of Cultural Affairs in partnership with the City Council, the New York State Council on the Arts with the support of Governor Andrew Cuomo and the New York State Legislature, and by the Actors' Equity Association Foundation, BMI Foundation, the Barbara Bell Cumming Foundation, the Lucille Lortel Foundation, the Frederick Loewe Foundation, the Friars Club, the Shubert Foundation, and through the generous support of many individuals.
ABOUT THE ARTISTS:
David Spangler (Music & Lyrics) has worked professionally in theatre, film, and television as director, writer, composer, performer and arts educator. His Broadway credits include The Magic Show, Seesaw, and Elizabeth I. He wrote and produced 35 songs for an Emmy Award winning TV series (9 CBS/Fox videos winning "Gold" status). In New York, he directed Brothers at the LaMama Theater, and Goodbye, Harry at the Ballroom. He has written and/or directed for regional theaters including the Paper Mill Playhouse, the Lenox Art Center, Barter Theatre, Village Theatre, Human Race Theatre, and is a recipient of the Carbonell Award for "Best New Work." Spangler is the founder and original artistic director of Lovewell Institute for the Creative Arts. As a consultant on creative process, he has published articles, presented at national and international conferences, served in various board and consulting capacities with the Miami City Ballet, Walt Disney WorLD Entertainment, Broward County School District and the Theatre League of South Florida. He is currently Director of Community Collaboration NSU University School. Graduating from Carnegie-Mellon University with a BFA, David received his Ph.D. in Interdisciplinary Arts and Creative Process from Union Institute & University in Cincinnati.
Jerry Taylor (Music & Lyrics) was a remarkably talented song writer who had songs recorded by Tammy Wynette and George Jones and for singers as diverse as Willie Nelson and Elton John, Reba McIntyre, and Mickey Gilley. His most celebrated singles are Wynette's "Another Chance" and Johnny Cash's "The Baron." Jerry Taylor co-wrote the music and lyrics for the 17 songs in "Play It by Heart." He is proud of his country credentials. He is a veteran Nashville songwriter and record producer. Taylor went to the University of Texas, played football (quarterback), dropped out and ended up running the Field House, a sporting goods store in Dallas. Evenings he played guitar and sang his songs in local lounges and clubs. He moved to Nashville on the day that Elvis died in 1977. Jerry formed the singing group known as "Nightstreets" that opened the road touring shows for Tammy Wynette and George Jones in the 80s. They recorded songs written by Jerry for the Epic Records label in Nashville and had 4 top 100 Country Charting singles including "Love In The Meantime", "In A Different Light", "Fallin' Together", and "If I Had It My Way". "Love In The Meantime" won Nightstreets Billboard Magazine's "Best New Vocal Group" Award in 1981. In addition to touring with Wynette and Jones, they performed in concert with Jerry Lee Lewis and The Oak Ridge Boys. Jerry came east to work on a staged reading at Paper Mill Playhouse where he met David Spangler and R.T. Robinson, the creators of a musical called "A Country Show." "Those guys were Broadway types," he says. "They had no idea what country music was about." Joining the team, Taylor added certified Nashville chops to the "Country Show." In the process, the name changed to "Play It By Heart."
Marty Dodson (Music & Lyrics) was born in Apple Valley, California, and moved around for several years until his family settled in Nashville, TN. Growing up, he was intimidated by the sheer number of people coming to Nashville to become singers or songwriters. A book he read helped him realize that what he wanted to be was a songwriter. He had run into Gordon Payne, a member of The Crickets while working one of his odd jobs. Gordon helped him re-write one of his songs and demo it in a Nashville studio. Marty was hooked. He threw caution to the wind, quit the other jobs and began writing full-time. Six #1 songs and more than 100 cuts later, Marty has become one of the most accomplished writers in Nashville. His songs have been recorded by artists such as Joe Cocker, Blake Shelton, Carrie Underwood, Rascal Flatts, Kenny Chesney, Billy Currington, The Plain White T's, The Oak Ridge Boys, Don Williams, Johnny Reid, and Billy Ray Cyrus. Marty's self-professed "greatest achievement" in his songwriting career to date was knocking Psy out of #1 in South Korea and winning "Song of the Year" honors for South Korea and all of Asia with his song "Bounce."
Willy Holtzman (Book) His plays Honor Flight, Vedado, The, First Mrs. Rochester The Morini Strad, Sabina, Something You Did, Bovver Boys, Hearts, The Real McGonagall, The Closer, Inside Out, San Antonio Sunset, have been seen at Primary Stages, Theatre for a New Audience, Rattlestick Playwrights Theatre, The Cell Theatre, The Working Theatre, Baltimore Center Stage, Long Wharf Theatre, Northlight Theatre, ALLIANCE THEATRE, People's Light and Theatre, City Theatre, Colony Theatre, Portland Stage Company, Cleveland Play House, Berkshire Theatre Festival Geva Theatre, The Drake Theatre and Theatre J. His plays have been developed at New Dramatists, PlayPenn, the O'Neill, New Harmony, New York Theatre Workshop, and The Lark. Smart Blonde premiered at City Theatre and will be produced Off Broadway next season. Willy's screenplay for Edge of America (which he also executive produced) opened the 2004 Sundance Film Festival and received the Peabody Award, the Humanitas Prize, and the Writers Guild Award.
Jaki Bradley (Director) is a Brooklyn-based director of new plays and musicals. Recent projects: Good Men Wanted (NYSAF), Breeders (TONY Critic's Pick), Playing Hot (Pipeline Theater Company), #liberated (IRT, Ars Nova), I've Been to Sea Before (TONY Critic's Pick). She has also developed and presented work with The Public, Williamstown, Soho Rep, Clubbed Thumb, Ars Nova, Arena Stage, EST and Goodspeed Musicals. As an assistant director, she has worked with Michael Greif, Leigh Silverman, Lisa Peterson, and Daniel Aukin, among others. She is a current Artist-in-Residence at Ars Nova and member of The Civilians R&D Group, and a former Drama League Artist-in-Residence, member of the Soho Rep Writer/Director Lab, Williamstown Directing Corps, Lincoln Center Director's Lab, and U.S. Fulbright Scholar. www.jakibradley.com
Henry Aronson (Music Direction) was the music director for the Broadway productions of Rock of Ages, Grease, The Times They Are A-Changin', In My Life, Little Shop of Horrors, Rent, Rocky Horror Show and Starmites. Also on Broadway he was associate conductor of Cry Baby, Good Vibrations, Parade, Saturday Night Fever, Mail and Prince of Central Park; and conductor of The Who's Tommy. He is the piano soloist and touring conductor of Rocktopia Live, and music supervisor of the upcoming The Voice Remastered at the Hard Rock in Las Vegas. He wrote music and lyrics for Loveless Texas, which just completed its first full production at the Sheen Center in New York.
Amas Musical Theatre (Donna Trinkoff, Artistic Producer) now in its 49h year of continuous operation is New York City's award-winning pioneer in diversity and multi-ethnic casting in the performing arts since 1968. Amas ("you love" in Latin) is devoted to the creation, development and professional production of new American musicals through the celebration of diversity and minority perspectives, the emergence of new artistic talent, and the training and encouragement of underserved young people in the New York area. In recent years, Amas has emerged as a leading not-for-profit laboratory for new musicals, the most recent being Broadway and the Bard, starring Len Cariou and Red Eye of Love, which was awarded the Joseph A. Callaway Award for Outstanding Choreography. Its production of The Other Josh Cohen received six 2013 Drama Desk nominations including Outstanding Musical, a 2013 Lucille Lortel nomination for Outstanding Musical, and a 2013 Off-Broadway Alliance nomination for Best New Musical. Other shows that Amas has developed include A Taste of Chocolate, Triassic Parq, The Countess of Storyville, Distant Thunder, Marry Harry, Me and Miss Monroe, Aesop & Company, Signs of Life, Wanda's World, Shout! The Mod Musical, Lone Star Love, From My Hometown, Zanna, Don't!, 4 Guys Named Jose and Stormy Weather: Reimagining Lena Horne. Amas education programs include the Rosetta LeNoire Musical Theatre Academy, Lens on Live Theatre and in-school theatre arts residencies designed in partnership with elementary, middle, and high schools.