Photos: MACBETH at Lime Kiln, Opens 7/30
On Thursday, July 30th the Traveling Players Ensemble will perform Shakespeare's Macbeth in the Bowl, starting at 7:30pm.
"Shakespeare's plays have been an important part of our work at Lime Kiln since the beginning." said Executive Director Kim Renz. "From A Midsummer Night's Dream in 1967, to Cymbeline in the 1984, to Romeo and Juliet and MacBeth this season, we present something from Shakespeare's body of work almost every season."
When Virginia Military Institute English professor Brewster Ford bought the land on which Lime Kiln sits, he realized that the old kiln ruin would make a wonderful setting for an outdoor theater. In 1967 he allowed it to be used for an experiment. Students at Washington and Lee University, with the assistance of local Thespians, staged three performances of A Midsummer Night's Dream. The kiln lay fallow for the better part of another decade until Dr. Ford donated the use of the property as a unique theater and home for Lime Kiln Arts. The first production of the new professional company was a two-week run of Rock Kiln Ruin's Tale of Cymbeline, in 1984. It had all the hallmarks of future Lime Kiln productions - storytelling, history, spectacle, original music, humor, drama and a strong sense of place: "Shakespeare with a twang," characterized one newspaper.
The first season was a roaring success. Washington and Lee University graduates and Lime Kiln founders Don Baker and Tommy Spencer approached the accomplished song-writing duo of Robin and Linda Williams with an idea for a new show. They collaborated on a new work that would become Lime Kiln's most popular and enduring - Stonewall Country. The show was the centerpiece of Lime Kiln's first full season, and it generated enough interest to bring the Governor of Virginia to opening night.
That season set the pattern for Theater at Lime Kiln's future: original musicals and plays presented at The Kiln based on Southern Appalachian heritage; adaptations of Appalachian folktales that went on tour to schools and communities both in and out of Virginia; and a renowned concert series that features legendary musicians and an eclectic mix of musical styles.
"As an arts presenting organization, we feel it is our duty to bring a mix of arts experiences to the area," said Renz. "MacBeth is one of the great plays in Western history. The story tells of a Scottish noble who, after helping the new king win his throne, confronts three 'witches,' who foretell he will be king. This puts into motion terrible acts of violence and madness, as the title character murders the sovereign and his sons to gain control and then rules for a short time before being overthrown by his former allies."
MacBeth carries a unique legacy of being cursed. Productions of Macbeth are said to have been plagued with accidents, many ending in death. The play does include more fight scenes and other such opportunities for accidents than does the average play, and the atmosphere in the backstage area of old-fashioned theaters was a prime setting for disasters, especially when dealing with potentially dangerous equipment. According to one legend, this dates back to the original performance of the play, in which prop daggers were mistakenly swapped for real ones, resulting in an onstage death.
Many who believe in the curse of Macbeth claim its origin to be in the Witches, who in the play are said to cast real spells. It has also been suggested that the inclusion of the character Hecate, frequently cut from productions of the play, will intensify the effects of the curse. The popularity of the superstition might also be related to its mild hazing aspect. Veteran actors might relate some tale of woe that they witnessed personally due to someone invoking the curse.
One hypothesis for the origin of this superstition is that Macbeth, being a popular play, was commonly put on by theatres in danger of going out of business, or that the high production costs of Macbeth put theatres in financial trouble.
According to another version, Shakespeare got a few of the lines from an actual coven of witches, and when they saw the play they were greatly offended and cursed the play. Another tradition tells that the original prop master could not find a suitable pot for a cauldron and stole one from a coven, who then cursed the play in revenge for the theft. It is believed that breaking the taboo calls the ghosts of the three witches to the show, and they cause all manner of mishaps. The last (and probably most spectacular) view of the curse is that Shakespeare used the curse in the play to actually curse the play himself, guaranteeing that no one other than himself would be able to direct the play.
"I am really impressed that Traveling Players Ensemble took on this project, since the performers and technicians are young people. MacBeth has so many layers of emotion, stage violence and magic that many professional companies think twice before tackling it. And The Kiln is a perfect venue for the play, with the beautiful, natural surroundings, the castle-like stone walls and various levels."
Traveling Players Ensemble is based in the Washington, DC metropolitan area. Each summer The company trains teenagers to perform classical theatre in amphitheatres. The Traveling Troupe was launched in 2006 to challenge their most advanced students with a two-week tour by bus and backpack, following a professional touring schedule.
Renz hopes this production will inspire area youth about what Lime Kiln can do working with them given enough support. "This gives our young people a great chance to see what their counterparts across the state are doing. Youth are the future of Lime Kiln, if we are to regain our spot as a regional theatre force."
Gates and concessions open at 6:30, with the performance starting at 7:30. Macbeth is offered as a "pay-as-you-will," or "free-will" offering.
Upcoming Theater at Lime Kiln 2009 Performances
July 30 Traveling Players Ensemble - Macbeth
August 8 Juggler/Comedian Mark Nizer
August 16 The Seldom Scene in Concert
August 21 Eddie from Ohio in Concert
Office: 540-473-7088
Website: theateratlimekiln.com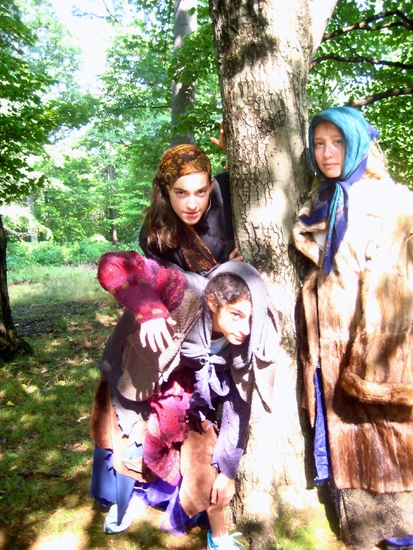 Macbeth cast

Macbeth cast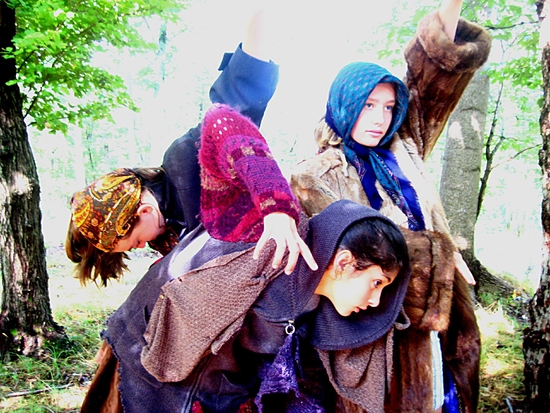 Macbeth cast