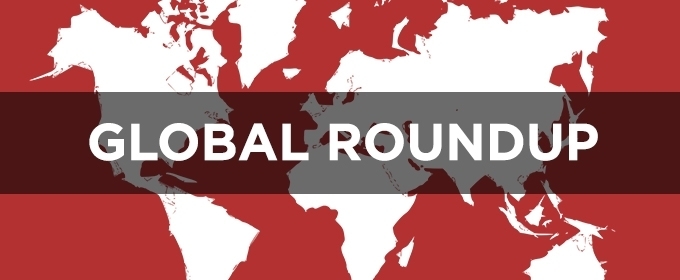 BWW Review: THE MUSIC MAN at Rivertown Theaters
We've got trouble, y'all. Thanks to last night's non-stop, energy-packed performance of Rivertown Theater's The Music Man, I cannot stop the endless refrain of "Seventy-Six Trombones" in my head. From the insanely talented show-stopping dance numbers to the perfectly pitched ballads, The Music Man is not a show that you can afford to miss.
It is no secret that Rivertown Theaters puts on great productions. [In full disclosure, I had the honor of being part of the Beauty and the Beast cast this year.] Kelli Fouchi's direction of The Music Man raises the bar for New Orleans theater. From the start, her attention to detail is unmistakable. As the salesman perform "Rock Island" with perfectly timed reactions to the stops and starts of a train, you know that you are in for a great show.
In terms of leads, Marc Fouchi and Rachel Looney as Professor Harold Hill and Marion (The Librarian) Paroo shine. Marc brings the charming, smarmy Hill to life as he cons River City with excellently articulated renditions of "Ya Got Trouble" and "Seventy-Six Trombones." Rachel Looney steals the stage with her clear, bright and beautiful voice in her performances of "Goodnight My Someone" and "My White Night." Together, they make these two characters' love feel authentic in a lovely rendition of "Till There Was You."
The talent does not end there. David W. Hoover and Lisette Bayle have incredible comedic timing as Mayor Shinn and Eulalie Mackecknie Shinn. When Mrs. Shinn discovers her penchant for dance, Bayle will have you wishing for an encore of her One Grecian Urn performance with her talented company. Adam Seagrave as Marcellus Washburn also delivers with the timeless "Shipoopie."
There is no one as adorable as Cayden Pecoraro playing Winthrop, and he melts hearts with "Gary, Indiana." Jan Schluter as Mrs. Paroo does a beautiful job with her Irish accent and is a delight to watch alongside sweet Winthrop.
One last note on this talented cast: the Southern Tradition Quartet educates us all on the meaning of harmony with their performance as the School Board / Quartet. A personal favorite is their "Goodnight Ladies."
For the full company, this show is astoundingly large. As many as 60 performers grace the stage, and each one is in full Iowa character.
The show is at its best during the big numbers, with impeccable choreography by Ashley Morand. The level of these dancers cannot be overstated, and your eye is drawn to the capability of Mason O'Rourke as Tommy Dijilas and Amelia Jacquat as Zaneeta Shinn. With the stacked dance interludes in "Marian the Librarian," "Seventy-Six Trombones" and "Shipoopi," the scenes are nothing short of impressive.
Have I convinced you yet? I would be remiss to exclude mention of the set and crew contributions. Shelbie Mac and Eric Porter stun again with their scenic design and artistry, complemented by Stephen Thurber's lighting. With phenomenal costumes, Kate Jensen's designs and Erin Routh's wig styling make for a believable show. Stage direction by Jacquelyn Achord keeps this ambitious show moving.
The Music Man runs through September 30th, so book your ticket to River City - by way of Rivertown - today.