State Theatre New Jersey Presents Daniel Hope With Zurich Chamber Orchestra
The performance is on Tuesday, March 21, 2023 at 7:30pm.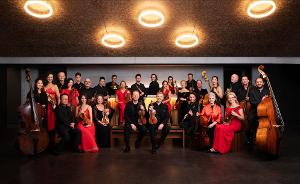 The fully renovated State Theatre New Jersey presents Daniel Hope with Zurich Chamber Orchestra on Tuesday, March 21 at 7:30pm. Tickets range from $17.50-$70.
Music Director and violinist, Daniel Hope leads the venerated 76-year-old music institution, Zurich Chamber Orchestra (ZCO) in an invigorating program this spring. A protégé of renowned violinist/conductor Yehudi Menuhin, Hope is the first instrumentalist to be named Music Director of the acclaimed ZCO. Conducting from the violin, Hope leads the orchestra in a program featuring Ralph Vaughan Williams' The Lark Ascending; "Waltz of Moment" from "Silent Music" by Ukrainian composer Valentin Silvestrov; as well as two timeless works for string orchestra-Elgar's exhilarating Introduction and Allegro and Mendelssohn's lively D minor violin concerto. The program ends with the crowd pleaser, Tchaikovksy's Serenade for String Orchestra.
In the 1940s, music student Edmond de Stoutz used his free time to regularly meet with a number of friends and make music together. The joy of pursuing their creative ideals and the group's shared passion for chamber music gave rise to the desire of forming a chamber orchestra. This led to the first public concert of the ZCO in Zurich in 1945.
Seventy-six years later the Zurich Chamber Orchestra is one of the leading ensembles of its kind. For over 50 years, Edmond de Stoutz was inspiring and holding together the orchestra community. With his charismatic spirit he excited musicians and audience alike and helped establish a large supporting network around the orchestra. After his era, the conductors Howard Griffiths, Muhai Tang, and Sir Roger Norrington shaped the sound and musical ideas of the ZCO.
Today, the ZCO regularly visits international festivals such as the Schleswig-Holstein Musik Festival, the Festspiele Mecklenburg-Vorpommern, the Rheingau Musik Festival, and the Gstaad Menuhin Festival/Odessa Classics. Guest performances in leading concert halls, tours throughout Europe, America, Asia, and South Africa as well as numerous critically acclaimed CD releases testify to the worldwide renown of the Zurich Chamber Orchestra.
State Theatre New Jersey's Orchestra Series is sponsored by The Blanche and Irving Laurie Foundation.
For tickets, more information, or group discounts, call State Theatre Guest Services at 732-246-SHOW (7469) or visit online at STNJ.org. State Theatre Guest Services, located at 15 Livingston Ave, New Brunswick NJ, is open by phone and email only, Tuesday through Friday from 11am to 5pm. For in-person purchases, Guest Services is open Tuesday through Friday from 12pm to 4:30pm. Additional ticket and transaction fees may apply.