Pianist Inon Barnatan Plays Brahms With The Princeton Symphony Orchestra Next Month
Performances are Saturday, February 4 at 8pm and Sunday, February 5 at 4pm.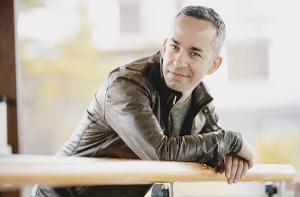 On Saturday, February 4 at 8pm and Sunday, February 5 at 4pm, the Princeton Symphony Orchestra (PSO) welcomes back star pianist Inon Barnatan to Princeton for performances of Johannes Brahms' monumental Piano Concerto No. 2 in B-flat Major, Op. 83. Also on the program are Ludwig van Beethoven's Symphony No. 7 in A Major, Op. 92 and contemporary composer Carlos Simon's Fate Now Conquers. Edward T. Cone Music Director Rossen Milanov conducts both concerts at Richardson Auditorium in Alexander Hall, on the campus of Princeton University.
Barnatan last performed live with the PSO in October 2018 when he played the complete cycle of Beethoven's piano concertos over two performances at Richardson Auditorium. He also performed as a soloist on the PSO's 2020-21 virtual series: Your Orchestra/Your Home.
Rossen Milanov is pleased to be collaborating with Barnatan. He says, "Inon stands out as a pianist and performer, winning over audiences with his onstage presence as much as with his virtuosity and sublime artistry."
Inon Barnatan performs with many of the world's foremost orchestras and conductors. He was the inaugural Artist-in-Association of the New York Philharmonic, and is now music director of La Jolla Music Society Summerfest in California, one of the leading music festivals in the country. Barnatan's 2022-23 season highlights include concerto performances in the U.S. with the Los Angeles Philharmonic, Philadelphia Orchestra, Boston Symphony Orchestra, Atlanta Symphony, San Diego Symphony, and others, and internationally with the Royal Liverpool Philharmonic, Royal Stockholm Philharmonic, Auckland Philharmonia, and Philharmonie Zuidnederland. A recent addition to his acclaimed discography is a two-volume set of Beethoven's complete piano concertos, recorded with Alan Gilbert and the Academy of St Martin in the Fields on Pentatone. Born in Tel Aviv in 1979, Inon Barnatan started playing the piano at the age of three, and made his orchestral debut at eleven. He studied with some of the 20th century's most illustrious pianists and teachers, including Professor Victor Derevianko, Christopher Elton and Maria Curcio, and the late Leon Fleisher.
Carlos Simon is composer-in-residence for The John F. Kennedy Center for the Performing Arts and a 2023 Grammy Award nominee. His Fate Now Conquers, written in 2020, was inspired by a journal entry of Ludwig van Beethoven quoting Homer's Iliad, and draws upon structural elements of Beethoven's Seventh Symphony, featured last on the concert program. Bookended by these works is Johannes Brahms' technically demanding second piano concerto, which the composer himself premiered as soloist in 1881 and continued to perform to acclaim throughout Europe.
Tickets for the February 4 and February 5 performances at Richardson Auditorium start at $30; Youths 5-17 receive a 50% discount with an adult purchase. Visit the Princeton Symphony Orchestra website at princetonsymphony.org or call 609-497-0020.