Review: DEATH OF A SALESMAN at Elmwood Playhouse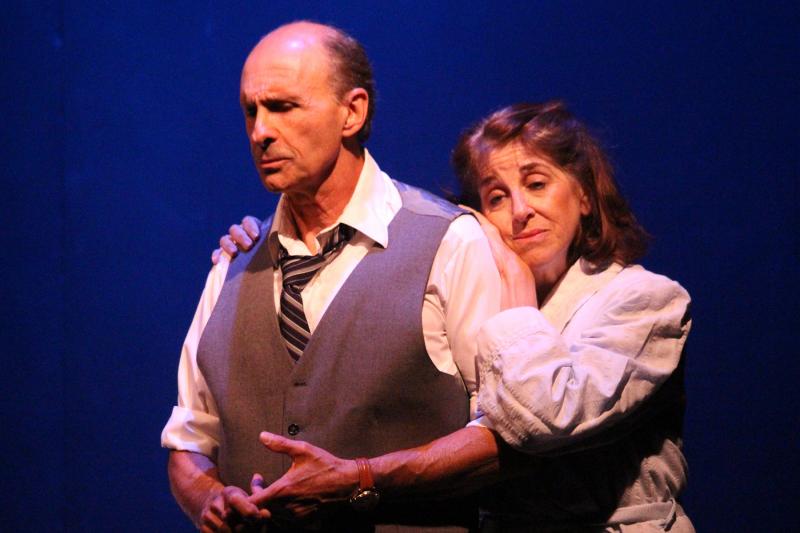 Right from the start in "Death of a Salesman," we see it's late at night and late in life for Willy Loman. Willy comes home after failing to make it to his only sales call of the day, tired, broken and cranky. He is a sad and pathetic sight. His earnest and untiringly positive wife Linda tries to cheer him up but it's useless. Willy is useless. He is a broken man, a man in pain, and his pain has repercussions on his entire family. Meanwhile his two sons, Biff and Happy, (played with great gusto by Michael Metta and Aaron Newcombe respectively) share a smoke in the darkness of their bedroom and consider their own life situations, blissfully unaware (or uncaring) about their father's mental breakdown in the next room. They are not the most sympathetic characters in the world as they seem to have had all of life's advantages - but somehow it was never enough, and they are bitter and resentful. Over the course of the next two hours the audience will learn the degree to which both young men have been their own worst enemies. When Linda wails: "Willy is a human being, and a terrible thing is happening to him," they can't see it beyond the extent to which it affects them.
In 1949, Arthur Miller created one of American theater's most memorable, tragic and most enigmatic characters in Willy. He is a worn-out vestal of the American dream run down. He is at times sympathetic and at other times abominable and heartless, Andrew Lionetti brilliantly managed to evoke both sides of Willy with great detail. His performance is reason enough to see this production.
At the heart of the story there lays a fundamental dishonesty in the family that compounds all the mistakes and all the misjudgments, making the little lies great ones and making the little mistakes catastrophes. All of the grand delusions and exaggerations that Willy spits out (and which have propelled him through life) are accepted for decades by Linda. And she has finally come to the realization that she has been the grandest of enablers. She never realized that her husband has always been a self-centered man and that he has instilled that "virtue" in both of his sons. Robin Peck deeply embodies Linda's ambivalence: only when she sees the full level of self-destruction does she come to realize that they cannot change.
Which brings us to one of the underlying themes of the play: mediocrity. Willy can't live with the knowledge that all of his "contacts" have never elevated him about the level of mediocrity. And as Biff comes to realize it, and confront it, it has devastating consequences.
Willy's incessant boasting is almost painful to listen to as his own self-delusion becomes more and more apparent to the audience - was he ever really successful? Did he ever do any of the things he brags about or are they also mere delusions of a man fighting time and trying to remain relevant. As Willy becomes more and more insignificant, Linda's cry of: "Attention must be paid!" becomes an anthemic plea for all such men, whom life and the American Dream have chewed up and spit out. Willy's "American Dream incarnate" brother Ben - played brilliantly by Arthur Chill - appears in memories to provide expositional reminders of everything Willy did wrong in life, and just who and what Willy could have been.
As Charley, Willy's next door neighbor and friend, Andrew Greenway provides the perfect foil for Willy and his sarcastic responses to Willy's boasts give the audience an early signal that all may not be well in "Willy World."
All of the men in the Loman family seem to be dreamers, all thinking that they are somehow entitled to more than their current lot in life. Meanwhile, Linda emerges as the only character with a real grip on objective reality. She supports Willy's illusions and protects him from the callous thoughtlessness of his sons, whom she calls out repeatedly in scorching terms.
Lionetti's Willy is not one full of nuance and idiosyncrasy, but rather a larger than life emotional ebullience, full of grand gestures and taking the audience on a rollercoaster ride of over-the-top optimism and crushing despair. His scene in which he confronts his boss, Howard, played with perfect insensitive aloofness by Bernie Garzia, is nothing short of heart-breaking.
Director Allan Demovsky has done something really special. He takes a well-worn War Horse and makes it eminently immediate and relevant. Ron Drobes set design is simple and brilliant. (no spoilers here!) The ability to see multiple views at the same time sidesteps traditional momentum-killing set changes, allowing for a steady pulse and a sense of growth among the characters to continue unimpeded throughout the play. And this production is all about the performances - from the leads down to the supporting roles that cast is uniformly superb. This is a transcendently moving production that reminds us of the power of great theater.
"Death of a Salesman"
Elmwood Playhouse, Nyack NY 10960
-Peter Danish