Axelrod PAC Presents ARCHITECTS OF DANCE On April 1
The concert will feature four world premieres.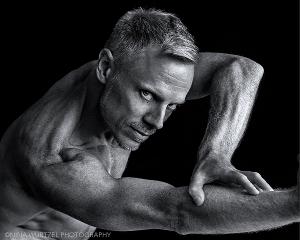 Axelrod Contemporary Ballet Theater (AXCBT) will present ARCHITECTS OF DANCE, a one-night-only concert featuring four world premieres on April 1 at 8:00 p.m. at the Axelrod Performing Arts Center.
Ticket prices are $36 for adults and $25 for students. VIP tickets are available for $100 and include a pre- performance meet-and-greet cocktail reception with the artists. There is a $4 Facility Fee per ticket and an additional $3.50 Convenience Fee for all credit card purchases. Group discount pricing is available. Contact the box office at 732-531-9106, ext. 14 for additional information.
AXCBT Artistic Director Gabriel Chajnik brings works by three acclaimed modern dance artists to the Axelrod Performing Arts Center. Blakely White-McGuire's Apertura, Andrea Weber's Arbol, Michael Trusnovec's Minimal Complex and Gabriel Chajnik's Komposition. White-McGuire, Weber and Trusnovec were formerly with the Martha Graham Dance Company, Merce Cunningham Dance Company, and Paul Taylor Dance Company, respectively, and Chajnik brings his own work to the stage, providing audience members a once-in-a- lifetime experience.
"Architects engage the human senses through imagery and mesmerizing choreography," said Chajnik. "Artists collaborate to create a new and groundbreaking movement platform, crossing disciplines, experiences, and sharing practices."
"Apertura focuses on new perspectives for intimate transactions in common spaces," said White-McGuire. "What might happen if we bring the full range of our emotional and physical intellect into a communal space? How do particular compositions ignite conversation?"
In her work, Arbol, Weber said she 'explored how structures and foundational support are interconnected.' "In considering the Bauhaus movement of architecture and design, I began to see similar imagery in nature. The cross-section between the two became the inspiration for the movement."
Trusnovec's Minimal Complex interprets Johann Sebastian Bach's The Well-Tempered Clavier. "Bauhaus Artist Paul Klee transformed Bach's music structure into two-dimensional graphic visualizations," said Trusnovec. "Minimal Complex transforms Bach's work into the three-dimensional space. Four dancers become a physical layer of geometric patterns, movement and breath."
The program will culminate with the world premiere of Chajnik's Komposition, inspired by the paintings of Kandinsky and set to music by Erik Satie. "The work is inspired by the Bauhaus concept of "Gesamntkunstwek" which means different art forms fuse and create change," said Chajnik. "On stage, videos of Kandinsky's paintings form multiple lines of movement interacting with the choreography. Physical, aesthetic and spiritual themes emerge from the dance spontaneously and merge with the beautiful melodies by Erik Satie."
Axelrod Contemporary Ballet Theater (AXCBT) strives to cultivate an environment rooted in diversity, inspiration, encouragement, and equality where all are welcome and heard. Listening and learning are at the heart of our commitments to change policies, attitudes, and habits that do not align with our core values. Gabriel Chajnik has assembled a community of skilled artists, each unique and necessary to the growth of AXCBT and its audience. AXCBT prides itself on its perseverance through the challenges of 2020 and the company's continuation of dance education. Mr. Chajnik and his dancers aim to expand creativity and appreciation for the arts throughout New Jersey, inviting patrons, students, and artists to join them on this gratifying endeavor.
The Axelrod Performing Arts Center produces professionally staged musicals and ballets for the Jersey Shore in collaboration with Broadway directors, choreographers, and designers, showcasing professional actors, dancers and singers. The Axelrod Performing Arts Center fosters artistic excellence by showcasing varied and distinct cultural programs which enrich the imaginative, intellectual, and creative soul, inspire Jewish journeys, and cultivate an appreciation of our diverse communities through the pursuit of the arts. A 501(c)(3) organization, funding for the Axelrod PAC comes from individuals, foundations, and grants enabling the arts center to present year-round events and programming. We thank our patrons and donors who support the Axelrod Performing Arts Center annually.
AXCBT Artistic Director Gabriel Chajnik received undergraduate dance training at The Juilliard School, studying under legendary instructor, mentor, and Juilliard faculty emeritus Maestro Héctor Zaraspe. Mr. Chajnik's work has been featured at the Juilliard School, the Manhattan School of Music, the Shakespeare Theatre in Washington, D.C., Alice Tully Hall, the Clark Theatre at Lincoln Center, the Manhattan Movement, and Arts Center, and the Lambs Theatre. As an educator, he has taught various dance technique classes to notable dance schools such as Brooklyn Music School (NY), Princeton Ballet School (NJ), the Academy of Dance Arts (NJ), and Gotta Dance (NJ). Mr. Chajnik merged his two passions of choreography and education by establishing the Axelrod Contemporary Ballet Theatre (AXCBT), the first professional dance company in the Monmouth County area, and the Axelrod Performing Arts Academy (APAA), both with the help of Axelrod Performing Arts Center's President Elise Feldman. Mr. Chajnik has been honored by the Jewish Federation of Somerset, Hunterdon, & Warren Counties. In September 2021, Monmouth Arts honored Gabriel for his work in the community during the pandemic.