BWW Review: Almost 70 Years After Its Premiere, THE KING AND I Continues to Captivate Nashville Audiences at TPAC
Sumptuously designed and opulently mounted, the visual aesthetic for the Lincoln Center revival of Rodgers and Hammerstein's The King and I (a year-and-a-half into its national tour and now ensconced at Nashville's Tennessee Performing Arts Center for an eight-performance run through Sunday, February 4) is breathtakingly gorgeous, representative of the golden age of the Broadway musical. Add to those physical attributes the sublime performances of an ideally cast ensemble of multi-talented actors - including Laura Michelle Kelly as Anna Leonowens, Jose Llana as the King of Siam and Joan Amedilla as Lady Thiang - under the focused and imaginative direction of Bartlett Sher, whose revivals of some of the best-known masterpieces to be found in the Rodgers and Hammerstein canon have cemented his placement in the firmament occupied by the legends of musical theater, and you have a classic show rendered in such a way that audiences respond and react as if they are seeing the much-beloved and time-honored work for the very first time.
This touring production of The King and I is startling and impressive, to be certain, and while its retelling of a British widow coming to the court of the King of Siam in the mid-19th century closely hews to what we've come to expect from this particular script, it nonetheless seems new, which represents a refreshing approach to the classic story which boasts a score that is filled with tunes so memorable, lyrics so easily recalled, that audiences are swept away as if by magic.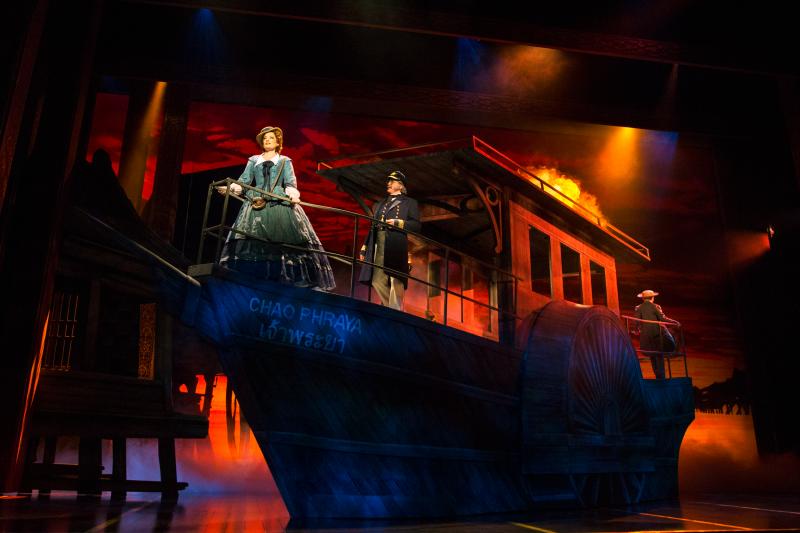 Rodgers and Hammerstein's score for The King and I contains some of the most beautiful melodies ever heard in a theater, each song effectively moving the intriguing story of Anna and The King along its way and drawing the completely enraptured and stunningly entertained audience into the play's action. As sung by Kelly, Llana, Almedilla and the rest of Sher's remarkable ensemble (including Kavin Panmeechao and Alicia Shumway as Lun Tha and Tuptim), audiences are thoroughly captivated, caught up in a reverie of near idyllic romance and the intrigue of the royal court.
Dressed in Catherine Zuber's elegantly styled costumes that dazzle the eye and delight the spirit, the entire company seems particularly predisposed to recreate the musical's time and place with confidence and commitment. Set against the backdrop of Michael Yeargan's eye-poppingly gorgeous scenic design that includes a huge seafaring ship that brings Anna and her son Louis (charmingly played by young Patrick Boll) to Bangkok and the interiors of the King's palatial royal compound, the play's action evolves at a good pace, ensuring that audiences remain riveted to the story being told onstage. Donald Holder's evocative lighting design illuminates the proceedings with a sense of elan that somehow impresses while being completely unobtrusive and totally ambient, as if in nature.
Sher's vision for The King and I allows audiences to be so caught up in the story that each scene dovetails nicely with another in such a way that instead of seeming made up of stagey artifice and technical wizardry that you may feel as if you are experiencing the tale in real time. The power of live theater to transport audiences to another time and place is particularly felt in this production - and oh, the trip you take, is unlike any other. In fact, The King and I is almost transcendent thanks to the creative team of extraordinary individuals who bring it to life.
Tim Laciano conducts his 15-member orchestra, which includes 13 of Music City's most accomplished musicians (including Barry Green and Jennifer Kummer), with finesse, and they perform Richard Rodgers' lush score with impeccable artistry. From the first strains of the overture to the very last notes played as the young crown prince (Anthony Chan is delightful as the imperious young heir to the throne) ascends to his rightful place in the royal household, the music brings all the various and disparate elements of the production into a wonderfully cohesive and inspiring whole.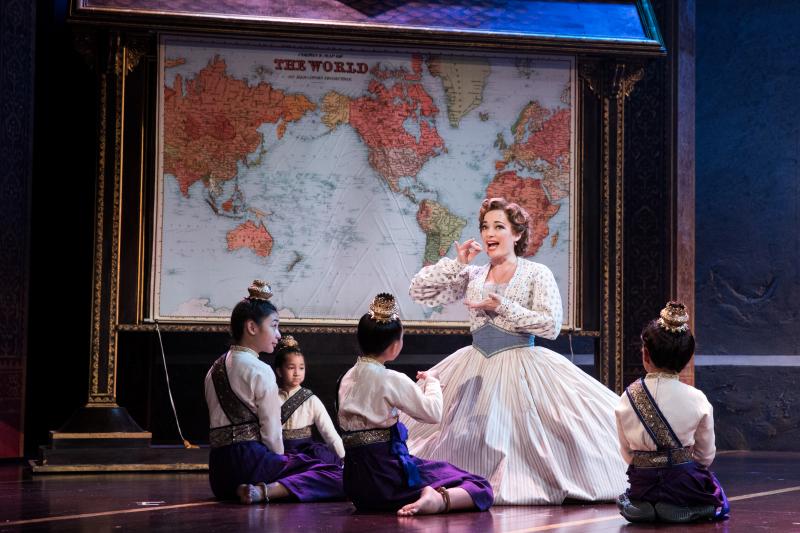 Kelly's portrayal of Anna - fiercely independent and forthright - is nothing short of perfect. Her presence allows her to command every square inch of Andrew Jackson Hall's expansive stage and her glorious voice ensures that every inflection, every nuance is enjoyed from the people closest to her in the orchestra to the highest reaches of the grand tier experience her vocal artistry to its full impact. "I Whistle a Happy Tune" and "Getting to Know You" - two of musical theater's best-known songs - are lovingly sung, while her "Hello, Young Lovers" delivers a dramatic intent that grabs the collective heart of her audience with all its romantic power. She is beautiful in Zuber's dazzling costumes, wearing them with panache, rather than allowing the voluminous hoop skirts to wear the actress.
Kelly's onstage chemistry with Llana as the stern and steadfast King is fairly palpable and their scenes together fairly crackle with drama and passion. Llana's performance is remarkable as he walks a very fine line between haughty and arrogant (as one would expect the ruler of a country to probably be) and imminently likable and appealing, proving successful at both ends of the spectrum and all the area in between. Llana's commanding presence as he struts around the stage is genuinely impressive, but what sets him apart from all the other Kings of Siam we've encountered onstage in the past, he displays a warmth and charm that ensures every person in the audience will fall just a little bit in love with him, just as certainly as Mrs. Anna seems to in the course of the two-and-a-half hours of theatrically-charged storytelling.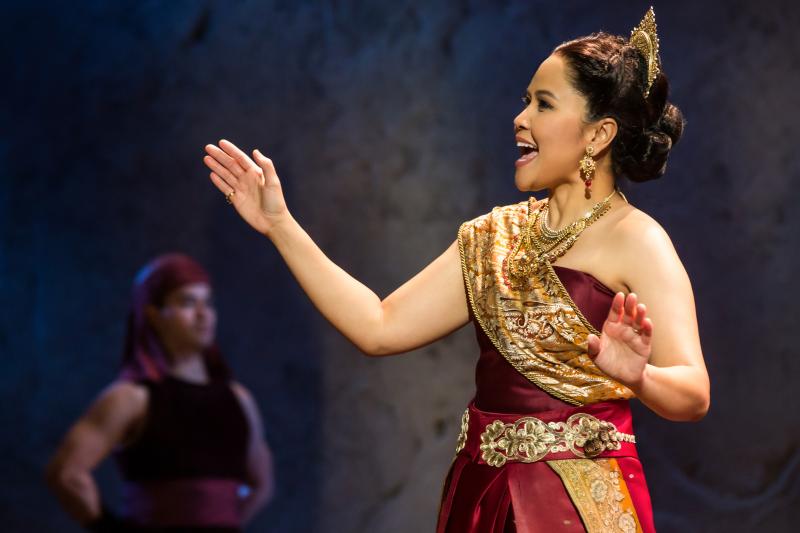 As Lady Thiang, Joan Almedilla is a revelation, playing her with tremendous heart. She, too, possesses enough stage presence to rule her theatrical kingdom with ease and her performance of "Something Wonderful" will leave you transfixed and yearning to hear her sing it over and over and over again. It is an exquisite rendition of one of musical theater's loveliest compositions.
Cast as the star-crossed lovers Lun Tha and Tuptim, Kavin Panmeechao and Alicia Shumway are impressively paired and their show-stopping performances of act one's "We Kiss in a Shadow" and "I Have Dreamed" may have induced me to paroxysms of complete joy and musical theater adulation. Their second act duet reverberates with a romantic intensity which builds upon the initial suggestions of their relationship in the play's first stanza and will likely leave you wanting to hear more from the pair. Kelly's subsequent reprise of "Hello, Young Lovers" after "I Have Dreamed" presents a tableau vivant that encapsulates the romantic nature of The King and I with astounding clarity and invigorating passion.
Act two also features choreographer Christopher Gattelli's highly entertaining ballet of "The Small House of Uncle Thomas," which expresses Tuptim's desire to be freed from her royal servitude. The sequence showcases the choreographer's abilities and allows those particular talents (both Gattelli's and his tremendous troupe of dancers) to become the focus of the storytelling which, by that process, advances the story with aplomb. Gattelli's skillful and creative movement (inspired by the original choreography for the 1951 premiere of The King and I by Jerome Robbins) for the entire show is astonishingly effective and impactful.
Perhaps most astonishing about The King and I, however, is how its story continues to resonate with the audience more than 65 years after its debut and how the universality of Rodgers and Hammerstein's creation continues to have timeless appeal.
Rodgers and Hammerstein's The King and I. Music by Richard Rodgers. Book and lyrics by Oscar Hammerstein II. Based upon the novel Anna and The King of Siam by Margaret Landon. Directed by Bartlett Sher. Music supervision by Ted Sperling. Choreography by Christopher Gattelli. Conducted by Tim Laciano. Presented by Tennessee Performing Arts Center at Andrew Jackson Hall, Nashville. Through February 4. For tickets and other information, go to www.TPAC.org or call (615) 782-4040. Running time: 2.5 hours with one 15-minute intermission.
Related Articles View More NationalTours

Stories

Shows
Jeffrey Ellis is a Nashville-based writer, editor and critic, who's been covering the performing arts in Tennessee for more than 35 years. In 1989, Ellis (read more...)