Tennessee Governor Proposes $200 Million Grant to Support Relocation of Tennessee Performing Arts Center
TPAC is currently located in the state-owned James K. Polk building, which is state is planning to redevelop.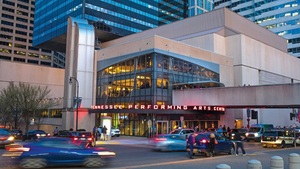 Gov. Bill Lee of Tennessee has release his latest budget proposal, which includes a $200 million grant to help the Tennessee Performing Arts Center find a new home, Axios reports.
The venue, which ballets, musicals, concerts, plays and opera performances and serves as an educational asset for Nashville-area students, is currently located in the state-owned James K. Polk building, which is state is planning to redevelop.
Last year, Mayor John Cooper said that he would like the new TPAC facility to be part of a cultural campus on the East Bank of the Cumberland River, but no further details have been released as to a proposed location at this time.
Spokesperson TJ Ducklo said that the administration is in conversations with TPAC's leadership.
Read more on Axios.
Founded in 1980, TPAC serves several hundred thousand audience members each year. Performances include the HCA Healthcare/TriStar Health Broadway at TPAC series; purposefully-curated series in Dance, Theatre, and Family programming; a wide variety of special engagements, and the productions of three resident artistic companies - Nashville Ballet, Nashville Opera, and Nashville Repertory Theatre.
In addition, TPAC administers one of the largest and most comprehensive arts education programs in the United States, serving students from pre-school to high school, educators, and adults.
Over more than four decades, TPAC has welcomed more than 14 million audience members and served more than 2 million students, educators, and adults with performances, teacher resources, professional development opportunities, classroom residencies, and enrichment programs.
TPAC manages four performance venues, including Andrew Jackson Hall, James K. Polk Theater, and Andrew Johnson Theater, and War Memorial Auditorium, a historic concert hall located across the street from the center.
Photo Credit: https://www.tpac.org/about/