Micah-Shane Brewer Today Named Artistic Director of Nashville Repertory Theatre
Formerly serving as producer, Brewer becomes the fifth artistic director in the company's 38-year history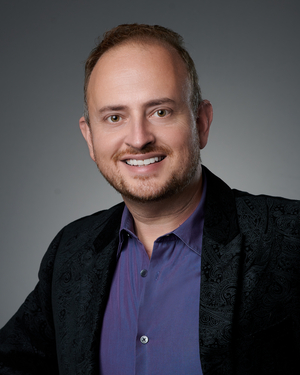 Micah-Shane Brewer today has been promoted to the role of artistic director of Nashville Repertory Theatre. The fifth artistic director in the company's 38-year history, Brewer previously has served as producer for the company.
"On behalf of everyone at Nashville Repertory Theatre, I am honored to welcome Micah-Shane Brewer to the role of artistic director," said Lorrie Brouse, president of the board of directors of Nashville Rep. "His artistic leadership was instrumental to the Rep's successful return to live programming after the pandemic. His extensive skills as a director, actor, musician and educator will be huge assets to the organization, which is on an aggressive growth path as we head toward our 40th anniversary season. This is truly an exciting time for Nashville Rep."
"I am grateful that Nashville Rep's board of directors has entrusted me with this role," Brewer said. "Nashville is an inspiring place to call home, with so many wonderful opportunities to experience the performing arts. Nashville Rep is one of the leading arts institutions in the city and the honor of guiding its artistic mission is exciting. Nashville Rep is unique among regional theatres in that we are committed to supporting and developing our local artists. I am looking forward to deepening our relationships as we grow our programming."
Brewer initially worked with Nashville Rep as a teaching artist in 2020, and since 2021 has held the title of producer with the company. In that role, he directed the Rep's first production following the pandemic, the musical Ragtime, followed by three of the most successful shows in Nashville Rep history: Mary Poppins, Rent and, most recently, Elf the Musical.
Brewer's theatrical career has spanned some 20-plus years. A native of east Tennessee, he was co-founder of Encore Theatrical Company, where he served in various capacities from 2007 to 2018. He has directed more than 90 productions for theaters throughout the Southeast, including the Clarence Brown Theatre, Cardinal Stage Company, Greeneville Theatre, Encore Theatrical Company, University of Mississippi and more, in addition to Nashville Repertory Theatre.
Brewer has been a member of Actor's Equity Association since 2012 and has worked as a musical director and educator. He holds a bachelor of arts degree in both drama and music from the University of North Carolina and earned his master of fine arts degree in acting from the University of Tennessee. Prior to joining Nashville Rep, he was an assistant professor of musical theatre at the University of Mississippi and was a lecturer at the University of Tennessee.
Brewer joins Nashville Rep executive director Drew Ogle as part of the senior leadership team for the Music City-based professional theater company, which was founded in 1985.
"In his role as producer over the last year and half, Micah-Shane's impact on the organization has been significant, both onstage and behind the scenes," Ogle said. "I have no doubt that he will serve the organization, our artists and our audiences well in the years to come."
Next up for Brewer, recipient of the 2023 First Night Star Award, is directing The Curious Incident of the Dog in the Night-Time, which opens March 24 at Tennessee Performing Arts Center's Andrew Johnson Theatre. He is curating Nashville Rep's 2023-24 season, which will be revealed on March 12.
Other productions in Nashville Rep's current season include August Wilson's Fences, directed by Jon Royal and running March 3-5, and the musical Violet, directed by Tracey Copeland Halter, running May 12-21. For tickets and for further details, go to www.nashvillerep.org or www.tpac.org.