Lowry Directs REASONS TO BE PRETTY For Woven Theatre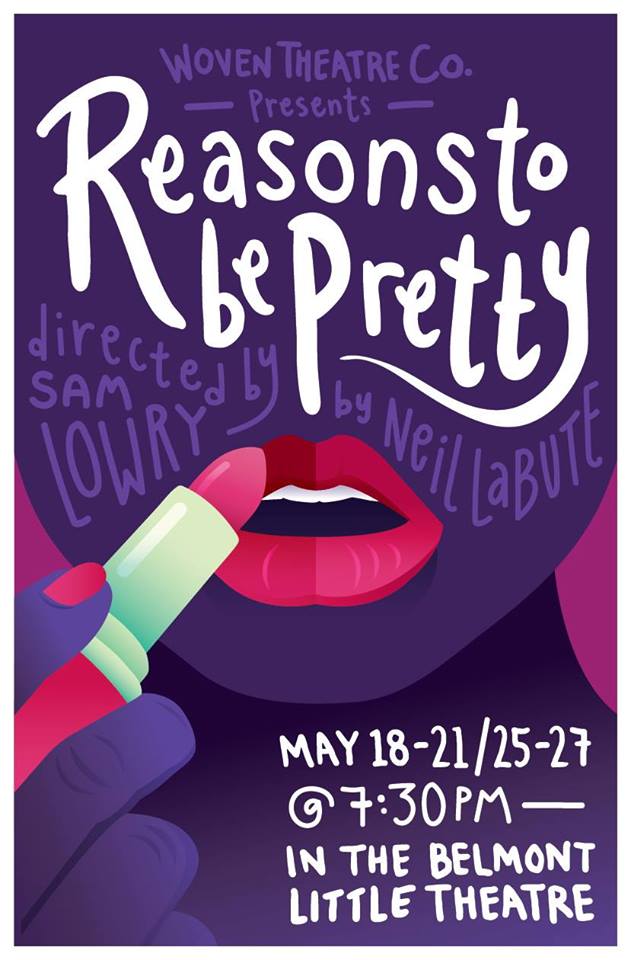 Recent Belmont University graduate Sam Lowry directs the first show of Woven Theatre's second season - Neil LaBute's Reasons to Be Pretty - opening Thursday night, May 18, at Belmont's Little Theatre, and continuing through May 27.
Stuck in the monotony of a dead-end job, Greg (played by Craig Fairbanks), Kent (Ævar Jonsson), Carly (EmElise Knapp) and Steph (Eliza Hare) struggle to find meaning in their lives. Throughout, they face the fallibility of human language and the pressures of societal expectations. There are hook-ups and break-ups, as well as struggles to keep friendships alive. Amid all of this, the four learn the effect that the power of language and how to find your place in the world.
Human language is a strange thing. A thought is formed in one person's head and is then changed into vocal sounds that are put out into the air. The second person then hears these sounds and decodes them back into thought in their own heads. Most of the time this amazing process works well enough that two people can understand what the other person is saying without issue. Then, on occasion this doesn't work. The concept for a word in one person's head is different than in the others. When this happens the two people can usually work it out and move on, but sometimes it can't, a single word can have such a different meaning to two people that it causes conflict. Life can work much the same way. Most of the time the various processes that exist struggle along without much issue. Yet sometimes the same process can misfire and cause real legitimate problems. Reasons to Be Pretty deals not only with the issues of language but of the way the world wants to work as a whole.
Lowry's artistic team includes Daniel Baunmgarder (set), Henry Beach (ights), Kyle Odum and Andrew Timms (sound) and Aliza Ferguson (costumes).
Curtain time is at 7:30 p.m. each evening with performances slated for Thursday-Sunday, May 18-21, and Thursday-Saturday May 25-27 in the Belmont Little Theatre beneath Hail Hall on the Belmont University campus.
Related Articles View More Nashville

Stories

Shows
Jeffrey Ellis is a Nashville-based writer, editor and critic, who's been covering the performing arts in Tennessee for more than 35 years. In 1989, Ellis (read more...)