Jazz Guitar Sensation Tyler Reese Celebrates Release of New Music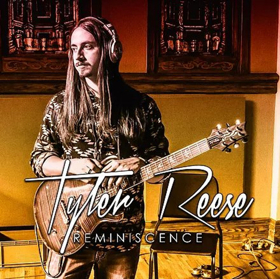 Guitarist Tyler Reese has been releasing jazz-rock records since he was 15, but the now 23-year-year-old finally reached Billboard's Top 5, which is where his newly-released "Reminiscence" debuted on the contemporary jazz albums chart. News of the No. 5 chart entry opened a memorable week for the guitar prodigy whose new collection, produced by Jeff Silverman (Rick Springfield, Hiroshima, The Allman Brothers Band, Tim Weisberg) and Reese, is up for two trophies at Thursday's Hollywood Music in Media Awards. Reese will end the week back home on Sunday night in Fredericksburg, Virginia playing the first of two local concert dates to celebrate the release of the record comprised entirely of his original jazz fusion compositions and showcases his guitar artistry that once scored him an invite to play for and jam with Prince at Paisley Park.
An abundance of national airplay for the first radio single from "Reminiscence," the mood-elevating "Moving On," helped pave the way for the high chart debut. The affable tune collected a nomination in the jazz category from the Hollywood Music in Media Awards. Also earning a nod was the scorched earth electric guitar and horn section fire starter "2Funk," a cut from the disc that competes in the production category.
A busy first-call, Nashville-based session player and touring guitarist who once studied with 20-time Grammy-winning jazz guitar master Pat Metheny, Reese reignited his passion and imagination for "Reminiscence" by reconnecting with his roots in jazz fusion. The result is a collection swirling various hues of jazz, rock, funk and a hint of blues. On most tracks, the fretman uses an electric guitar to slash and burn through borderless fields of fusion. On gentler numbers, he wields an acoustic guitar to strum reflectively and pick poetically on melodic gypsy jazz wanderings and new age contemplations. Midwest Record was among the first to review the record writing, "He's an old soul that knows which end is up. A super solid tasty treat for anyone that needs a well-guided trip back to the day, fusion ears are sure to enjoy the chops and diversity that power this set. Hot stuff."
For more information, please visit:
https://www.tylerreesemusic.com
https://soundcloud.com/tylerreesemusic/2funk
https://vimeo.com/201588802