Coop Gallery Presents GARDENING, NOT ARCHITECTURE Artist Residency
The exhibit runs January 7 - 28.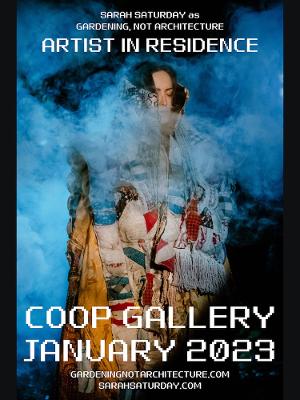 COOP Gallery presents GARDENING, NOT ARCHITECTURE (SARAH SATURDAY) as the artist-in-residence for the month of January. The residency will include an installation in the gallery with artwork, props, costumes, and footage from the upcoming new release, plus chances to attend a private rehearsal of the new live show ahead of its world premiere in 2023. Voyage is the latest multimedia project from Nashville-based music artist Gardening, Not Architecture, featuring a mix of live performance with innovative short films and vibrant original songs. This live visual album explores the shifting relationship we have with our complex and layered identities - those parts of ourselves both positive and negative that are always trying to protect us, sometimes to our detriment.
Gardening, Not Architecture will have private rehearsal performances on January 14, 15*, 19, 20, 21, 22*, 26, 27, 28. Each rehearsal starts at 7:00 with the exception of the Sunday rehearsals on January 15 & 22, which start at 5:00. Doors open 1 hour prior to showtime. Performances are free to attend, with multiple opportunities to make donations at the show.
Sarah Saturday is an interdisciplinary musician, producer, writer, and performance artist known by her stage name, Gardening, Not Architecture. She has released several albums, singles, remixes, videos, films, and multimedia performances since 2007, and played over 200 shows in the U.S. and Canada since 2009. She has scored music for film and TV, including creating the original score for the feature film Superpowerless. Since relocating to Nashville in 2012, Sarah has made a name for herself in the Nashville performance art community with her deeply vulnerable, complex, visually stunning performances.