Review: Lipscomb University's SHE LOVES ME Has So Much to Love About It
Based on Hungarian playwright Miklos Lazlo's Parfumerie (which has also served as the inspiration for the movies The Shop Around the Corner, In the Good Ole Summertime and You've Got Mail), She Loves Me is, for most musical theater aficionados, one of those infrequently-produced theatrical gems venerated by fans with much-played cast albums in their collections and beloved by audiences lucky enough to actually see the show onstage.
Now, thanks to an entertaining production from Lipscomb University Theatre, under the direction of department chair Beki Baker - featuring the showy choreography created by Kari Smith - Nashville audiences are given the rarefied opportunity to experience She Loves Me for themselves during a two-weekend run at Collins Alumni Auditorium on the Green Hills campus of Lipscomb University.
Starring a capable cast of student actors, the show is as effervescent and light-hearted as ever, with the Jerry Bock-Sheldon Harnick score skillfully performed and Joe Masteroff's book brought to life with effortless ease. On opening night, Baker's ensemble seemed somewhat uneven during the show's first act, but by the start of the show's second stanza, the stars seemed to align - as a result, Act Two was as stunning as once could possibly hope for and the show's trademark tunes were performed with much heart and resplendent confidence.
Speaking of Act Two, it must be acknowledged that She Loves Me has what is perhaps the most perfectly crafted second act in musical theater. All of the various parts of the story are brought together to give audiences an extraordinary theatrical experience, one that's full of passion and wit, romance and chicanery, with the score's most beloved songs ("Vanilla Ice Cream," "She Loves Me," "Grand Knowing You" and "Twelve Days to Christmas") performed like some other-worldly greatest hits collection that somehow captivate and intrigue, sweeping you up into a musical theater frenzy that will leave you breathless...and wanting for more.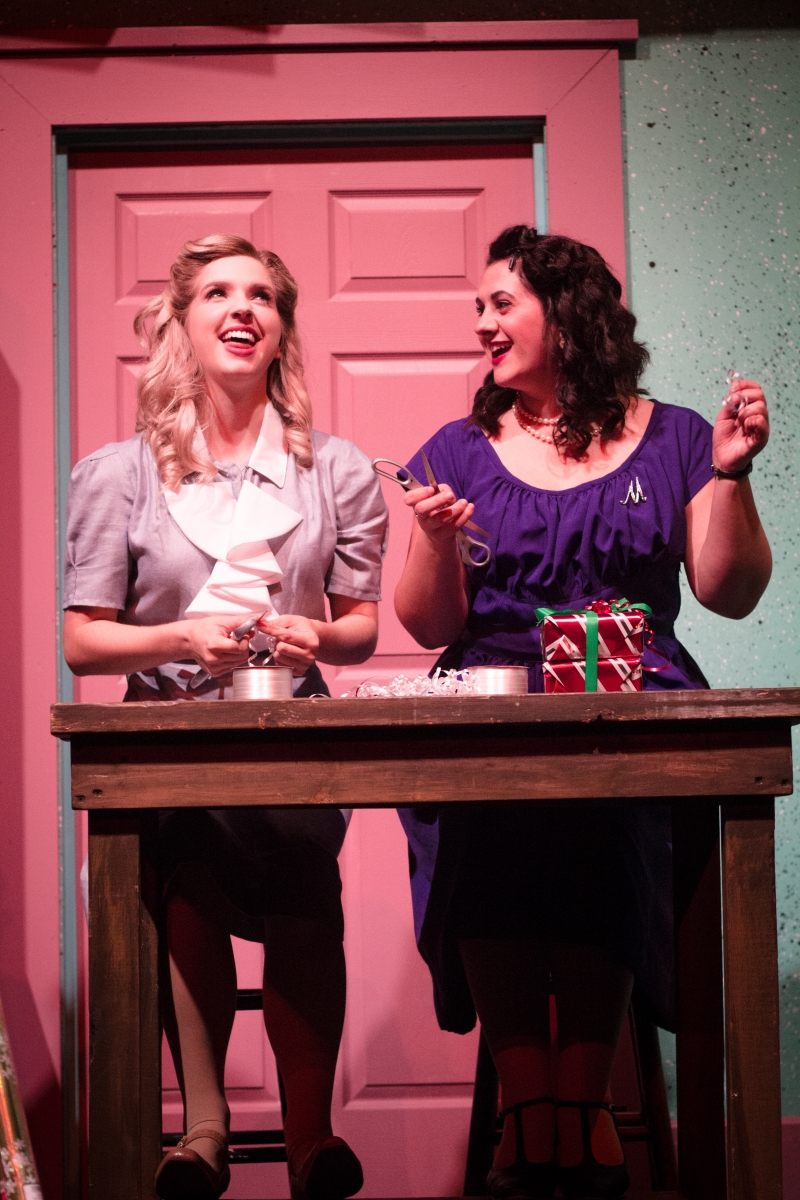 When you happen upon a production of She Loves Me, it's as if you've happened upon hidden treasure - and you simply cannot keep its location a secret. You want to tell everyone you know, stop strangers on the street, sing it to the world: She Loves Me is onstage! Certainly, that's the case with this delightful production that so expressively captures the work's romantic themes, transporting you to Budapest 1934.
Taking place during a six-month period in the mid-1930s, the musical's smartly staged and quickly paced plot focuses on the entertaining interactions of the people who work (and shop) at Maraczek's Parfumerie in Budapest. The plot, at times, is superficially silly (as musical comedies tend to be sometimes), but there is an undercurrent of such light-hearted romance - or the very hope of romance - that one cannot help but be caught up by the tale being told onstage.
Baker's young actors, assured and confident, are so engaging that it's easy to suspend disbelief and give oneself over to the show's unending charm. You're likely to find yourself thoroughly enraptured by Masteroff's confectionary (yet somehow authentic) book and by Bock and Harnick's exquisite musical score. And the score is beautifully performed by musical director David Weinstein's 13-member orchestra that it's easy to forget you're seated in a darkened auditorium and to instead feel as if you, too, are a patron of Maraczek's parfumerie. From the very first song, "Good Morning, Good Day" - which sets the tone for the play and introduces all the various denizens of the shop around the corner - to "Twelve Days to Christmas" - which palpably portrays the holiday shopping rush to dizzying perfection - the score manages to adroitly capture the musical's period setting without sounding at all contrived or dated. Rather, the score of She Loves Me is timeless, sounding as if it could have been composed last year or midway through the last century. That's what top-drawer musical theater can be and which every creative soul longs to offer to the audiences yearning to experience the next big hit.
There is perhaps no better way to celebrate the beginning of the holiday season than with a performance of She Loves Me, which somehow artfully captures the beauty and romance of the season in such grand style.
Veteran Lipscomb actor Scott Patrick Wilson (who last year starred as the Beast in the school's production of Beauty and the Beast) is terrific as Georg Nowack, the hale and hearty parfumerie clerk whose relationship with an unknown young woman he met through the pages of a newspaper's lonely hearts column provides the show's primary storyline. Charming and self-effacing, Wilson's Georg is wonderfully accessible and engaging, providing the show with much of its heart.
Wilson is paired with Lauren Yawn as Amalia Balash, the object of Georg's affections (although unbeknownst to him until she is revealed in a cleverly written and staged scene), who at first meeting clashes with him (as is the way with many a fictional romance) and their scenes together fairly crackle with plenty of onstage chemistry. Yawn performs the second act stunner - "Vanilla Ice Cream" - with the requisite vocal fireworks required of the number and confidently makes the role her own with her lovely performance.
Wilson and Yawn are given able support from the rest of the cast who play their coterie of co-workers at Maraczek's, including the scene-stealing Kaylea Frezza, who takes on the challenge of flirtatious Ilona Ritter and delivers the goods with a wonderful performance; Connor Weaver, who is convincing as the shop's considerably older owner Mr. Maraczek; Sam Kell, whose rendition of "Grand Knowing You" allow him to take command of the stage; and Jonathan Killebrew, whose broad smile and innocent demeanor are ideal for his role of Arpad, the bicycle-riding delivery boy.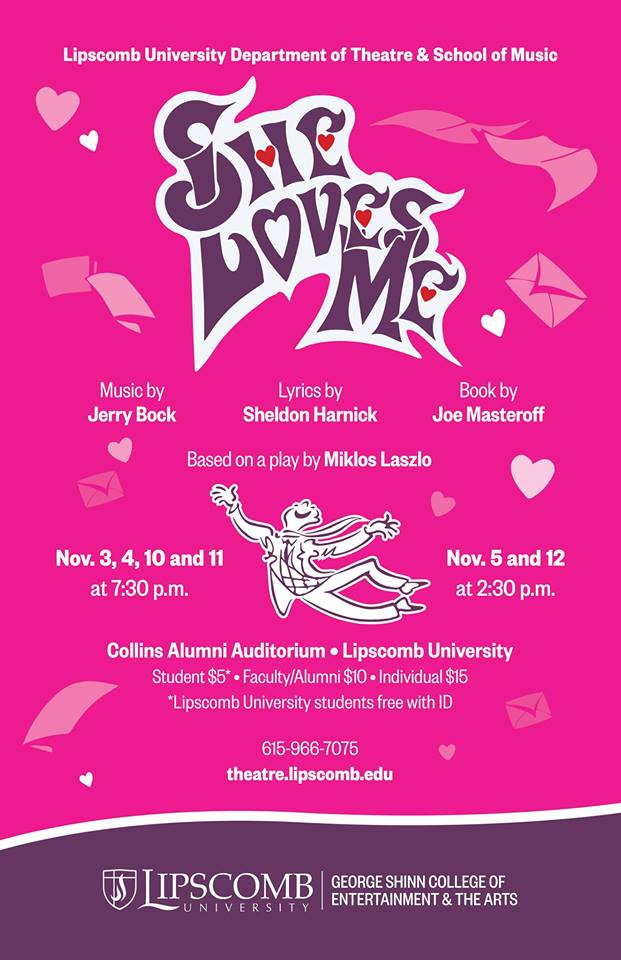 Baker's supporting ensemble is given plenty to do during the show's two-plus hours of storytelling, bringing to life the various and sundry shoppers at the parfumerie and the conspiratorial denizens of a local nightclub. Bekah Stogner shines as an androgynous maître d' and the rest of the ensemble's members - Morgan Bowling, Katie Chance, Virouna Elia, Cooper Humphreys, Noah Jones, McConnell Lafferty, Haley Sue Pearson, Hendrick Shelton and Jacqueline Smoak - ensure that future Lipscomb Theatre productions will have the star power needed to bring the shows to the stage with aplomb.
She Loves Me. Book by Joe Masteroff. Music by Jerry Bock. Lyrics by Sheldon Harnick. Directed by Beki Baker. Musical direction by David Weinstein. Choreography by Kari Smith. Presented by Lipscomb University Theatre, at Collins Alumni Auditorium, Nashville. Through November 12. For details, go to www.theatre.lipscomb.edu or call (615) 966-7075. Running time: 2 hours, 20 minutes (with one 15-minute intermission).