Latest News on Kari Smith
Kari Smith News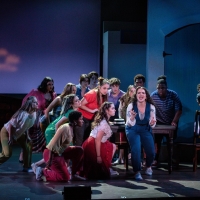 BWW Review: Lipscomb University Theatre's MAMMA MIA Is Exactly What's Needed Onstage Now
by Jeffrey Ellis - Nov 6, 2021
In October 2001, Mamma Mia! opened on Broadway, just weeks after the horrific events of 9/11, and most pundits had little inkling that the show – a jukebox musical comprised of ABBA hits and the story of a young girl trying to divine the identity of her father from among three of her mother's suitors some 21 years earlier – would go on to become the ninth longest running musical in the history of the New York theatrical enclave. But Mamma Mia! was exactly what the theater-going public needed in the aftermath of an epoch-shattering and historic event: an enormously entertaining, fast-paced show set to an eminently hummable, danceable score of songs that could whisk them away to another time and place.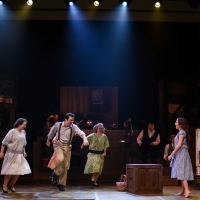 BWW Review: Hatty Ryan King's Star Shines Brightly in Lipscomb's BRIGHT STAR
by Jeffrey Ellis - Nov 7, 2019
There is something about Hatty Ryan King a?" the young woman playing Alice Murphy in Lipscomb University Theatre's superb production of Bright Star (the recent Broadway musical by Steve Martin and Edie Brickell) now onstage at Collins Alumni Auditorium through November 10 a?" that sets her apart from her peers, that makes her seem destined for greatness and which ensures that every role she takes on is elevated by her unerring instincts, her palpable presence and her inestimable talent.
High School Drama: Lipscomb Academy's LINDSEY REYNOLDS and ANNA McRAE
by Jeffrey Ellis - Apr 4, 2019
Lindsey Reynolds (who plays the title character) and Anna McRae (The Cheshire Cat) shared some of their own theatrical backgrounds and interests, as well as offering some compelling reasons for you to join them and their castmates at the show this weekend in today's edition of High School Drama.

First Night's Top Ten of 2018 Announced in Nashville Tonight
by Jeffrey Ellis - Dec 10, 2018
In anticipation of the gala 30th anniversary celebration of The First Night Awards, Tennessee's best and brightest in live theater were revealed tonight as First Night's Top Ten of 2018 - reviewer and critic Jeffrey Ellis' annual recognition for theater in the Volunteer State - were announced during a Facebook Live presentation from Nashville.

High School Drama: Lipscomb Academy's ADDISON McFARLIN and KELLER MONTGOMERY
by Jeffrey Ellis - Dec 6, 2018
Like every high school senior before, Lipscomb Academy's Addison McFarlin and Keller Montgomery are trying to store away as many memories as possible during their final year of high school, while maintaining their GPAs, going to class and being a part of campus life. But Addison and Keller are actors, so their schedules are even fuller, particularly this week as they find themselves in the middle to Tech Week for Lipscomb Academy's fall musical Big Fish, directed by Kari Smith.
SAVE THE DATE: Nashville Theater Calendar for November 5, 2018
by Jeffrey Ellis - Nov 5, 2018
Looking ahead, you'll find a number of new productions on tap for your entertainment pleasure, thanks to the efforts of theater companies all over Middle Tennessee. Here's our calendar for November 5, 2018, to help you plot your course through the end of the year...
BWW Review: Lipscomb University Theatre's GODSPELL Filled With Heart and Soul
by Jeffrey Ellis - Nov 3, 2018
Patriq James' graceful portrayal of Jesus Christ in Lipscomb University Theatre's production of Godspell - now onstage in Collins Alumni Auditorium on the school's Nashville campus - shines like a beacon in the very center of the show, providing the very heart of every story told by director Scott Baker's 17-person cast. But if James provides the show's heart, it is perhaps the members of Baker's ensemble, which includes a deft blending of experienced student actors with an assortment of newcomers to their company, who provide its soul.
Lipscomb University Theatre Unveils 2018-19 Season with TARTUFFE, GODSPELL and more
by Jeffrey Ellis - Apr 2, 2018
Lipscomb University Theatre has only just announced its 2018-19 season and Beki Baker, chair of the Lipscomb University theatre department, says student response already has shown "an overwhelming amount of excitement."
First Night's Top Ten for 2018 Announced in Nashville
by Jeffrey Ellis - Dec 29, 2017
First Night's Top Ten for 2018 - critic Jeffrey Ellis' annual review of the best in Tennessee theater were revealed last night during a live Facebook broadcast, with the hosts of Midwinter's First Night (Ashley Wolfe, J. Robert Lindsay, Tosha Pendergrast and Ben Pendergrast) announcing the productions and performances recognized among the best of 2017.
BWW Review: Lipscomb University's SHE LOVES ME Has So Much to Love About It
by Jeffrey Ellis - Nov 6, 2017
Based on Hungarian playwright Miklos Lazlo's Parfumerie (which has also served as the inspiration for the movies The Shop Around the Corner, In the Good Ole Summertime and You've Got Mail), She Loves Me is, for most musical theater aficionados, one of those infrequently-produced theatrical gems venerated by fans with much-played cast albums in their collections and beloved by audiences lucky enough to actually see the show onstage.