Review: IRVING BERLIN'S HOLIDAY INN Kicks Off The Holiday Season With Style at Cumberland County Playhouse
What better way to leave behind the turmoil of the modern world than by indulging in a bright, shiny new musical burnished with the warm glow of nostalgia and featuring a score by the inimitable Irving Berlin? We can't imagine anything more fun - or more timely, for that matter - than a couple of hours or more spent in the audience of Cumberland County Playhouse to experience the company's latest musical treat: Irving Berlin's Holiday Inn.
With a score that will leave you singing your way out the door after the show's delightful finale that seems a throwback to Broadway's golden age - you may even find yourself tapdancing your way to the car - Irving Berlin's Holiday Inn is directed with customary flair and consummate style by Bryce McDonald and performed by a wonderfully winning and fresh-faced cast who bring the nostalgic, tuneful musical to life. So dedicated is the creative team and their ensemble of singing/dancing performers to the task before them, you'll feel as if you've been whisked away to 1946 yourself, thanks to their superb evocation of the time period and the boundless energy and remarkable skill they employ for your pleasure.
Make no mistake, we recognize the years of the post-World War II era had their own socio-political challenges, but we take heart in the knowledge that during those times, as the world barreled headlong into the future (bringing with it enormous change and amazing improvements in the way of life for most Americans) a particularly appropriate attitude of "never say die" helped usher in a whole new climate of change.
Now, only days before a momentous election that has some pundits predicting an equally startling impact on the American way of life, there is no better way to regain a sense of humor and optimism than by settling into a seat in a darkened theater. Let a show steeped in the traditions of musical theater overtake your contemporary sensibilities and take you out of the insanity of this particular moment in time.
Irving Berlin's Holiday Inn doesn't break any new ground, what with its sweetly sentimental tale - based on the 1942 film of the same name - of a song-and-dance man who seeks contentment by retiring from showbiz and moving to a Connecticut farm to toil the soil, find himself among some "real" people for a change and find enchantment by looking up into "Blue Skies." Though simple it may sound, the plot of Holiday Inn is anything but that (in the enduring style of musicals of the era), but what plays out onstage before you is something far more complex and challenging to pull off convincingly in this day and age.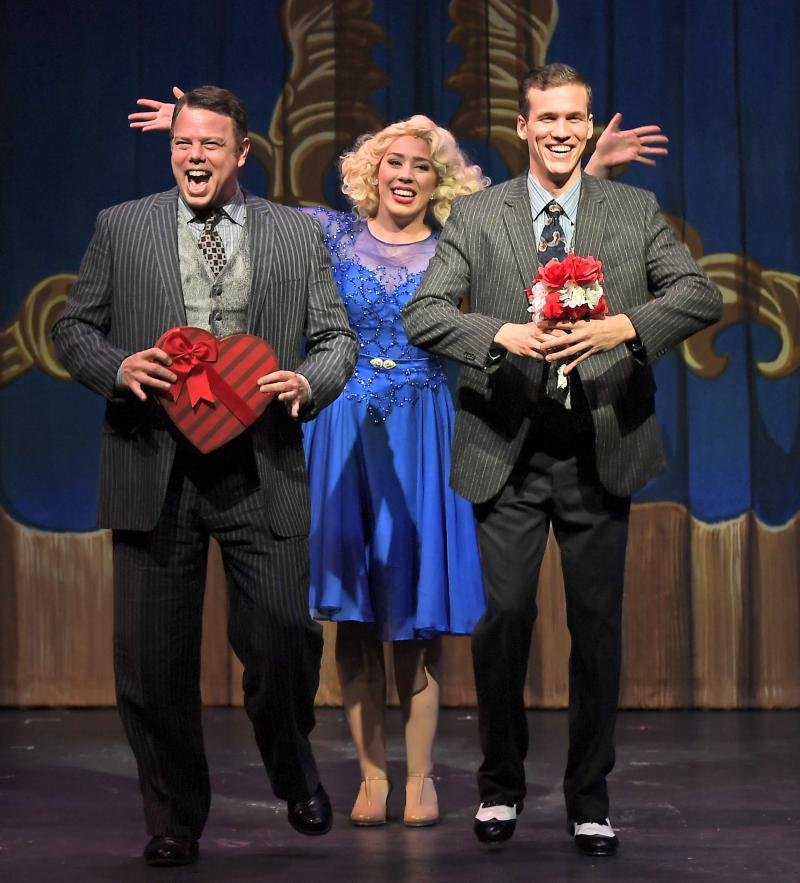 For Irving Berlin's Holiday Inn to work onstage it is essential that every member of the cast and crew believe in the sweetly evocative tale of chasing one's dreams - even as they change over time. That ideal is conveyed throughout the more than two-and-a-half hours of singing, dancing and, admittedly, plenty of humor that skews to the cornball. But what sets the show apart is its ample sincerity and make-believe authenticity: There's not one iota of cynicism to be found (well, there may be a cynical comment here or there, but it's primarily what we've come to expect from shows like this) and there's enough heart in the script to power the cast through all manner of theatrical hijinks and entertaining exploits.
Leave your cares behind and take a trip to Holiday Inn for some good, clean escapist fun. You can bet your bottom dollar that it beats the heck out of watching political campaign commercials 24/7 or being inundated with vexing news around the clock. There's no mention of post-war shortages or societal upheavals wrought by six years of a world war; rather, you're swept up in a frenzy of fervent holiday season revelries with a bevy of beautifully envisioned celebrations of the holidays that punctuate the calendar year.
Truth be told, there's no better way to jumpstart your own seasonal festivities - to lift your sagging spirits - than by watching Britt Hancock, Chris Hallowes, Hannah Hays, Heather McCall, Weslie Webster, Jason Ross and all your other CCP favorites doing their darnedest to set your spirits soaring, thanks to some pretty impressive musical numbers in which the ensemble dance their hearts out.
Choreographed by Playhouse favorite Leila Jones, Irving Berlin's Holiday Inn may seem as if it were lifted straight off the celluloid of a Universal Studios musical spectacle and set down in the middle a stage on the Cumberland Plateau of Tennessee. Together with McDonald, the imaginative Jones sets the musical's winning tone with her recreations of some of the best-loved musical numbers ever filmed.
Even with the bounty of Irving Berlin songs that fill the score of Holiday Inn, you may still marvel at the songs still to be pulled from his collection of hits to fill even more musical theater offerings to come. But any score that features "Steppin' Out With My Baby," "Heat Wave," "It's a Lovely Day Today," "Shaking the Blues Away," "Cheek to Cheek" and "Easter Parade" promises one hell of a good time. Even with "Happy Holiday," "Blue Skies" and "White Christmas" seemingly purloined from the stage extravaganza of White Christmas that's been touring the country for years now after its original Broadway run, there's so much of Berlin's wealth of material still to be enjoyed, and you can select your own favorite from among the Holiday Inn score (perhaps the title song is your favorite?) to sing to yourself in the shower or while walking the family pooch for the foreseeable future.
McDonald directs his terrific cast with obvious affection for the show and its score, creatively transferring movie musical tropes to the stage with seamless ease. McDonald stages Holiday Inn with a confidence that allows each actor to play their character with a palpable sense of originality that underscores their cinematic genesis. The tone might be described as more elegant than reverential, which is just what we've come to expect from McDonald's splendid theatrical concepts.
Britt Hancock is ideally cast as Jim Hardy, the song-and-dance man who gives up showbiz to become a Connecticut farmer. Charming and engaging, Hancock portrays a sort of everyman character with whom any audience member can identify, but when he lets the music take him from everyday life on the farm, he proves himself far more special than we mere mortals be. Hancock's bright smile lights up the whole theater - no offense to lighting designer Annmarie Duggan, whose illumination of the proceedings is pretty swell indeed - and he clearly knows his way around a musical number. To cut to the chase, audiences adore him.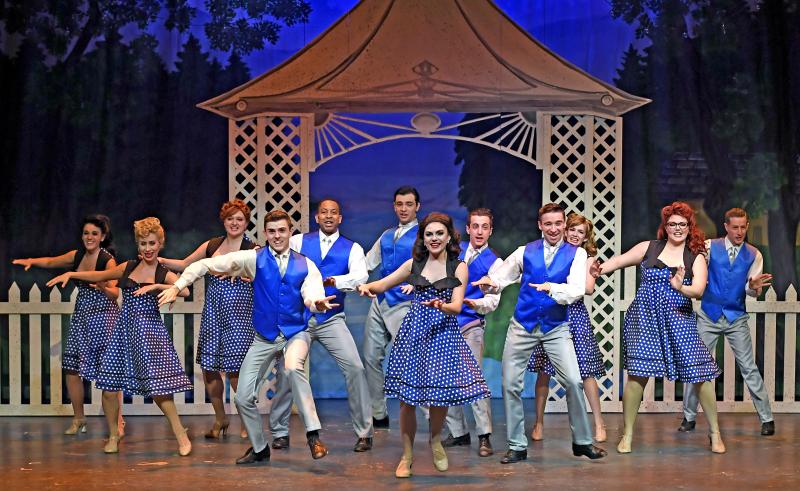 As Jim's oftentimes feckless, but always appealing, best friend Ted Hanover, Chris Hallowes likewise is perfectly cast in his role. Hallowes is one smooth dancer and singer - he practically oozes stage presence and a certain all-American sex appeal that's reminiscent of the greats, like Gene Kelly and Fred Astaire (comparisons which would be over-the-top if they weren't so spot-on) - and it's great fun watching all the women of the drop-dead gorgeous ensemble practically swooning at his every utterance.
Hannah Hays is having a wonderful time as showbiz siren Lila Dixon, the on-again-off-again-will she-or won't she?-once-upon-a-time finacee of Jim Hardy who very nearly breaks his heart. Hays is one nifty dancer herself and she plays the budding movie starlet to perfection, affecting an accent that practically screams of her 1940s dame-worthy aptitude.
As the object of Jim's affections (once he's over Lila's rejection of his marriage proposal, he's pretty much completely over her - and credit to her for returning the engagement ring to the financially challenged farmer) once he finds himself down on the farm, Heather McCall is terrific as attractive schoolmarm Linda Mason. In the manner of all shows like this, it's telegraphed the moment she enters the scene that she'll make off with Jim's heart (the man is anything if not resilient, in the way we expect our musical leading men to always be) and McCall doesn't disappoint, creating a portrayal that's sure to set any red-blooded American male's heart to racing.
Weslie Webster is great as "handyman" Louise, whose busybody antics are only slightly annoying as she takes on the role one would have expected to be played by Mary Wickes or Thelma Ritter, and she's given her own moment in the musical spotlight to show off her estimable talents. Jason Ross, as Danny (the agent to Jim, Ted and Lila), delivers every line with the right amount of insouciant glee and flippant wit, winning laughs with a performance that's rock solid.
Luke Smith, playing Charlie Winslow, local boy with an amazing work ethic, proves himself more than capable of going toe-to-toe with every member of McDonald's impressive professional cast and comes close to stealing every scene he's in with his own perfect timing and sense of how to deliver a line.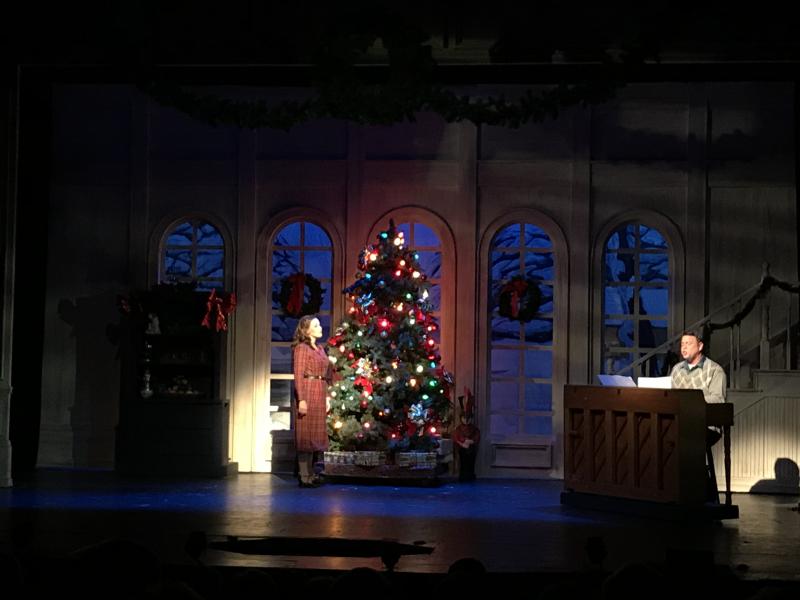 The remainder of McDonald's star-studded ensemble, who play a wide range of showbiz types, prove their worth by providing much of the production's period-perfect ambience. In fact, each member of the ensemble looks as if they stepped right off the screen (kudos to costumer designer Andy Wallach for his gorgeous period fashions for every woman, man and child in the cast). More importantly, perhaps, every actor effectively conveys a sense of style apropos to the period.
Daniel Black, Lauren Marshall, Michael Ruff, Joey Boos, Cory Clark, Jensen Crain-Foster, Jess Griffin, Ross Griffin, Rachel Lawrence, Fiona Mowbray, Charlie Munday, Caitlin Shaub, Larren Woodward and Grayson Yockey may have indeed made the journey to Crossville via some kind of fancy-schmancy time machine from 1946 in order to entertain Playhouse audiences in 2018. It seems a perfectly plausible explanation to me.
Ron Murphy and his crackerjack band of musicians perform The Irving Berlin score with gusto and professionalism in every note, and Curtis Phillips provides a stunning scenic design that allows every holiday to be celebrated with all the accompanying pomp and circumstance (his show curtain, emblazoned with the words "Holiday Inn" is fantastic).
Irving Berlin's Holiday Inn is onstage through December 22 at Cumberland County Playhouse and would make a superb addition to your list of seasonal revelries. It will be joined on November 16 by the 20th anniversary presentation of A Sanders Family Christmas.
Irving Berlin's Holiday Inn. Music and lyrics by Irving Berlin. Book by Gordon Greenberg and Chad Hodge. Directed by Bryce McDonald. Musical direction by Ron Murphy. Choreography by Leila Jones. Presented by Cumberland County Playhouse, Crossville. Through December 22. For details, go to www.ccplayhouse.com or call (931) 484-5000 for reservations. Running time: 2 hours, 40 minutes (with one 15-minute intermission).