BWW Review: CFTA's NEWSIES was Swell, But May We Have a Respite Now?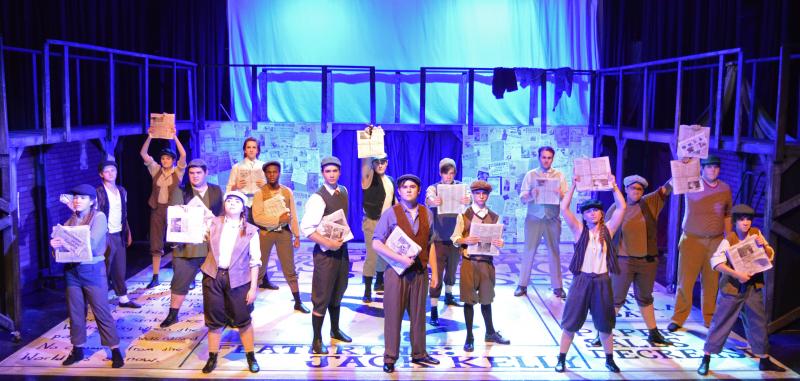 In recent years, Center for the Arts has certainly upped the ante with musical productions which have, consistently, been better than the one before, raising the bar for all the shows still to come. Case in point: Disney's Newsies, which closed its sold-out run in Murfreesboro on Sunday.
Directed by Mark David Williams, who coincidentally is the Center's artistic director, Disney's Newsies is brought to life by a fresh-faced and energetic cast who collectively raised the roof of the old Linebaugh Library (which became CFTA some years back) from its very rafters. The focus and commitment of Williams' actors (of all ages, actually) were palpable, their love of the show itself readily apparent in every moment of the fast-paced production that audiences responded to with vociferous glee and more than a little adulation. In fact, their response was big and boisterous - in proportion to the larger than life-sized performances from the talented cast themselves.
In addition to the standing ovation and cheers that accompanied every conceivable moment onstage, let's give a virtual pat on the back to Williams and his creative team - including musical director Nate Paul, choreographer Brittany Griffin, costume designer Lisa McLaurin, set builder Robert True, scenic artist Alexius Frost, lighting designer Renee Robinson and choreographer Tori Kocher, who staged the wonderfully emphatic Act Two-opening number, "King of New York" - for their tremendous efforts in bringing the behemoth of a musical to the stage. They did good by the material, which includes music by Alan Menken, lyrics by Jack Feldman and book by Harvey Fierstein (based on the Disney film of the same name written by Bob Trudiker and Noni White), infusing the production with a certain verve and sense of style that ensured its success.
But could we now agree, as a theater community, to pump the brakes and stop staging a new production of Newsies every other month for a spell? Certainly, there are productions already dotting the calendar well into 2019, but as a critic may I ask that we stop the damn music for a minute? I get that musical theater actors love it and would give their right eye to star in a revival of the musical, but I am hard-pressed to find new things to write about Disney's Newsies and the superlatives being bandied about now seem to be a given in any worthwhile critique I spend hours over in hopes of writing some new and elucidating thoughts about the show. I am spent, in much the same way I am in regards to Steel Magnolias and, I suspect, so too are my readers who can tell you a few things (if they have paid attention at all to the thousands of words I've thrown together in a kind of word salad designed to encourage artists to remain creative and theater goers to buy tickets):
Fierstein's book - a romanticized take on the 1899 Newsboys' Strike in New York City - is full of holes so big and wide you could drive a horseless carriage through them (look up pictures of roadways cut through the bases of redwood trees in the early 20th century out in California for a visualization); it depicts the historical tale with all manner of artistic license and too much of a contemporary bent.
The character of Crutchie makes me want to retch, a fact I feel compelled to tell every actor who plays him for fear they'll take my treatment of him as some kind of personal affront (hate the sin, love the sinner).
The so-called "Children's Crusade" - the nascent, epoch-shattering movement which supposedly unites all the newsboys all over the boroughs of Manhattan in a collective to strive for a better future for all concerned, only to have that particular plot point swept under the natty Persian rug on the floor of Joseph Pulitzer's office for the sake of expediency and the ease of wrapping up the whole package with a clever bow - makes me long for the reappearance of Crutchie after he's been holed up on holiday at The Refuge.
The real-life characters of Joseph Pulitzer and Theodore Roosevelt and their long-running business, political and personal dealings - rife with dramatic possibilities - are rendered melodramatically and, thus, are far less intriguing than the real thing.
The villains in Newsies are depicted in much the same way they were in the silent film era (stereotypically vile and corrupt), save for the fact they don't actually twirl the ends of their waxed moustaches or tie Katherine Plumber to the railroad tracks...
And all the choreography, no matter how impressive it looks onstage and how dazzling it may be, is rather derivative, based upon the tropes of thousands of Newsies productions we've already been exposed to over the course of the past few years. (Don't get me started on the film version which dates all the way back to 1992 - I have my standards, dagnabbit!)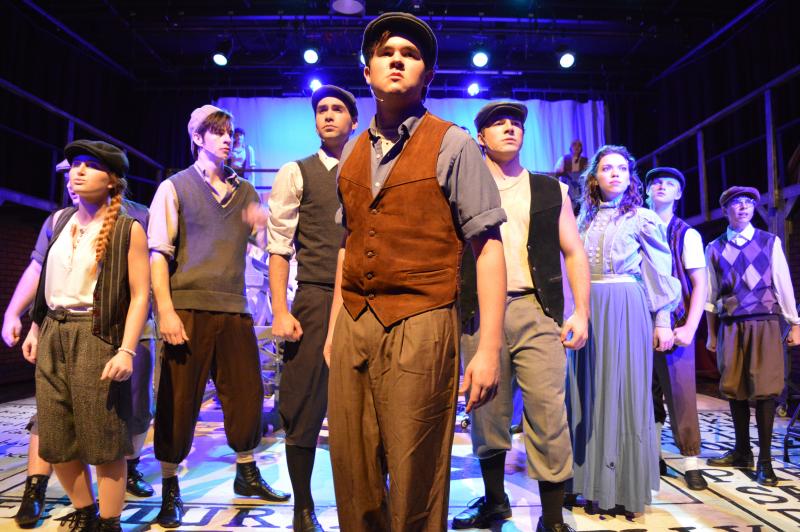 I get your point (I am a mind-reader, in case you haven't already divined that facet of my personality): I sound like some sort of horrible misanthrope or dastardly curmudgeon kicking sand in the eye of this particularly poor little match girl (see, I'm driven to mixing my literary metaphors all willy-nilly and the like when dishing about Newsies). But I've grown weary of debating the continued use of character shoes and newsboy caps to costume the masses, just as I've become tired of the fact that every damn one of the songs sounds like all the others in the Menken-Feldman score. (I, for one, could go for some variety!)
As I sit here, pounding the keys, attempting to find something new and inventive to write about in regard to Disney's Newsies, I can feel the million tiny pinpricks from a million tiny needles being thrust into the heads of the million tiny Jef Ellis voodoo dolls sold at a million tiny concession stands at theaters all over the world - by people who think I'm panning CFTA's Newsies and, thus, slighting the apples of their collective parental figures' eyes.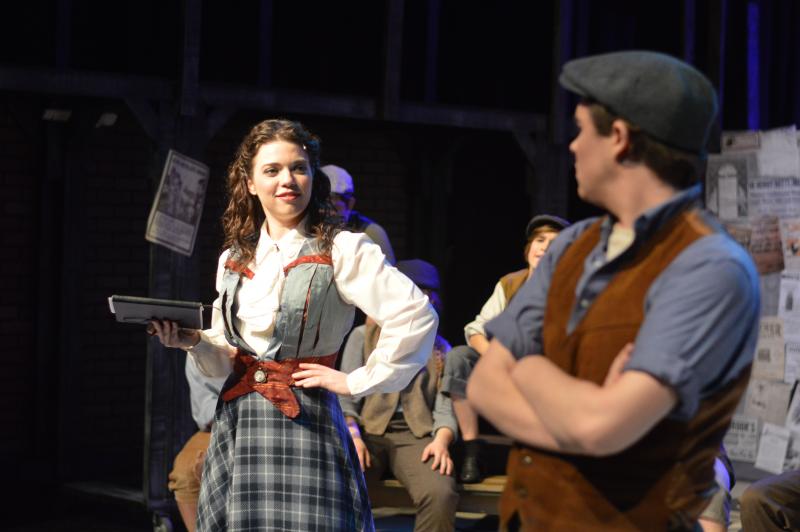 "Pish-posh," I say - while muttering an exasperated "golly gee whillikers" under my breath (just as I suspect a band of romanticized newsboys and newsgirls might have done at the turn of that particular century) - because, in truth, CFTA's cast were the veritable cats-meow, crème de la crème of Newsies casts, each member giving their gosh-darnedest to create a memorable, viable musical with which audiences absolutely fell in love.
My point? It doesn't matter what I write: the show sold out 99.9% of tickets (or thereabouts, I suspect), audiences loved it and cast and crew members had a life-altering experience throughout the process. My review, therefore, is most definitely de trop - so much meanderings that don't amount to a hill of beans.
Here's my takeaway of Disney's Newsies at Center for the Arts: Williams' direction was terrific and kept the action moving at a brisk clip (but the show is gonna run the two and a half hours it is designed to no matter the pace, it would seem) and he manages to keep his large cast focused on their tasks at hand to deliver an entertaining theatrical diversion. Paul's expert musical direction ensures that the wall of sound that comes wafting out over the footlights (okay, there are no footlights, but you catch my drift...) and into the audience pins your ears back with impressive command. Groups numbers are boisterous and infectious, to be certain, but more intimate moments during solo turns are equally auspicious.
Griffin's high-stepping choreography is full of acrobatics and other athletic skills that are expected from the singing/dancing newsboys, and she fills the stage with eye-popping production numbers that are rather exhilarating. The set, built by Mr. True (the design is credited to him, director Williams and the multi-talented Ms. Frost, who always stops the show as quite possibly the best Medda Larkin we've seen in months), provides an ideal backdrop for the many scenes and locales depicted in the show, although we do think there were some missed opportunities in staging the spectacle that would have added to the already overwhelming physical production.
Lisa McLaurin shows off her eye for period fashion, thanks to her superb costumes for all the characters cavorting about the premises and Renee Robinson's lights perfectly illuminates the proceedings in her own artful way.
Leading Williams' cast is the ridiculously talented Nicholas True, who brings heroic newsboy Jack Kelly to life with charm and ample amounts of stage presence - he's swell! But it's Isabella Kearney, as ambitious reporter Katherine Plumber, who proves the most delightful presence in this particular cast of Newsies: she's confident and poised onstage, exhibiting tremendous command of the stage in every scene from whence she radiates. Together, Kearney and True bring a level of unmatched professionalism to the stage (and I might be convinced to see yet another production of Newsies were they cast in the lead roles).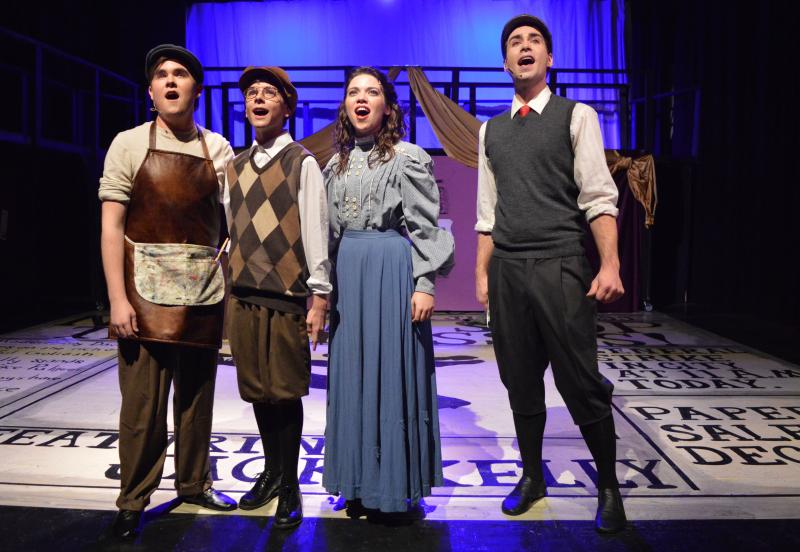 Tall, taciturn and talented Callum Ammons is terrific as Davey, with Jude Williams providing loads of precocity as his younger brother Les. Drew Harris, Russell Forbes, Wil Hansen, Andrew Sparks, Jakholbi Murry, Jonathan Hazen, Sophie Young, Chloe Harris, Andrew Hansen, Emily Hendricks and Jaiden McAdoo bring their combined talents to the stage as the other newsboys challenging the status quo in 1899 NYC. Likewise, Britton Clark, Benjamin Hansen, Ryan Fiero and John Ortiz are well-cast as the stereotypical bad guys and Karisha Glover and Aurora Boe are lovely as Medda Larkin's Bowery Beauties.
Dakota Green pulls off a strong impression as Teddy Roosevelt, while Adam Boe is actually quite good as Joseph Pulitzer, sounding imperious and looking as if he stepped out of an Arrow Collar ad.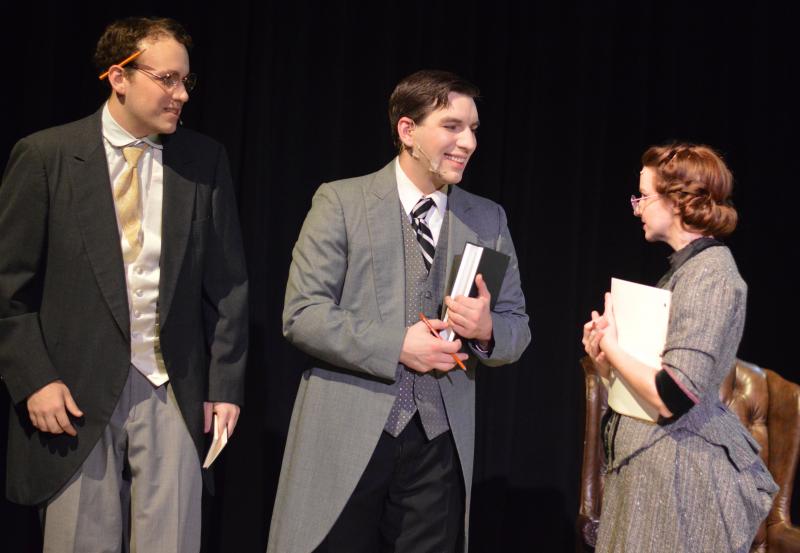 As the aforementioned Medda Larkin, the Bowery theater owner who befriends Jack Kelly and his band of mates, Alexius Frost delivers yet another strong performance (she seems never to disappoint, truth be told), and Tucker Young takes on the thankless role of Crutchie (curse him!) with confidence and a sharp focus that makes him less annoying than I might have remembered. On second thought, Crutchie is still insufferable, but Mr. Young is peachy keen. And, as always, it's always a good show when Lindsey Wortham is in the cast, even if her talents are ill-served by the script (she's given far too little to do - she is a star in my book).
Looking back over this review, I am surprised to have written so many words and expressed so many opinions (and been at it for over an hour and a half) about a show with which I claim to be bored. Who'd have thought it possible?
Disney's Newsies. Music by Alan Menken. Lyrics by Jack Feldman. Book by Harvey Fierstein. Directed by Mark David Williams. Musical direction by Nate Paul. Choreographed by Brittany Griffin and Tori Kocher. Presented by Center for the Arts, Murfreesboro. January 11-27.
Related Articles View More Nashville

Stories

Shows
Jeffrey Ellis is a Nashville-based writer, editor and critic, who's been covering the performing arts in Tennessee for more than 35 years. In 1989, Ellis (read more...)