Interview: Marika Aubrey Of COME FROM AWAY At Salle Wilfred Pelletier, Place Des Arts
Aubrey is currently on tour with COME FROM AWAY, portraying Captain Beverly Bass.
Marika Aubrey was born and raised in Newcastle, New South Wales, Australia. She emigrated to the US six years ago and currently resides in New York City. She is currently on tour with COME FROM AWAY, portraying Captain Beverly Bass. I had the chance to chat with her about her life and career both on and off the stage.
HANNIBAL: Tell me a little bit about your journey into the arts.
AUBREY: When I was a kid my mom wanted to put my brother into youth theatre to bring out his confidence and help him and she asked me if I minded if she enrolled me as well so he wouldn't feel targeted or something. We both had a good time, but I found my tribe. I just connected with the people in youth theatre more than I had with anyone at school. We would put on plays and I learned how doing shows worked and all of that good stuff. I didn't know it was a job until I was in my mid to late teens after some adults said to me, "you know, you could do this for a living." I thought, "really? I could do this for a job?" I was lucky that I had those kinds of people weighing in. I then did my actor training in Australia. It really took a good decade of working all sorts of different jobs, a lot of poorly paid work, until I started to get some traction and made a name for myself there. I then petitioned for my green card and was fortunate that it got accepted. I then moved to New York City with the hopes that I would get some work here and low and behold, my first ever contract was Come From Away. I have been insanely fortunate to come to this side of the globe and I feel really grateful.
HANNIBAL: Tell me a little bit about your experience in the Australian premiere of MATILDA THE MUSICAL.
AUBREY: I originated the role of Mrs. Wormwood in Australia, touring with the show. I had a ball working with the most incredible kids. We had three casts so there were something like 14 children that I toured with full-time for a couple of years. I'm still in contact with my original Matildas. They're all grown up now and one of them is applying for college in New York and will be moving over, so we will be hanging out. They are now of age and driving and drinking. They've grown up and it's beautiful and bizarre and they are all amazing humans. Being part of MATILDA, working with the Royal Shakespeare Company, and getting to work with that creative team like Tim Minchin and everyone was one of those bucket list kinds of experiences. I was really delighted to go and see the new movie and take my 5-year-old. We are now doing the jigsaw puzzle and reading the book at home. She has no kind of clue that I was once upon a time the "mean mummy" in MATILDA. It's good fun to see it again through her eyes.
HANNIBAL: Come From Away is such an incredible EVERYTHING piece. I love that it was developed in Canada. Seeing the show the first time the tour came through was electric. We don't get a lot of musical theatre tours here in Montreal and audiences can be a little more reserved than in other markets. With Come From Away the audience response was absolutely amazing.
AUBREY: It is not a conventional musical. It's a small company. We are mostly on stage the whole time. It's a true story. It's not verbatim, but it feels almost like a verbatim musical because every account is true to life. It resonates with everyone who was a live during that time and educates everyone who wasn't. It's a really, really rare piece that does unify crowds. I don't say this to sound smug, but just to report a fact - we have never had a show where people in the audience haven't stood up the second we come out on the stage. I think it's just that molecules get shifted in this show and people identify with someone in it. We tend to represent kind of all walks of life in this production and there is a catharsis from walking through the story again, having lived through it a lot of the time. It doesn't surprise me, but it makes me really happy that Montreal audiences have embraced the show.
HANNIBAL: Do you find there is a difference between Canadian audiences versus American audiences?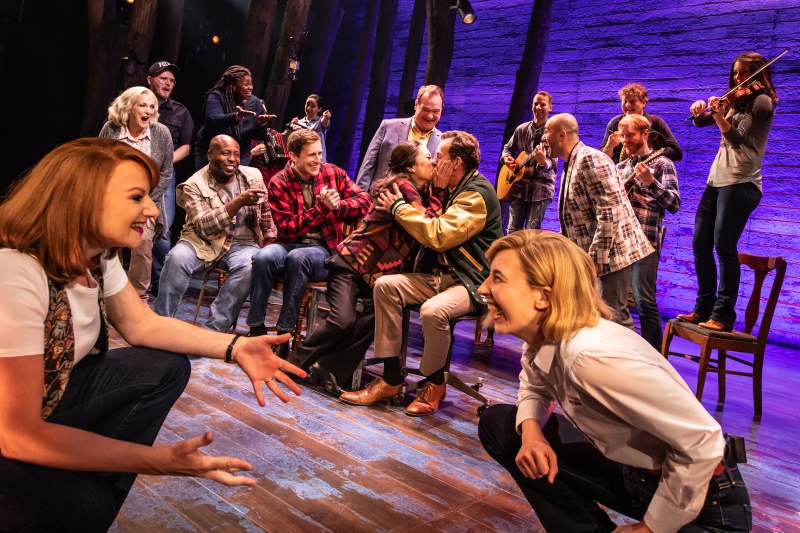 AUBREY: 100% different. We find Canadian audiences, generally speaking, more celebratory. They're more vocal when we mention things like Tim Hortons. Even when we talk about Newfoundland, they have much more of a frame of reference of where that is, what that is, and what that represents to Canada. A lot of Americans have never heard of Gander until they walk in and see our show. We find that American audiences can be a little more somber about it whereas Canadian audiences tend to be really proud and much more celebratory.
HANNIBAL: Have you met Captain Beverly Bass? ( Captain Bass was the first female, American Captain in commercial airliner history)
AUBREY: Yes! She's a great mate I can even text when I have questions. She flies in reasonably regularly to see the show. Covid and other things have slowed that down a little bit, but she has seen the show over 150 times. Sometimes I'll just get a little text saying, "I'm coming to the show tomorrow sweetie," because she can fly whenever she likes on American Airlines for life. We do a lot of press together. I'm delighted to be her friend. What I like most about that is that it's nothing to do with the show, but we would never have met any other way. There is no way this Captain with no interest in musical theatre, who lives in Fort Worth, Texas would have ever crossed the path of someone from Regional Australi with Broadway stars in her eyes, were it not for this show. It's a really cool anomaly. We are very different, but we get on really well. I have huge respect for her and thankfully, she's got great respect for what the show is and how she is portrayed and the effect that the show has on everyone regardless of where they come from.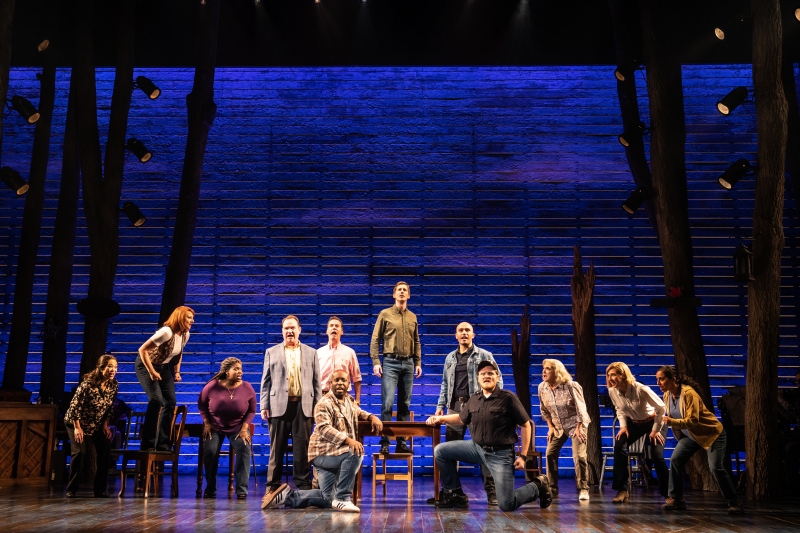 HANNIBAL: Tell me a bit about the craziness that surrounded your Broadway debut. I want to hear it in your words.
AUBREY: Well, I was at home on emergency leave. My daughter had just joined our family and we were having our very first Christmas together, so I was in New York and it just so happened that unfortunately, the Omicron strain of Covid had ripped through the Broadway company of Come From Away and they were in danger of having to close the show. The resident director remembered that I was in New York, just a couple of subway stops away. It was Christmas Day and he rang me and asked, "are you still here?" I said, "yea" and he said, "can you do Bev tomorrow at the matinee on Broadway?" I replied, "yea" (laughs) The next morning, I woke up and was scootering around a park at 7 AM with my kid and getting her organized, then I went in, tested negative, and made my Broadway debut kinda quietly and in the most bizarre of circumstances with eleven actors I had never, ever even encountered before. It wasn't even that I was entering their company because the company by this point was comprised of prior standbys, vacation swings, etc. It was just this Franken-cast of people full of spirit and willingness and good immunity! The holiday season in New York City is a really popular time for Broadway shows, so to have canceled those shows would have been really catastrophic. We were lucky. We kept it going for another week and we had such a good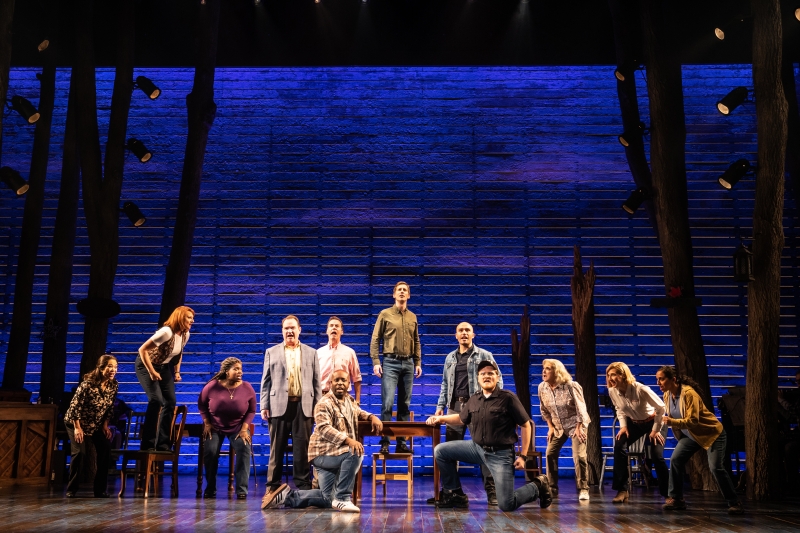 time. I always imagined my Broadway debut would be in an original show with champagne in my dressing room and cards from all over the world. As it was, I got up and I was a mum and then did the matinee, walked out, didn't do any [autograph] signings because of Covid, went straight home, did the bath and dinner thing with my kid, and then went back to do the evening show. Absolutely no one that I knew was in the audience, but it was the most fun. It was one of my favourite shows I've ever done because we were just listening with such ferocity to make sure we didn't drop a single ball in the show. Adrenaline got me through and then I had a really good sob when I took my bow. It was a long time coming for me, coming from where I come from and making the move to America and stuff. It was a very emotional bow.
HANNIBAL: Tell me about your experience with the On the Spot Musical Improv show.
AUBREY: Wow! You did your homework! It's a troupe in Australia and they have a special guest every week from a show. They asked me to be the guest and I thought it wasn't really my thing, but they told me there would be a rehearsal. In my naivety, I thought it wouldn't be fully improvised and that in rehearsal, we would pre-plan the show. But that is not the truth! The rehearsal is just impro games for an hour and then they said, "we'll see you on the night." It was a terrifying night, but funnily enough, if you are with people who do it all the time, you just sort of go into it with an open heart. I did have a really good time, but it was truly terrifying because we literally made it up as we went. I don't even understand how we did it! I just bow down to those people.
HANNIBAL: What is your dream role, that you have yet to play?
AUBREY: I really want to play Mama Rose in GYPSY one day. That's probably 10-15 years away, but that's definitely on my list of future roles. I'd also love to give The Witch a crack in INTO THE WOODS.
HANNIBAL: When the Come From Away tour comes to a close in May, do you have anything on the horizon coming up?
AUBREY: Nothing that I feel confident to talk about just yet. I think those pieces will fall into place. I definitely want to enjoy my summer and maybe go visit some family in Australia. My main priority in 2023 besides exciting work opportunities that I hope will get locked in, is to just get my daughter settled into school because I've been homeschooling her on the road. I'm really excited/scared for the next chapter and I just want to try and create some routine for her. Being a mum is the bigger priority in the second half of 2023.
COME FROM AWAY at Salle Wilfrid-Pelletier, Place des Arts runs through January 15, 2023. Tickets are on sale at the Place des Arts Box Office by phone at 1-866-842-2112 or online at www.evenko.ca or www.placedesarts.com
The Tony and Olivier Award-winning Best Musical tells the remarkable true story of 7,000 stranded passengers and the small town in Newfoundland that welcomed them. Cultures clashed and nerves ran high, but uneasiness turned into trust, music soared into the night, and gratitude grew into enduring friendships.
On September 11, 2001 the world stopped.
On September 12, their stories moved us all.
COME FROM AWAY features a book, music and lyrics by Olivier, Drama Desk and Outer Critics Circle Award winners and Grammy and two-time Tony Award nominees Irene Sankoff & David Hein, direction by Tony Award winner and Outer Critics Circle Award winner Christopher Ashley, musical staging by Olivier Award winner and two-time Tony Award nominee Kelly Devine, and music supervision by Olivier Award winner and Grammy Award nominee Ian Eisendrath.
COME FROM AWAY features scenic design by Tony Award winner Beowulf Boritt, costume design by Tony Award nominee Toni-Leslie James, lighting design by two-time Tony Award winner Howell Binkley, sound design by Olivier & Outer Critics Circle Award winner and Tony Award nominee Gareth Owen, orchestrations by Olivier Award winner and Grammy & Tony Award nominee August Eriksmoen, and music arrangements by Olivier Award winner and Grammy Award nominee Ian Eisendrath and casting by Telsey + Company.
A "Best Musical" winner all across North America, the smash hit musical has won the Tony Award for "Best Direction of a Musical" (Christopher Ashley), 4 Olivier Awards (London) including "Best New Musical," 5 Outer Critics Circle Awards (NYC) including "Outstanding New Broadway Musical," 3 Drama Desk Awards (NYC) including "Outstanding Musical," 4 Los Angeles Drama Critics Circle Awards (North American Tour) including "Best Production," 4 Helen Hayes Awards (D.C.) including "Outstanding Production of a Musical," 4 Gypsy Rose Lee Awards (Seattle) including "Excellence in Production of a Musical," 6 San Diego Critics Circle Awards including "Outstanding New Musical," 3 Toronto Theatre Critics Awards including "Best New Musical," 3 Dora Awards (Toronto) including "Outstanding New Musical/Opera" and "Outstanding Production," and the 2017 Jon Kaplan Audience Choice Award (Toronto).
Performance schedule:
(The show is presented without intermission: 1 hour and 40 minutes)
Tuesday, January 10 at 8 pm (opening night)

Wednesday, January 11 at 8 pm

Thursday, January 12 at 8 pm

Friday, January 13 at 8 pm

Saturday, January 14 at 2 pm and 8 pm

Sunday, January 15 at 2 pm
For more information, please visit: www.ComeFromAway.com
Facebook: https://www.facebook.com/ComeFromAway/
Twitter: @Wecomefromaway
Instagram: @Wecomefromaway
Photos courtesy of Come From Away