BWW Interview: PRIME Productions' Shelli Place and TWO DEGREES
The Guthrie Theater's Level Nine initiative brings other professional theaters in the community to their Dowling Studio space on the 9th Floor of the Guthrie's acclaimed building to present new works and other projects with seats that are only $9 each, making it theater for everyone. PRIME Productions, a company that started in 2017 with a mission to explore, illuminate and support women over 50 and their stories through the creative voice of performance, is producing the first show of the 2018-19 season in Level Nine with Tira Palmquist's TWO DEGREES. Director and company founding member Shelli Place took time during her busy tech week to share more about the show and herself in this 6 Questions & a Plug, where she tells more about how they uniquely plan to fill a role that has been missing in Minneapolis/Saint Paul (and perhaps everywhere): creating theater work for women over age 50, on stage and behind the scenes.
Can you start with the show-tell me what it's about and what drew you to it?
The show is the story of Emma Phelps, a paleoclimatologist, who is invited to come to Washington, D.C., to challenge the troubling shifts in policy on climate change. She finds herself at the intersection of the personal and political, of sex and power, of common good verses corporate profits. Tira Palmquist's TWO DEGREES takes us on a journey that encompasses personal loss and survival of the planet.

I loved the script because if offered two fabulous roles to women over 50 who were strong, smart and sensual, who speak about issues other than their relationships with men. I was drawn to the script because of the various themes: climate change, politics and surviving personal loss...something we all will experience sometime in our lives.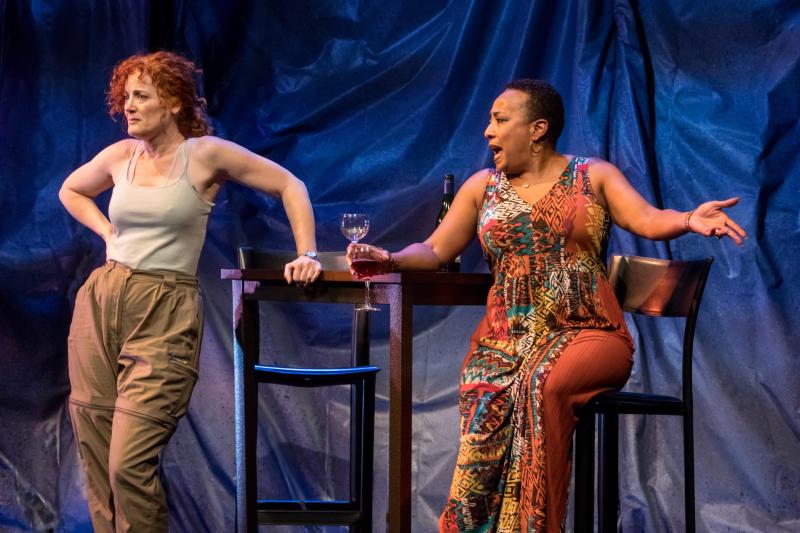 Tell me about your cast--who are your actors and what do they bring to the show?
There are four amazing actors in the cast: Norah Long, Joel Liestman, Jennifer Whitlock and Toussaint Morrison. They bring a variety of talents, training and, most importantly, life experience to this production. An interesting fact is that besides being terrific actors, they are also fabulous singers, who come from totally different backgrounds in music -- Gospel, Soul, R & B, Spoken Word, Musical Theater and Opera. And there is not one note sung in this show! One of my joys as a director is giving actors a chance to
show audiences a different side of their talent, and to help them expand their range of casting possibilities.
How did you get to produce the play at the Guthrie this season?
We were approached by the Guthrie after our inaugural production of LITTLE WARS last year at Mixed Blood, and asked if PRIME Productions would like to propose some titles that would work in the Dowling Studio. When we discovered Tira Palmquist's TWO DEGREES, we knew we had something that would be exciting, relevant and synergic with both the Guthrie and PRIME's mission. We pitched it to Jeff Meanza, Associate Artistic Director, who agreed, and it took off from there! The Guthrie team, headed by Michael Perlman, has been enthusiastically supportive.
It's your second season; does the Guthrie raise your company's profile and how are you using the platform to move ahead with your goals?
We are thrilled to have this opportunity with the Guthrie, as well as having a similar opportunity with a production at Park Square next spring. With such marquee theaters, PRIME Productions gains exposure to larger audiences, increased marketing, and the ability to begin to make PRIME a brand. However, with all this attention comes risks as well as rewards. Having two successful major productions in our second season will definitely establish us as a "theater to watch" and lead us to new donors and supporters. In the meantime, the challenges are considerable. There is always the need to procure the funds to produce new productions, select plays that are intriguing, and find the artists to help create interesting shows to order to build a reputation for quality work. This takes substantial time and energy. The Ladies of PRIME; Alison Edwards, Elena Giannetti and myself, are three of the hardest working volunteers I know and
pacing ourselves becomes important in order to secure the future of the company.
You've already employed 19 women actors over the age of 50 -- is it a challenge to find plays that help advance your mission?
Yes, It's a huge challenge. We have read so many plays that have older women fighting over a bed or a view in a nursing home or sisters sitting around a kitchen table wondering what to do with "mom." Some are better than others, but our goal is to find plays that reflect where mature women are in society today. More importantly, how these women should be valued in the future. Jeremy Cohen and the Playwright's
Center has been most helpful in this endeavor. We have also been in talks with local playwrights and hope to be able to commission them in the future.
What is your background in directing and acting?
I auditioned and was accepted into the BFA Acting program at Southern Methodist University (Dallas, TX) where I met an amazing, talented upperclassman who directed me in my first three shows. His name was Garland Wright and he was one of the most creative people I have ever met, my first mentor. (Editor's Note: Wright was also later the Guthrie Theater's Artistic Director in 1986-1994.) Within a year of graduating I had my Equity card and started working: summer stock, dinner theater, industrials,
regional theater and, later, commercials, soaps and sitcoms. I was always intrigued by the directors. I watched, and I learned what to do - more importantly, what not to do. I started assisting; staging the actors in musical numbers or coaching demanding monologues. While living in Tokyo I was given the opportunity to direct plays, create musical revues and coach English speaking actors on Japanese TV shows. I found that not only enjoyed this but was pretty good at it! Returning to the U.S., I started a
freelance career, directing multiple shows for Walt Disney Entertainment, awards shows for major corporations, fashion shows, red carpet events and the NFLA "Player of the Year Awards" for several Super Bowls. Moving to Minneapolis seven years ago has allowed me to return to my first love, theater. This wonderful, vibrant and creative artistic community has given me the opportunity to direct, act and produce.
Co-founding PRIME Productions has allowed me to take my own second act to a whole new level. Having this opportunity to direct at the Guthrie at this juncture of my career is very validating. As I was sitting in the initial meeting with the Guthrie team, I looked up and there was a photo of Garland Wright staring down me, and I couldn't help but think...he would be pleased.
I agree -- I think he would be! What is next after TWO DEGREES for you and PRIME?
In April, PRIME will produce Jordan Harrison's MARJORIE PRIME at Park Square Theater, directed by Elena Giannetti, and our staged reading series, PRIME Voices, will return in the fall. We are always reading plays to be considered and will continue to hold casual readings with artists and avid supporters to help us determine what might work for our audiences. And then, there's always fundraising...
For myself, as a freelance director and actor, I will continue to seek out new opportunities that are challenging. Being a woman "of a certain age," it's now not just about getting the work, but how the work fortifies me, and the value it brings to me. As an actor, I will continue to audition, work with voice coaches and to be part of the Actors Workout at the Guthrie with Raye Birk. In the spring, I will be directing TO KILL A MOCKINGBIRD for SOAR Arts.
More Information:
TWO DEGREES plays the Dowling Studio through Oct. 21, 2018. Visit http://www.primeprods.org/ for more about PRIME Productions or https://www.guthrietheater.org/shows-and-tickets/2018-2019-season/two-degrees/ for tickets and more details about seeing the show at the Guthrie.
Photos:
Shelli Place, courtesy of PRIME Productions
Norah Long (Emma) and Jennifer Whitlock (Louise), by Dan Norman.