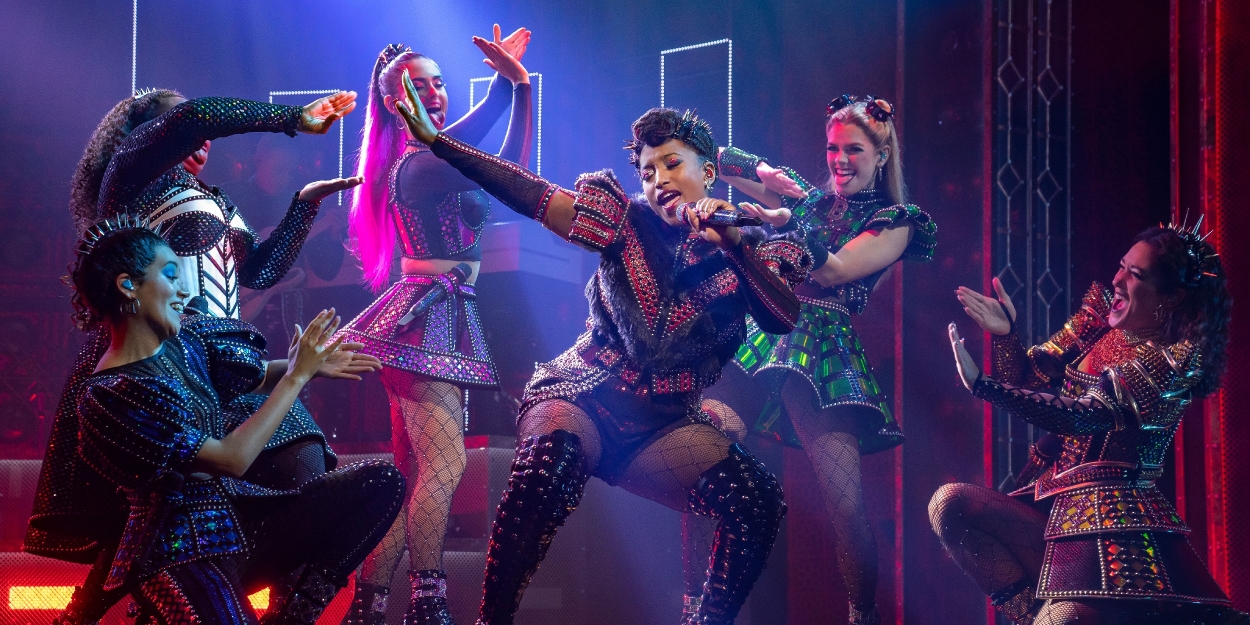 Review: Pop Musical SIX Slays its Sold-Out Milwaukee Run
Audiences are right to lose their heads over these queens
If you'd pick a pop concert over a Broadway musical, pick SIX. If you're looking for "not your grandma's musical," SIX is certainly one for the next generation. If you prefer your Broadway with a semi-educational, historical bent, SIX appeals to that preference. Of course, if you like the sound of all these things rolled into one, all the more reason to put SIX on your must-see list.

I say to put it on your list because, for better or worse, the Milwaukee run of SIX through March 12, 2023, is already sold out. To everyone who snagged tickets: you're in for a divalicious, big-voiced, electric-light, 80-minute whirlwind of modernized, semi-factual "herstory." The modernized: Regal portraits become profile pics, and "sorry not sorry" is a mantra. The semi-factual: the show does take some creative license.

SIX spotlights the six wives of King Henry the 8th, giving each the space to tell her story. In short: divorced, beheaded, died, divorced, beheaded, survived. If you already know the history, great. You'll have fun catching the nuances woven throughout the song lyrics. If you're not a history buff, also great. The show does its job of keeping the history accessible while peaking interest in these six queens of England turned princesses of pop.

But back to this sold-out tour. The cast includes, you guessed it, six performers: Gerianne Pérez as Catherine of Aragon, Zan Berube as Anne Boleyn, Amina Faye as Jane Seymour, Terica Marie as Anna of Cleves, Aline Mayagoitia as Katherine Howard, and Sydney Parra as Catherine Parr.

Performances start out exceptional with the commanding Pérez and cheeky Berube, and yet somehow these queens manage to up the ante time and again with each subsequent showstopper. Faye leaves the audience transfixed and teary-eyed with her stirring ballad "Heart of Stone." Marie slays not just the vocals, but the sharp choreo and killer personality required of the banger "Get Down."

Next up, channeling Ariana Grande, Mayagoitia whips her ponytail and the audience into gleeful submission. She also tugs at heartstrings as we consider this young queen -- used, abused, and ultimately beheaded. Last up is surprise powerhouse Parra with "I Don't Need Your Love." She's surprising because her character, the survivor Catherine Parr, is the most quiet throughout the show. So when Parra unsheathes the full force of her voice and presence, it's a stunner.

Really, they're all stunning. There's no place for mediocrity to hide in SIX. These leading roles require genuine, unfiltered talent with exceptional vocal range and control. This touring cast delivers on that and then some. And they do it all in sparkly robo-Tudor stagewear (costumes by Gabriella Slade) under a kaleidoscope of electric light (lighting by Tim Deiling) backed by a rock band of Ladies in Waiting (Lena Gabrielle, Sterlyn Termine, Liz Faure, and Caroline Moore).

If you see SIX in Milwaukee this week, arrive early to avoid lines and get settled. Doors open an hour before each performance. Learn more about the US Tour of SIX here.