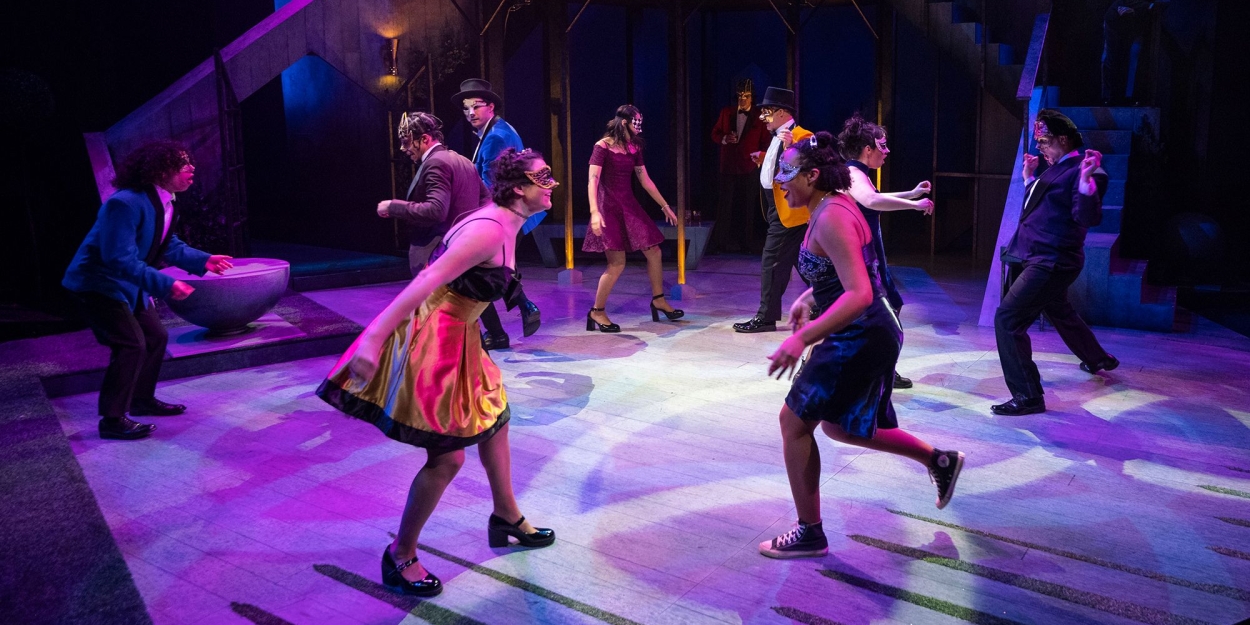 Review: MUCH ADO ABOUT NOTHING is a 'Merry War' from Start to Finish at the MILWAUKEE REP
Rom Com 'Skirmish of Wits' Gets a Spot-On 90s Spin
There's something extremely satisfying and fitting about seeing Shakespeare's Much Ado About Nothing reimagined as a grungy 90s rom com. Until this brilliant Milwaukee Repertory Theater production, directed by Laura Braza, it never occurred to me, but this story of people playing cupid, backstabbing for kicks, and Dumb and Dumber -esque humor is perfectly suited to the genre.

In brief, we have Benedick (Nate Burger) and Beatrice (Alex Keiper) who love to hate each other, slinging nonstop insults and sharp-tongued wit. Despite their "merry war," Beatrice's uncle Leonato (Jonathan Gillard Daly) and Benedick's friends Don Pedro (Mark Corkins) and Claudio (Kenneth Hamilton) conspire to help the two fall in love. Simultaneously, Claudio woos Leonato's willing daughter Hero (Sarah Suzuki), only to have their romance thwarted by Don Pedro's villainous sister, the mischief-maker Don John (Michelle Shupe). Will our couples find their happy ending?

The Rep's Much Ado features original songs and music arranged by Dan Kazemi. With sounds akin to Alanis Morisette and Pearl Jam, the melodies centers the story in this era, but the words are pulled directly from William Shakespeare and other works from Shakespeare's contemporaries. It's a moody, inspired merger, giving the whole show a fun and youthful spark.

Alongside the songs, choreography by Jenn Rose further nods to iconic group dance numbers in films like 1999's She's All That and 2001's A Knight's Tale. Dynamic two-level scenic design by Arnold Bueso situates the band up top with the bulk of the action below. The cast is decked out in costumes by Mieka van der Ploeg -- complete with oversized flannel, bucket hats, crocheted vests, and band t-shirts -- to complete the picture.

Because Much Ado About Nothing is a roller coaster of a play -- lighthearted one moment, then surprisingly gut-wrenching, then laugh-aloud hysterical -- it requires a cast of equal range, which is exactly what the Milwaukee Rep delivers.

Nate Burger as Benedick makes his Milwaukee Rep debut with Much Ado. But he is no stranger to Shakespeare, having spent eleven seasons at the American Players Theatre in Spring Green, Wisconsin, where Shakespeare is always on the docket. Burger's familiarity with Shakespeare is evident as he deftly maneuvers through the complex verbiage. Burger brings all meaning, humor, and passion to life with such ease, making him an immense joy to behold. I hope this is just the first of many times we get to see him on stage at the Milwaukee Rep.

Equally impressive is Alex Keiper as the lady Beatrice. Her speech is sharp, comedic timing great, and she especially entrances as a songstress, strumming and belting out her rocker-girl anthem "Joyful/Sad." Other noteworthy musicians are Katrien Van Riel, Drew Mitchell, and Will Mobley, whose voice is particularly stirring.

As the young couple in love and turmoil, Sarah Suzuki is a charming Hero, and Kenneth Hamilton is an intense Claudio. Both tackle their character's despair and humor in stride.

But the funniest of all: Michael Doherty as the foolish security guard Dogberry, with Mobley doubling as his dimwitted right hand man, Verges. These two are written as a comedic duo for the ages, and Doherty and Mobley are indeed too funny for words. Physicality, timing, delivery -- it all adds up to an audience bursting with laughter. I particularly love how Verges always carries a boombox with self-appointed theme music queued up on cassette tape. Their schtick has gut-busting on lock.

Lastly, it's such a pleasure to see two Milwaukeeans and Milwaukee Rep regulars on stage once more at the Rep: Jonathan Gillard Daly and Mark Corkins. Funny and fiery both, these two are treasures of Milwaukee's local theater scene, reminding audiences of their brilliance at every turn.

In all, Much Ado is a case of the right show, the right spin, the right cast -- all at the very right time. Love and laughter are just what a Wisconsin winter needs, and just what the Milwaukee Rep is serving. They have something insanely special with this updated adaptation of a Shakespearean rom-com classic. For me, this is a Rep season favorite that will be tough to top.