Pompano Beach Arts Presents New City Players' NCPLab Short Play Festival
Learn more about the lineup here!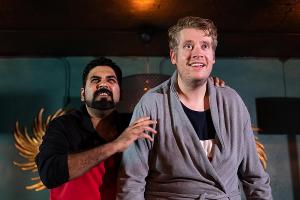 Pompano Beach Cultural Center will present the NCPLab Short Play Festival, which brings the South Florida community together to celebrate the diversity and resilience of the region. Dozens of theatre artists have come together in the past year to write and act in brand new plays every month, and now you can enjoy six of the very best plays for the first time! Shows are on Friday, February 10 and Saturday, February 11 at 8pm, and Sunday, February 12 at 3pm. General admission tickets are $16, or $25 for admission, one drink and a raffle ticket for a chance to win tickets to upcoming NCP and Cultural Center events. Tickets are available at the door! For more information, Click Here
"This group excels at creating intimate theatre experiences, where audiences are physically close to the actors and feel involved in the story," said Ty Tabing, Cultural Affairs Director. "The selection of short plays featured during this production will take the audience through the gamut of emotions and will offer a brilliant look at the process of transforming words into an experience."
The festival provides a chance for audiences to see a varied group of the best short plays produced in a week's time, guerilla-style. This group of plays was sourced from March-December 2022 at the NCPLab monthly event for writers and actors that operates in person and on Zoom.
"Watching a new play come to life is a truly brilliant process," said Tim Davis, New City Players' Producing Artistic Director. "We are excited to be partnering with the Pompano Beach Cultural Center on this project and are thrilled to welcome theater lovers to experience the debut of these outstanding new works."
Produced by Krystal Valdes, Elizabeth Price and Tim Davis, and directed by Elizabeth Price, this selection of work features the acting talents of Arlette Del Toro, Tyler Grimes, Caroline Dopson, Jenora Hamilton, Martyna Reczka and Brian Cox. Live music for transitions and effects is provided by Krystal Valdes. Each show will present six short plays written by local writers and performed by local stage actors.