Bailey Contemporary Arts Presents 'Elevators' By Felix Jackson, Jr.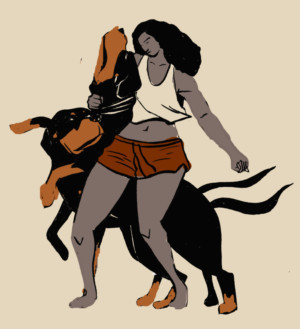 Bailey Contemporary Arts (www.baileyarts.org) in Pompano Beach is proud to present Elevators by Felix Jackson, Jr. This exhibition takes a critical view of hip hop and attempts to illustrate and expand upon it as if it were a modern-day mythology with afro-futurist trappings. Elevators is on display in the Blooming Bean Coffee Roasters West Gallery through July 28, 2018. The free artist's opening reception is June 1, 2018 6-9 pm.
"I've followed Jackson's work for over a decade and was drawn to his paintings because they remind me of surrealist works, sharing a similar palette and style that is devoid of a specific sign of time and location. It is timeless, floating elements in the sand - eternal," explained Juliana Forero, Ph.D., BaCA's gallery curator.
Elevators is greatly influenced by mythology, including a reference to Hercules' Twelfth Labour with a modern female, afro perspective. Jackson also conveys newsworthy issues in a moving fashion with very few strikes or design elements, often leaving his work open for interpretation to the viewer. His illustrations of President Obama were included in two books on Obama-influenced art, and his Black Lives Matter illustration was featured in a Huffington Post article on the topic.
Felix Jackson, Jr. is a painter, illustrator and printmaker. Born on a naval base in Norfolk, VA., Jackson attended Florida State University where he received his BFA in art in 2006. His work explores a wide variety of subjects and often inspired by pop culture, hip hop, folklore, afro-futurism and social injustices.
Bailey Contemporary Arts is located at 41 NE 1 Street, Pompano Beach, FL 33060. For more information call 954-284-0141.
About the Pompano Beach Redevelopment Agency (CRA)
A Community Redevelopment Agency (CRA) is a dependent district established by City government for the purpose of carrying out redevelopment activities that include reducing or eliminating blight, improving the economic health of an area, and encouraging public and private investments in a CRA district. The CRA is governed by State Statutes, Chapter 163, Part III. The Pompano Beach Community Redevelopment Agency is funded through Tax Increment Financing (TIF). The funds are collected as property values increase and a portion of that increase is captured by the Agency. TIF raises revenue for redevelopment efforts without raising taxes.
About Bailey Contemporary Arts
The mission of the Bailey Contemporary Arts (BaCA) is to cultivate, incubate and nurture a vibrant visual arts community that enriches Pompano Beach and its goal of being a nexus of art, creativity, diversity, and inspiration. Serving as an incubator for artistic innovation and education, the staff of BaCA amalgamates emerging local and national artists with industry professionals to elevate the creative process. Located in the historic Bailey Hotel building, which was, at one point, the center of a thriving downtown in Pompano Beach. Built in 1923, the historic Bailey Hotel is the second oldest remaining building (right behind the old Farmer's Bank building next door) and is part of the longest contiguous collection of historic buildings in Broward County.
Related Articles View More Miami

Stories

Shows
More Hot Stories For You