BWW Review: CONFESSIONS OF A COCAINE COWBOY at Miami New Drama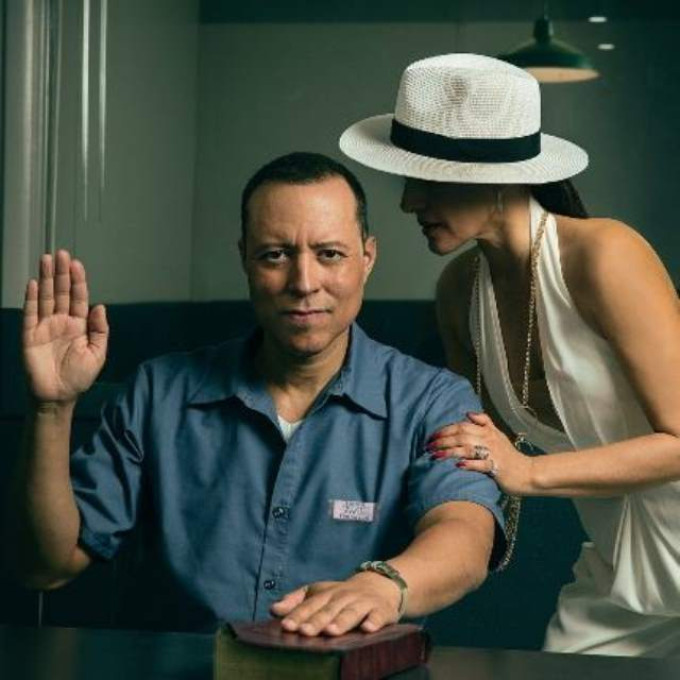 All the Florida Fuc**ry You Can Stand
Wow! Just effing Wow! Miami New Drama's artistic director, Michel Hausmann has mounted a can't believe I'm seeing this bang bang show in Miami Beach's Colony Theatre.
You watch Act One and think gee, that's terrific but, wait for it, you ain't seen nothing yet. Act Two and the gasping audience sucks the oxygen from the rafters. I'm being too hyper here? No, not really. This thing is based on unreal reality.
Yancey Arias is Jorge 'Rivi' Ayala, a swell chap who'd charm the pants off your Granny then shoot her in the eye. While smiling. At us.
Rivi's breaking the fourth wall, because he's in a documentary retelling his life, ratting out his boss, drug queen Griselda Blanco. The ratees are two Miami cops, Singleton (Stephen G. Anthony) and Diaz (Nicholas Richberg) who aren't averse to turning the better cheek to the camera.
On a sublime set, maybe a warehouse, a prison, a cop shop, a slaughter house, anything you want, that opens, slides, lifts, fries your brains and plays God Save the Queen in Esperanto, (well, if it doesn't, it could), the deadly comic characters of Miami's '70s/'80s drug fiesta spurt their stories.
There's a heroine (ugh) Griselda Blanco, top of the pops in the Magic City's drug world, who uses Rivi as her household pest man. Thirty-five stompings. Plus three Rivi convictions. She's played by Zilah Mendoza who is also Kathy and Gladys. And she's an eye magnet any time. Talent and looks.
Rudi Goblen is not only the movement director he also plays five characters. No clones here.
Andhy Mendez is the pop up king with seven characters. Well, hello there.
So, back to the two cops, Anthony and Richberg. They both play other large roles, often changing character on stage. Instant immersion. They are more than good. (The real detectives Diaz and Singleton sat front row on opening night).
This is a violent piece of theatre. Guns blaze from the git go, blood streams ankle deep, and the stories are tragic, hilarious, and unbelievable. Unless you lived in Miami at the time and remembered the headlines. (I'm raising my hand here.)
Writer Billy Corben has hoisted both the Emmy and Peabody awards for his film making. He teamed with South Floridian Aurin Squire, winner of the Helen Merrill Prize for Emerging Writers and Emerald Prize winner for his play, "Fire Season"and co producer of CBS' "The Good Fight". Theirs is a slick script, retelling true stories from fifty years ago. Some memories, huh?
The set, raved on above, is by the brothers Swader, Christopher and Justin. Costumes by Lex Liang, lighting by Alan C. Edwards, sound by Abigail Nover and original music by Salomen Lerner. Fight Director Lee Soroko.
All this wouldn't mean a squat load of diddleys if it was presented by someone other than Michel Hausmann, He's mounted a dream cast of veterans, and I'm including eleven year old Bryan Blanco here, who nail every twitch, tremor and death rattle.
If you just adore perching on your seat, mouth agape, whistling breath, eyeballs bulging, there's super satisfaction waiting at the Colony Theatre, courtesy Miami New Drama and THE CONFESSIONS OF A COCAINE COWBOY.
Playing at the Colony Theatre through April 7. 1040 Lincoln Road, Miami Beach. 305-674-1040