ROXY REGIONAL THEATRE
- Clarksville, TN,
Map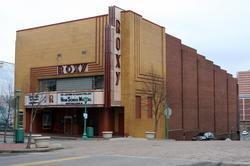 Since the early 1900s, the corner of Franklin and First has been the cornerstone of local entertainment. The Lillian, built in 1913, was the first movie theatre in Clarksville. Following a fire in 1914, the Lillian was rebuilt in 1915 and saw thousands of patrons enjoying silent pictures. The theatre went "dark" during the Great Depression, but with the advent of Fort Campbell, the Lillian was renamed the Roxy. Following a second fire in 1945, the Roxy was completely rebuilt and became the new Roxy Theatre. A sleek exterior, featuring a new lighting called neon, beaconed movie-goers from miles around. Opening in 1947, The Roxy entertained Clarksvillians with first-run movies until 1980. The Roxy sat vacant for three years until Tom Thayer and John McDonald came on the scene. Opening on November 3, 1983, the Roxy Regional Theatre was reborn into a live theatre and quickly became "…the cornerstone of downtown re-development." In 1995, a professional company was created in order to supply the great demand for Shakespeare, other classics, school curriculum-based productions and holiday shows, and to enlarge the Roxy's outreach services to the community. The Roxy Regional School of the Arts was also born in 1995, offering teens extensive training in modern theatre as well as being able to work alongside professionals. The summer offers a joint project between the Roxy and the Clarksville-Montgomery County Parks and Recreation Department, offering teens a six-week drama camp for a nominal fee. In 2006, a group of artists, musicians, dancers, actors and supporters of the arts met to discuss the fate of Clarksville's arts scene. The outcome was plans for a new 36,000 square-foot state of the art CENTER FOR THE ARTS AND EDUCATION. This building, which will stretch over the current parking areas to the side and rear, will encompass a 500-seat theatre, scene shop, loading deck, dressing rooms, cafe, art galleries, dance studio and artists studios. This next phase will cost upwards of $15 million. Currently, through phone-a-thons and individual donations, over a quarter of a million dollars has been pledged toward the center. For more information on donating, visit the Center for Arts and Education.


Shows - Past Shows - Auditions






Add Shows to This Theatre | Add Theatre Information



Roxy Regional Theatre - Past Shows
UPCOMING AUDITIONS FOR ROXY REGIONAL THEATRE
No upcoming auditions, click here to visit
Equity Auditions
or
Non-Equity Auditions
Back to the Main Page...