BWW Review: OKLAHOMA at OGUNQUIT PLAYHOUSE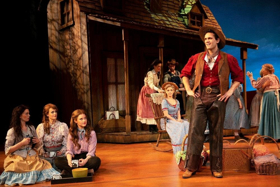 The timing of two milestones isn't that far off.
As the Ogunquit Playhouse celebrates its 86th year of entertaining audiences here in Maine, the second show of the season is the gem of a Broadway musical, Oklahoma!, celebrating its 75th anniversary year.
To tell the truth, they have both aged with style and grace.
The Rodgers and Hammerstein classic is the standard bearer for all musical theater, the first of its kind to combine elements never seen in quite this way in a stage musical. The show combined glorious music with various styles of dance as the backdrop for a truly American story focusing on the pioneers who opened a western territory to statehood.
As Fred Hanson, the show's director said in his Director's Notes, "During the darkest times of World War WWII this (show) must have been extremely resonant as the country summoned its own resilience and determination in the face of the struggles to defeat fascism. The mix of humor, optimism, simplicity, open-heartedness and transcendent music and dance are every bit as necessary, satisfying, and relevant today as they have ever been."
From the opening note from the number Oh! What a Beautiful Mornin' to the rollicking trademark song, Oklahoma, this show is pure perfection and a musical theater lover's dream come true.
The set design by Michael Allen wonderfully captures the vastness of land that is typically Oklahoma with the simple dwellings you'd find on the plains. Each scene is like a painted canvas depicting the heart and soul of the characters portrayed.
Jill E. Tarr has the fun of costuming these cow folk and farmers in a stunning array of authenticity. The colors and designs are brilliant.
Music Director, Jeffrey Campos, fills the theater with glorious music with one of the richest and most lush orchestras to grace the Ogunquit stage. Hard to believe that the program credits this magnificent sound to as few as six musicians.
The story is as old as time as far as Broadway musicals go. The young cowboy, Curly (Stephen Mark Lukas) comes courting the bright eyed Laurey (Taylor Quick) who fends off his advances. Will Parker (Colby Dezelick) returns to town to his betrothed, Ado Annie (Chessa Metz) only to find she's engaged to a two-bit peddler, Ali Hakim (Martin Sola). Jud Fry (Timothy John Smith) takes the role of the misunderstood villain who pines for Laurey in a world that has labeled him a social outcast.
Lukas shines brightly as he immediately charms the audience in his opening number. He's handsome with a "boy next door" smile and he has a strong Broadway style voice (one that would do well in the days before all actors were amplified electronically) that stirs the spirit in boisterous numbers and calms the soul in the lighter fare and ballads.
Quick is ever so beautiful and innocent as the female lead. Her vocals soar through the theater as she represents everything so sweet in this western town. (I would recommend a sound check on her microphone. There was a tinny sound throughout the evening that was bothersome.) Quick and Lukas are masters of stage chemistry making every one of their scenes engaging, humorous, or poignant.
The villainous character, Jud, is magnificently played by Smith, giving one of the most nuanced performances of the evening. His physical stature makes him an ominous presence on stage; one that seems to foreshadow an unfortunate course of events for the character. However, his number with Lukas, Pore Jud is Daid, a tune that tells of how everyone will miss the character when he is dead, is remarkably funny with a staid understated humor. His rendition of Lonely Room, a number that laments his barren existence, is a vocal knockout.
Dezelick commands the stage with his vocal numbers and shows some mighty fine footwork as he details the city life he discovered in the tune, Kansas City. As his love interest, Metz provides nonstop enthusiasm in I Cain't Say No and All er Nothin.
Other stand outs are Susann Fletcher as Aunt Eller, Erick Devine as Andrew Carnes, and Martin Sola as Ali Hakim. I love actors who take a smaller role and make them life size and memorable.
Choreographer, Ginger Thatcher, who restaged the original choreography for the show while adding additional choreography, must have worked overtime for this production. The electric high steps in such numbers at Kansas City and The Farmer and the Cowman is just a prelude to the Out of my Dreams ballet that closes the first act. It is a stylized enactment of Laurey's dreams about Jud Fry's unrequited love and the lure of the life that Curly could offer her. The number is beautifully crafted in every way and a true show stopper right before intermission.
Some purists look back at Broadway classics with a modern-day lens of political correctness and some might see an occasion to cringe in a production of Oklahoma!. It is clearly a male dominated time in our history where every woman was prim and proper in hopes of landing herself a man. Some of the musical numbers have a sexual innuendo or two and Ado Annie's lament of not being able to say no to any man's advances in I Cain't Say No could view her as a common hussy. Taking these dated slights aside from modern day values doesn't belie the fact that the show remains a magnificent theater classic with a charmed story that has survived for three quarters of a century.
For those who get antsy during long productions, take notice that the first act runs for two hours and the entire production runs for three.
For tickets and info, go to oqunquitplayhouse.org
Photo Credit: Gary Ng
Related Articles View More Maine

Stories

Shows