Review: PROVENANCE Centers on the Lives of Two Women and a Very Rare Book
Perhaps the best way to start writing about Elizabeth Gregory Wilder's play PROVENANCE is to share its definition, as it pertains to the history of ownership of a valued object or work of art or literature, not the capital of Rhode Island. Now being performed at Little Fish Theatre in San Pedro's Arts District, directed with loving reverence by Holly Baker-Kreiswirth and produced by Tara Donovan, the play centers on a rare book search which leads to an isolated library, and librarian, on the top of a hill in an identified area. Perhaps the best guess, according to the director and cast, would be the Smoky Mountains of Tennessee.
The play is also about secrets and bucket lists, especially for Cleo (Kathryn Farren), who has spent her life caring for rare books in a library reached by driving up a foggy and foreboding mountain. It seems she prefers the silent company of books over people, her innate shyness leading her into a life of loneliness where she is the most comfortable, seemingly losing herself in their printed pages.
In fact, Cleo's only contact with the outside world comes by way of students from the village below, whom Cleo teaches to read - including a gentleman named George (full-bearded Bill Wolski, whose accent is the only clue in identifying the locale), who is in love with her. Of course, Cleo knows this to be true, but has been rejecting his date invitations for more than two years. And it is not until much later in the play that we learn the secret she is hiding which causes her to live such an isolated life and reject the possible happiness offered to her by the lonely mountain man.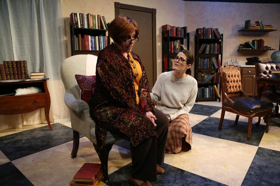 But when Frances (Susie McCarthy, dressed to perfection by Diana Mann), a cultured connoisseur of first edition publications, suddenly arrives, Cleo's life is forever changed. You see, Frances is on a quest to read a list of 100 books, and believes the last book is in Cleo's library. While it is never explained how this rare first edition could possibly wind up in this remote library, it matters little to the plot as Cleo tells her the book was loaned out and has not been returned.
There is more to the story, of course. You see, Frances finally shares that this particular rare book was first bought in London by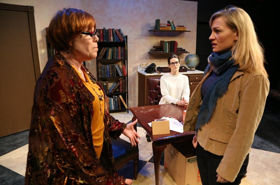 Frances' grandmother, who read it to her mother, who in turn read it to Frances, always as their first book. Due to the early death of her Mother, her Father sold the book leaving no trace of its whereabouts for Frances. That's the first secret we learn - the second being one I dare not share with you for fear of spoiling the story as it plays out. I will only tell you that about half way through the play, we learn that Frances has also summoned her estranged daughter, Amelia (Maire-Rose Pike), to join her at the remote library to help her find the book.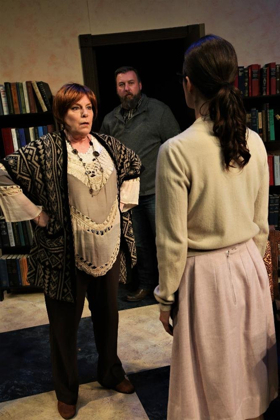 But when the final book on her list turns up missing, Frances refuses to leave and settles in until the book is returned or located. The search causes both women to face hard truths about their lives, with heartfelt lessons learned and shared along the way.
The characters, especially George and Cleo, talk about how there is magic in the hills around the library. And thanks to Stacey Abrams lighting design, the audience is made aware of exactly where that book is located although none of the characters seem to be able to find it. Then again, perhaps it is exactly that magic which allows the book to reveal itself at exactly the right moment, just as a missive sent by Cleo to George somehow manages to reach the exact place where he happens to be standing at that moment. And in the end, it is that mystical world that creates the perfect ending to all of their lives, making PROVENANCE a story about the books we read and the stories we tell that connect us all.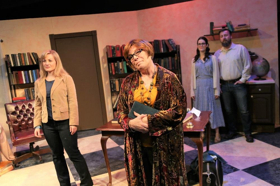 Performances continue through May 24, 2018 on Thursdays at 8:00 p.m. ($27 regular/$25 seniors/$15, 25-and-under with code "Hipster"), Wednesdays, May 16 and May 23 at 8:00 p.m. ($27 regular/$25 seniors/$15 25-and-under with code "Hipster"), and Sundays, May 6 (talkback session) and May 13 at 2:00pm. ($27 regular/$25 seniors/$15 25-and-under with code "Hipster") at Little Fish Theatre, located in San Pedro's Arts District at 777 S. Centre St., San Pedro, CA 90731.
Tickets may be purchased by calling the Box Office at 310.512.6030, online at http://www.littlefishtheatre.org/wp/provenance/. Be sure to bring a sweater as the air conditioning inside Little Fish is geared to keeping the actors cool under the lights. Or pick up a blanket in the lobby on your way in just in case you feel a chill during the show.
Photos by Mickey Elliot