BWW Spotlight Series: Meet Amanda Conlon: The Actor, Singer and Director Who Created Bucket List Theatre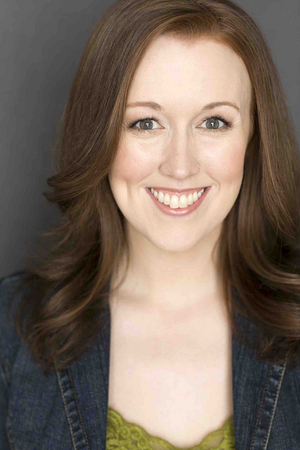 With the current theatre world on hiatus, I have created a Spotlight Series on Broadway World Los Angeles which features interviews with some of the many talented artists who make our Los Angeles theatre community so exciting and vibrant thanks to their ongoing contribution to keeping the arts alive in the City of the Angels. And like all of us, how are they dealing with the abrupt end of productions in which they were involved?
This Spotlight focuses on Amanda Conlon, the actor, singer and director who created Bucket List Theatre after relocating to Los Angeles from NYC. As the company's Artistic Director, her talents as an actor, singer, writer and director enhance every production in which she appears or organizes for her company of equally talented, triple-threat performers. Amanda recently joined Theatre 40 and has also appeared in and directed productions for that professional company on the campus of Beverly Hills High School.
Shari Barrett (SB): What would you like readers to know about your theatrical background?
Amanda Conlon (Amanda): I grew up doing theatre on Long Island, went to school for theatre and spent years performing in NYC and regionally throughout the Northeast before making the move to LA. where I knew exactly one friend. It took a while to learn the LA landscape, particularly the theatre scene. After struggling to find my new theatre tribe, I decided to create Bucket List Theatre (named after my bucket list of roles I'd like to play). As Artistic Director, I'm so proud of all our productions and all that we've accomplished in a short amount of time, particularly with a fully self-produced budget. Equally, I cherish all of the actor-friends who comprise the awesome tribe we've created - it's a truly special, crazy talented group of people, and ironically, 98% of our "Bucket Lister's" also hail from NYC. It just took us all relocating to LA to meet one another!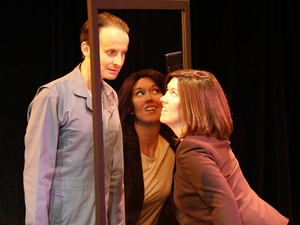 Our Bucket List shows to date include SILENCE! The Musical (11 Broadway World Award Nominations, Better Lemons Critics Choice Award, Broadway World Favorite Shows of 2018, LA Weekly Best Spooky Events), All in the Timing (Stage Raw 'Top Ten' and 'Recommended'), Pageant Play, [title of show], Bucket List Cabaret (Broadway World Favorite Shows of 2018) and Missmatch (Hollywood Fringe Encore! Producers' Award, Better Lemons Must-See Musical). I wrote Missmatch based on my real-life experiences with online dating and was equally happy and sad to learn how many of our audience members related to my terrible tales!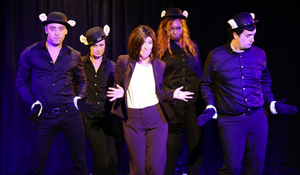 (SB): If you missed SILENCE! The Musical, the hysterical parody of the film Silence of the Lambs, click to watch a compilation of scenes in which Amanda portrays Clarice Starling in the production she directed: /videoplay/VIDEO-First-Look-at-Bucket-List-Theatres-SILENCE-The-Musical-20180927
(Amanda): I'm also a member of Theatre 40 in Beverly Hills and appeared last year in A Bad Year for Tomatoes and recently directed the world premiere of The Surveillance Trilogy (9 Broadway World Award Nominations).
(SB) What production(s) were you involved with when word went out you needed to immediately postpone/cancel the show?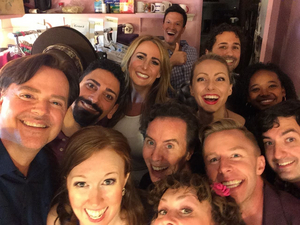 (Amanda): I had several projects postponed, including a few staged readings at Theatre 40, as well as our next Bucket List Cabaret. Bucket List is also sometimes commissioned to be the entertainment at private events, which is a fun side gig for us, and we looked forward to a booking we had for a big party this month, which we are hopeful will be able to be rescheduled.
(SB): How did you communicate the shutdown with your cast and production team?
(Amanda): I made the call early on and while disappointing, everyone was beyond understanding.
(SB): Are plans in place to present that production at a future date, or is the cancellation permanent?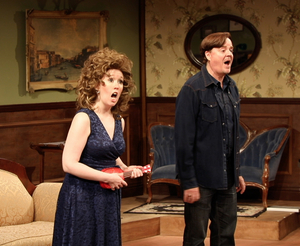 (Amanda): Yes! We will certainly remount Bucket List Cabaret when the time is right. One of the most consistent compliments we get on our cabarets is the song selection, given I love to find obscure, hardly-ever-performed material. A lot of time and thought goes into each set list, so I'm viewing this time as a gift to work on curating the next sets. Be on the lookout for the Theatre 40 staged readings as well once things are up and running again.
(SB): Here is a link to my Broadway World review of Bucket List Cabaret Dark and Dirty at Three Clubs, an evening of adult-themed songs rarely heard that kept me laughing throughout the show: /los-angeles/article/BWW-Review-A-Great-Evening-of-DARK-DIRTY-Ditties-by-Bucket-List-Cabaret-at-Three-Clubs-20180721
(SB): What future productions on your schedule are also affected by the shutdown?
(Amanda): We are very fortunate that we are in between Bucket List productions at the moment and don't have our next mainstage production slotted yet. With my producing partner/husband, Pete Flanigan, we will use this time to strategize and decide what we will produce next. In fact, we were considering producing a Fringe show this year as it's been 3 years since our last Fringe, but will likely wait another year or two to return. We currently have several other exciting projects we're considering.
(SB): How are you keeping the Arts alive while at home by using social media or other online sites?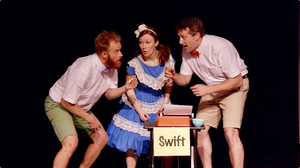 (Amanda): We are having our first virtual reading/sing-through of a show this Saturday via Zoom! I never really considered doing a virtual reading before, but I'm growing more excited about it as it may allow us to do readings more often, now during quarantine and beyond. All of our actors have their own "bucket list" roles, so this could be a great platform for us to read through more of their bucket list shows we wouldn't otherwise be able to produce, and in a small way, fulfill our Bucket List Theatre mission!
(SB): What thoughts would you like to share with the rest of the L.A. Theatre community while we are all leaving the Ghostlight on and promising to return back to the stage soon?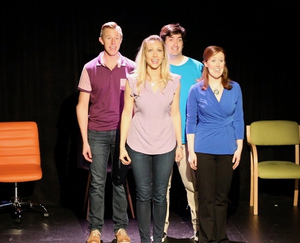 (Amanda): My heart goes out to all those whose productions were closed and hope as many productions as possible will be able to return as soon as we're all able. I hope audiences are currently finding a newfound appreciation for theatre and the joy of sharing a live performance together. While this is a challenging, uncertain, scary time, I encourage us all to try and find the silver linings where we can and also hope we can all take some time to rest, reflect, repair and find new ways to create. Sending lots of positivity to everyone and I am looking forward to seeing you all at the theatre someday soon!
(SB): You can check out more about Amanda at: www.amandaconlon.com and more about Bucket List Theatre at: www.bucketlisttheatre.com
Photos captions (from the top)
2. Amanda Conlon in Bucket List Cabaret
3. Jesse Merlin and Amanda Conlon in SILENCE! The Musical
4. Amanda Conlon as Clarice Starling in SILENCE! The Musical with Tyler Marcum, Suzanne Slade, Courtney Bruce, Philip McBride
5. Backstage with the cast of Bucket List Cabaret
6. Amanda Conlon and Kelly Brighton in Bucket List Cabaret at Theatre 40 Benefit
7. Amanda Conlon and the cast of Missmatch
8. Mark Richardson, Amanda Conlon, Jason Ryan Lovett in All in the Timing
9. Steven Douglas Stewart, Lauren Olipra, Philip McBride, Amanda Conlon in [title of show]
| | |
| --- | --- |
| Vote Now for the 2022 BroadwayWorld Los Angeles Awards | |
| voting ends in | |
Shari Barrett, a Los Angeles native, has been active in the theater world since the age of six - acting, singing, and dancing her way across the boards all over town. After teaching in secondary sc... (read more about this author)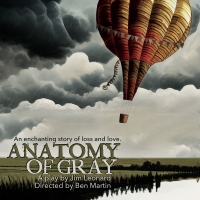 Interview: Playwright Jim Leonard on the L.A. premiere of ANATOMY OF GRAY

November 17, 2022

Jim Leonard has published eight plays, including The Diviners, And They Dance Real Slow in Jackson, and Battle Hymn, with his theatrical honors including the Outer Critics Circle Award, an Ovation Award, the Dramatists Guild Award, and an LA Weekly Award for best play.
---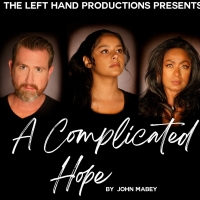 Interview: Shawn Lefty Plunkett on presenting the West Coast premiere of John Mabey's A COMPLICATED HOPE

November 15, 2022

John Mabey's three-person play A Complicated Hope centers around Marie and her daughter Rose Marie who are left adrift after their husband and father, Michael, passes away. But it's how he leaves that alters the lives of the family forever, especially after they meet Arnie, Michael's boyfriend. Mirroring the erratic path of grief itself, A Complicated Hope flashes between the moments in time that changed them all, exploring the challenges of both finding a family of choice and letting yourself be found. Earlier this year, Kentwood Players presented a reading of Mabey's play in which Shawn Lefty Plunkett portrayed the role of Arnie. I was curious to find out what led to his decision to produce the fully-staged West Coast premiere of A Complicated Hope as well as take on the role of Arnie again.
---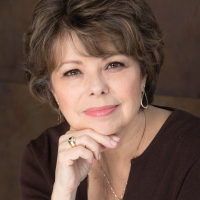 Interview: Anne Marie Ketchum, Founding Artistic Director of the Verdi Chorus, on their Upcoming VERDI PUCCINI FEST

October 30, 2022

As an early holiday present for opera lovers, On November 12 and 13, the Verdi Chorus' 39th season culminates with a Verdi Puccini Fest for two performances only at the First Presbyterian Church in Santa Monica. Under the direction of Founding Artistic Director Anne Marie Ketchum, who promises the program will include "some of the most exciting moments from two of the greatest operatic composers who ever lived," I decided to speak with her on its inception, creation, and what makes the Verdi Chorus such a special part of our city.
---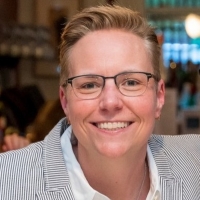 Interview: Playwright Cyndy A. Marion on the West Coast Premiere of BROKEN STORY

October 28, 2022

A serial killer's backstory always seems to fascinate people more so than that of their prey. But what is it about these vicious murderers that inspires works of art being written about them? That question popped into my head when I heard about the West Coast premiere of Cyndy A. Marion's play Broken Story, which was inspired by the murder of writer Susan Berman and her close relationship with serial killer Robert Durst. I knew I wanted to find out what inspired Cyndy to create the play and how she conducted her research.
---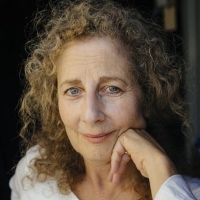 Interview: PRT Artistic Director Marilyn Fox on Directing ALBEE/PINTER

October 27, 2022

Tony Award winning playwrights Edward Albee and Harold Pinter, who have left indelible marks in world theatre, both give voice to the outlandish and amusing behavior of humans in many of their dark comedies. Pacific Resident Theatre is offering a retrospective of two of their early one acts in tandem, both first produced in 1960. Albee's Fam and Yam, set in an upper Eastside penthouse, examines an encounter between two unnamed playwrights, one famous, one not, offering Albee's biting wit and incisive satire at its best. In Pinter's The Dumb Waiter, two working-class hitmen wait in a basement for their next assignment. I decided to speak with Pacific Resident Theatre's Artistic Director, Marilyn Fox, about the production.
---