Review: UK UNDERDOG Writer/Performer Steve Spiro Donates all Solo Show Proceeds to START Rescue and Anti-Bullying Groups
Shelter Transport Animal Rescue Team (START) in association with Pacific Resident Theatre is presenting the world premiere of UK UNDERDOG, a funny, refreshing and highly theatrical solo show, based on true events, by writer/performer Steve Spiro and directed by PRT's Ann Bronston at the Zephyr Theatre through Oct. 28. Ginger Perkins, Frantic Redhead Productions, produces for START Rescue and Pacific Resident Theatre with all proceeds benefitting START Rescue as well as selected animal charities and anti-bullying groups.

In UK UNDERDOG, Steve Spiro tells his autobiographical story as a young Jewish boy in London who transforms himself, through sheer force of will (and plenty of chutzpah)
from a bullied underdog to martial artist, boxer, community leader and animal rights activist. Along the way, he portrays not only himself from childhood to current time, but also every other person he knows including his always-in-the-kitchen mother, his taxi driver father, critical yet loving Nana who spent her days obsessed with American TV shows, his best friend Erch, town bully John Turner, the coach who helped build his confidence, and Roger, the bi-polar Drama teacher who changed the focus of his life into being a Thespian by day and a fighter at night after escaping to the United States rather than face assault charges after a brutal run-in with John Turner left his former nemesis unconscious.
Growing as he did in a working-class neighborhood southeast of London where Jews were in the minority, Spiro's slight statue and physical difference from the rest of the male students resulted in his ever-present beatings and bullying.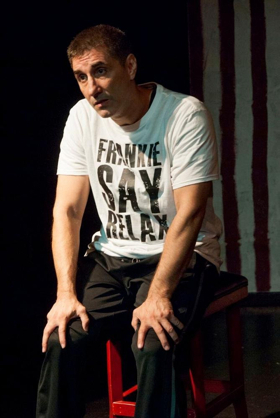 And no doubt, anti-Semitism also played a big part in how he was treated. Even so, Spiro proudly wore the Star of David on his boxing shorts as a way to honor relatives from both sides of his family who perished in the Holocaust, despite being harassed by many in the crowd.
I found myself constantly pulled into his many trials and tribulations as they were so emotionally charged and heartfelt, especially when he doubted his own ability to make choices in life to take him on another path to greater success. Fear and confusion are treacherous enemies that keep us from taking that first step into new opportunities, and Spiro expertly shares his insight into what it took, often even surprising himself, to find a better way to live his life successfully. And just wait until you realize who the "Jen" was he met at the gym and then offered her audition advice after booking his first commercial for Solar Flex!
Technical credits are solid with a simple set and eye-catching video design by Jacob Whitmore, lighting design by Simon Knowles, and sound design by Michael Woody all working to enhance each of Spiro's experiences while growing up.
"Steve's story is all our stories," says director Ann Bronston.
"How life happens to us and how, through resilience and determination, seemingly random events shape a life and help us find meaning."
While Spiro still teaches boxing part time, he also writes screenplays and runs the START animal rescue group. He is also co-writer of a thirty-minute dark comedy, Unleashed, about the world of animal rescue, which will begin shooting later this year, with Allison Eastwood directing. Although he did not grow up with a any pets, after meeting his wife who had two dogs, he was smitten. "They were so happy to see me in the morning," he shared. "I saw the joy that animals brought to people, but I also saw how animals were being abused and killed at shelters. We've saved over 10,000 dogs and cats now, and fund neutering for people who cannot afford it." I applaud his efforts and encourage you to visit the Zephyr front lobby to see photos of rescued animals in the START program who are now in loving forever homes. Just like Spiro's story, each of theirs is a heartwarming tale of survival that will speak to your heart.

UK UNDERDOG continues through Oct.28,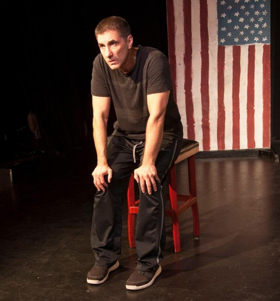 with performances on Thursdays, Fridays and Saturdays at 8 p.m. and Sundays at 2 p.m. Run time is 80 minutes, no intermission. Tickets are $25. All proceeds from the production will benefit START Rescue as well as selected animal charities and anti-bullying groups. The Zephyr Theatre is located at 7456 Melrose Ave., Los Angeles, CA 90046 (between Fairfax and La Brea). For reservations and information, call (323) 960-7788 or go to www.plays411.com/ukunderdog

Photos by Sue Eigenbrodt