Review: Absurdly Comic OLD CLOWN WANTED Gets West Coast Premiere at Odyssey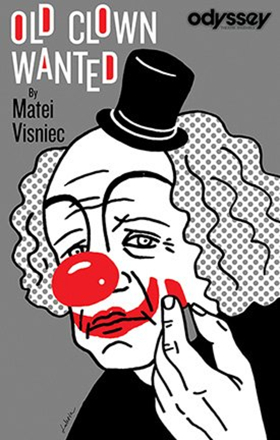 Romanian-French playwright Matei Visniec began writing his absurdly comic play OLD CLOWN WANTED in Bucharest in 1986 and finished it in exile in Paris in 1987. Since then his play about the three old clowns looking for work has been staged in some 15 countries, perhaps everywhere in the world where ancient clowns, worn down by life, marginalized and at the end of their rope, nevertheless are determined to deliver one last message to humanity.
Playwright Visniec shares, "It's this cruel side of life which so interests me, the side that sometimes transforms us into vicious clowns, moronic clowns compelled to strut about, to perform in the great social comedy, playing into the hands of the machine conceived for the purpose of humiliating us, of dehumanizing us, of killing us. And then I believe that today, when so many of the grotesque buffoons around the world find themselves sitting on high at the summit of power, my play about the clowns also has political connotations."

Inspired by a 1970 Federico Fellini film,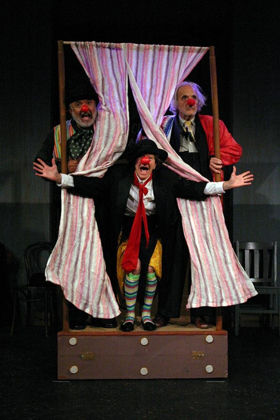 OLD CLOWN WANTED centers on three aging clowns who compete for a job in a room with no windows and very little furniture, in which theater and circus arts are intertwined in an absurdist, cynical, tender and very funny look at aging and man's fear of uselessness in society. The entertaining and non-stop action in this new translation from the French by Jeremy Lawrence, is appropriately directed by Romanian-born Florinel Fatulescu, who has won numerous theater awards for his daring and innovative style. While the overall production seemed very Italian in nature to me, there was certainly enough Vaudevillian slapstick schtick to keep audiences laughing from start to finish.
Of course, it takes three incredibly talented actors with enough energy to last through all the necessary physical movement which takes place constantly throughout the 90-minute play.
And those three are Alan Abelew, José A. Garcia and Beth Hogan as Niccolo, Filippo and Peppina, three elderly, washed up circus clowns who run into one another at an audition for a "small part for old clown." As they wait for a casting director who never arrives, they begin to reminisce - but their camaraderie only carries them so far before competition for the job takes over. Along the way, we are taken with them on a physical as well as intellectual journey in which insights are gained about man's fear of uselessness in society and our constant need to outsmart each other to prove our own superiority.
"This is a special work by a brilliant writer who is little-known in the U.S.,"
says Odyssey Theatre artistic director Ron Sossi. "It's reminiscent of everything from Beckett's Waiting for Godot to Sartre's No Exit, but with a huge dash of comedy and clowning thrown in. The Odyssey has always been committed to producing plays from other countries, and we are lucky to have a wonderful Romanian director available. Florinel was especially excited after seeing Alan and Beth perform together in our production of Beckett 5. These two Odyssey regulars, coupled with newcomer José A. Garcia, are a magnificent combination."
I totally agree and the talents of these three made this play one of the best productions I have seen at the Odyssey in recent years.
But I must admit, when the final remaining clown entered the self-opening doors after securing the job, it made me wonder if perhaps these three were really auditioning to enter the gates of Heaven as the final step in a life well lived.
Kudos to the entire creative team including set designer Jeff Rack, lighting designer Bosco Flanagan, sound designer John Zalewski; costume designer Amanda Martin, prop master Josh La Cour and clowning consultant John Achorn for all their contributions to this remarkable entertaining and incredibly thought-provoking production.
I just wish I was one of the lucky ones
to catch a red clown nose thrown out to audience members during the show to remind us life is really not worth living without laughter to offset the absurdity constantly around us.
The West Coast premiere of OLD CLOWN WANTED ended on Sunday, November 4, 2018 at the Odyssey Theatre, located at 2055 S. Sepulveda Blvd., West Los Angeles, 90025. For reservations and information about upcoming productions, call (310) 477-2055 or go to OdysseyTheatre.com.
Photo credit: Enci Box