Review: SANCTUARY CITY At TheatreSquared
From Pulitzer Prize Winner Martyna Majok, this drama runs through April 9
What is life like for two teenagers who come from unstable and volatile families in a country that is not their own? From Pulitzer Prize Winner Martyna Majok and directed by Esteban Arevalo Ibanez, this scenario is addressed at TheatreSquared, 477 W. Spring St., in Fayetteville, in their black box theatre now through Sunday, April 9. Because of the intimate setting and emotional tug on your heartstrings, this experience will imprint their story onto your soul and remain with you well after you leave the theatre.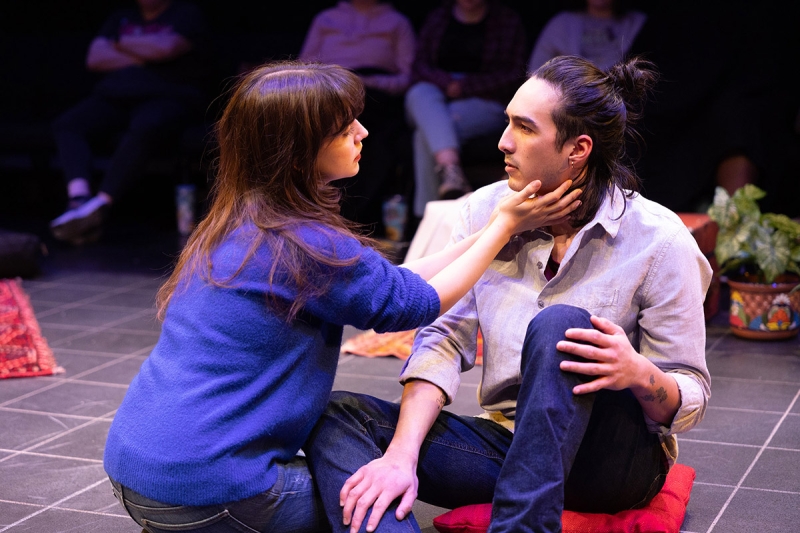 Set in New Jersey, post 9/11, G (Ana Miramontes) and B (Brennan Urbi) help each other out when life is questionable. Both are children of immigrants who have to worry about deportation. G's homelife gets violent at times, and she often seeks refuge at B's house. B's mom gets too nervous of the political climate and decides to move back to her native country before B turns 18. Through the drama, the teens take care of each other. As the story progresses, their lives and feelings change. G gets to go to college, and B meets Henry (Nima Rakhshanifar). How do these new dynamics affect their relationship? You have a little over three weeks to find out.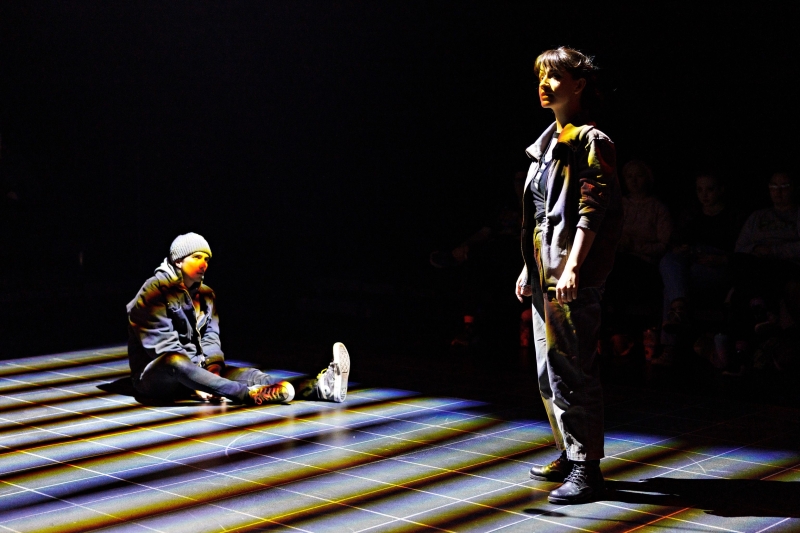 This play is intense! It is relevant, timely, passionate, and, for me, relatable. As a first generation American on my mother's side, I understand the green card issue and how that plays out. Many people who love their life in America but are not from the US, have an underlying fear of being sent back to their native country. People who have businesses-people who have children born in the US-people who seek education and a better way of life....they all know that it is possible to be repatriated at any given time. It can be a scary, hopeless feeling. To know that the place that you feel the safest can be taken away from you, it can really cause you to take desperate actions, and it's more common than is known.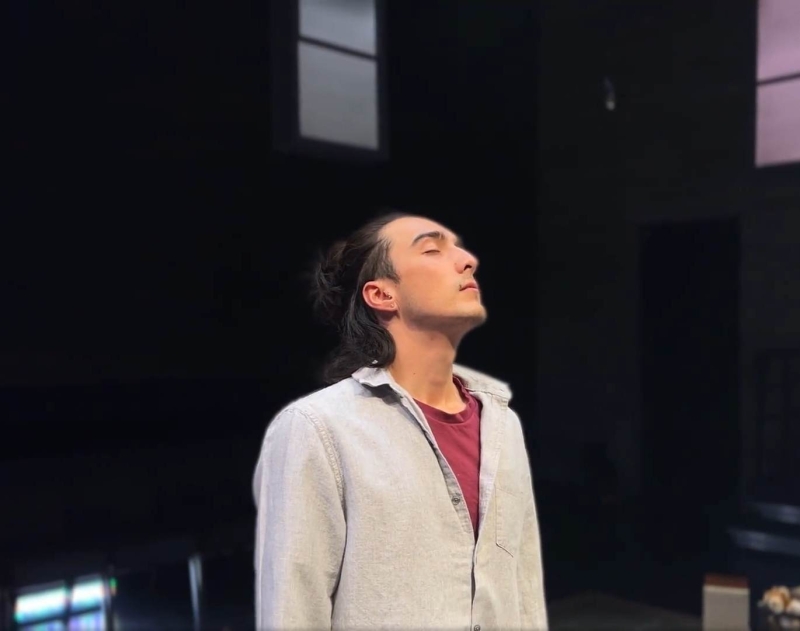 Miramontes brought a lot of intensity to her role, and with the Black Box being such an intimate venue, every emotion was felt by the audience. The power of her ability to emit such raw and real feelings at the rapid pace that the play shifted was impressive. Urbi brought a softness to B, which was more understandable as the play progressed. They had the right kind of chemistry with Miramontes and still gave more once Henry entered the story. Rakhshanifar's character gave off tender, hero vibes, until it was time to retract and go away. They were strong and dynamic. All three worked well in presenting this piece that relied on accurate beats and tempo in the performance. The importance of the play was understood and the ending was intriguing.
Before the show, I decided to eat at The Commons, which is located in the lobby of TheatreSquared. The Commons serves different beverages, both alcoholic and non-alcoholic. I do regret not having the themed drink, which was inspired by SANCTUARY CITY, but I did try the Chicken Salad Sandwich and Hummus dip with veggies.
As much as I wish I were a food critic, my education in the culinary arts is nonexistent, so I will tell you that the menu on the website says the "Hummus (is) drizzled with olive oil, (and) served with carrots, cucumbers and Pita Bread." The Hummus also had some red seasoning (paprika?) on it as well. It was so tasty and plentiful. For the Chicken Salad Sandwich, it is "Oven roasted chicken, slivered almonds, celery, dried cranberries, and mayonnaise balsamic dressing served on a toasted bun." It had the right amount of dressing mixed into the creation, and the bun was toasted and tasted like a bread bowl bun. It was all so good, and reasonably priced for the amount of food and venue location. In fact, it was more than I could eat, but I loved it and can't wait to try other items on the menu.
After the show, my host Andrea Newby gave me an extensive tour of the facility. I have already said in previous articles about how much I LOVE this theatre, but after the tour, my love for it grew even more. This building has won five architectural awards, and it is well deserved. I was taken to the top floor and walked across the catwalk that is 30 feet above the main stage.....so cool!!! We saw where the costuming magic takes place, rehearsal space, set construction, lighting, sound, all of it! It was a theatre lover's dream come true to check out all of the special places that create the fabulous art that this theatre produces. TheatreSqaured is a blessing to Arkansas, and everyone should come check it out.
For more information and tickets, visit their website at www.theatre2.org, or give them a call at 479-777-7477.
Creative Team:
Esteban Arevalo Ibanez - Director; Kimerly V. Powers - Scenic Designer; Jennifer McClory - Costume Designer; Nita Mendoza - Lighting Designer; Cricket S. Myers - Sound Designer; Emely Zepeda - Stage Manager; Brodie Jasch - Props Lead; Amber Holley - Assistant Stage Manager.
Cast: Ana Miramontes - G; Brennan Urbi - B; Nima Rakhshanifar - Henry; Audrey Romero - G u/s; Trey Smith - B u/s.