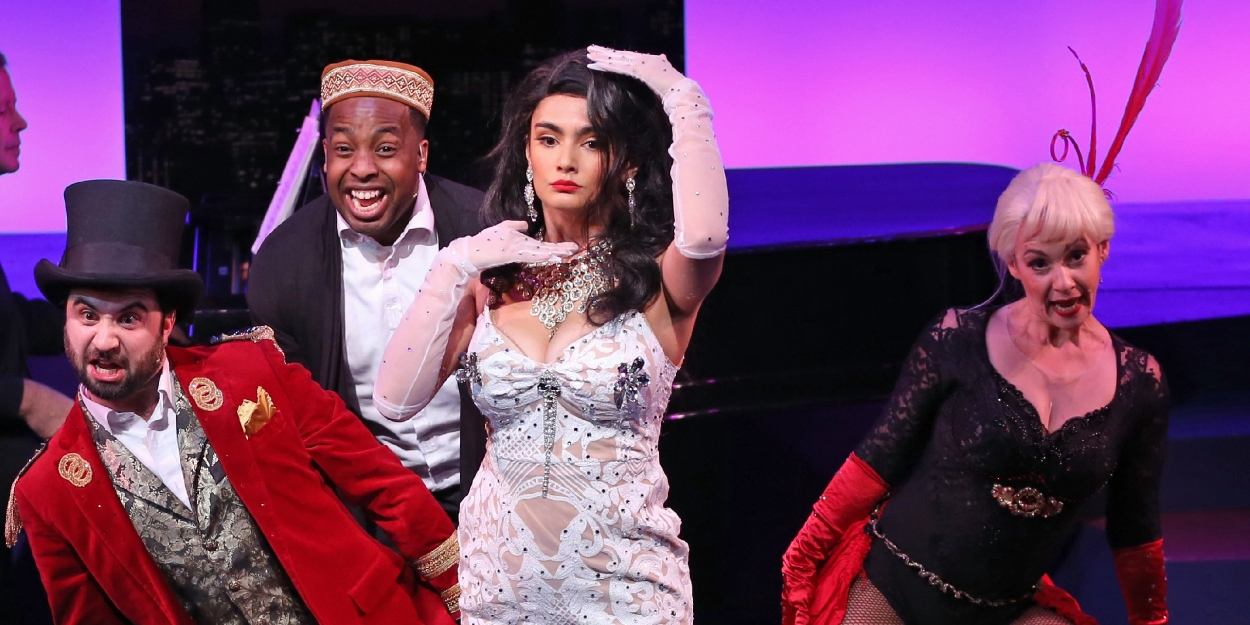 Review: FORBIDDEN BROADWAY at Starlight Indoors
The Next Generation
There is an old show business joke about how some folks will do anything to get on the stage. The punchline is: "This stage is leaving after Sunday." This time the show is: "Forbidden Broadway, The Next Generation." It does leave after Sunday, but you can climb aboard the "stage" indoors at Starlight tonight (Friday), tomorrow (Saturday), or Sunday for a really fun ride.
Anyone who smiles (at that really bad Dad joke) can climb aboard as "Forbidden Broadway" the musical parody performs on the actual indoor stage (not the Butterfield Stage) at Starlight Theatre in Swope Park in front of an audience of about 500 wildly amused patrons.
"Forbidden Broadway" is a thorough skewering of all those Broadway shows you've either seen or hoped to see. Broadway sees its own reflection in a funhouse mirror and has a big belly laugh at its own expense.
"Forbidden Broadway" began its epic journey in 1982 as a cabaret revue at Palsson's Supper Club-Off Broadway in New York. It continued for over twenty-three-hundred performances. With touring versions and off-Broadway performances, "Forbidden Broadway" is creeping up on over ten thousand showings.
Every couple years since, the jokes and the shows lampooned are updated and a new version is born. A new "Forbidden Broadway" is assembled and directed by the original playwright. Boston's Gerald Alessandrini. Alessandrini first had this silly notion in 1981 and audiences ate it up.
"Forbidden Broadway, The Next Generation" is about the twentieth iteration of the winning formula. The show, both off Broadway and touring, is now in its fortieth year of allowing people to roar in laughter.
Starlight offers a super touring cast of four and the world's hardest working Pianist/Musical Director Catherine Stornetta. This five-some does their level best to sing, mug, and dance their way into the audience's hearts. The cast is Chris Collins-Pisano, Gina Kreiezmar, Kevin B. McGlynn, and Katheryne Penny. These are talented performers and comedians. Any show parody or regular production would be happy to have them on their stage.
This cast is very lighthearted with their rapier-thrust abuse of more than thirty Broadway productions. It is their over-the-top impressions and over seventy-five ridiculous costume changes that make this show a guilty pleasure. No Broadway musical is safe.
Penny does an inspired Bebe Neuwirth from "Chicago." Collins-Pisano plaintively complains "Bring Him Home" from "Les Mis" is written too high for any human to sing. McGlynn produces a credible "Phantom" against "Kreiezmar's Ethel Merman rant on the current Broadway singing style.
One of my favorite bits is a thirty-year-old "Annie" begging for another revival because she hasn't worked since her ten-year-old "Annie Contract has long since expired.
Dance numbers parody the entire Bob Fosse catalogue, the first-act finale to Les Miserables, the late Stephen Sondheim's penchant for narrative lyrics which are always a nightmare to memorize, and the "Tradition" opener from "Fiddler on the Roof" renamed "Ambition" to describe why actors works so hard against impossible competition. In addition, the cast makes fun of shows like "Dear Evan Hansen," "Hamilton," "Frozen," "Cats," "Les Misérables," and "Phantom of the Opera."
It has been a forty years of inspired silliness. If you are a big fan of musical theater who has never seen "Forbidden Broadway" or you haven't caught the show in years, the high-octane energy from the cast and the group's classic parodies are definitely worth seeing live at least once.
Let the silliness continue at 7:30 each night on the "stage" at Starlight through Sunday before it packs up its trunks and rolls out of town. Tickets are available at kcstarlight.com or by telephone at 816-363-7827.