BWW Review: MAMMA MIA at New Theatre Restaurant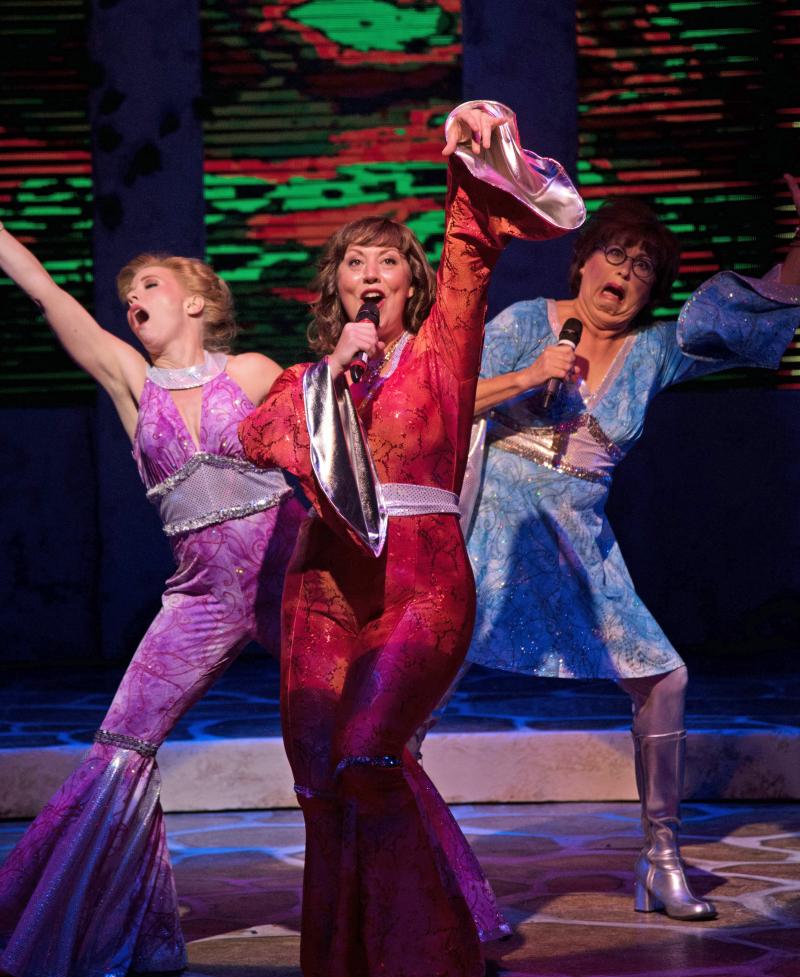 Donna Sheridan (Shanna Jones) was the lead singer in one of the early female power trios, "Donna and the Dynamos," back in the summers of love period in the late 1960s. She found the love of her life, Sam Carmichael (John Franklin), and lost him to a previous personal commitment while Donna and her crew performed among the Greek Islands in the Mediterranean Sea. That summer Donna had two rebound relationships with other men. All three relationships were documented in her diary. Donna became pregnant by whom Donna is not sure.
Twenty-one years pass. Donna has grown up. She owns a resort hotel on one of those Greek Islands. She is still attractive, but has eschewed further relationships. Donna has been a great Mom. That pregnancy from a lifetime ago is now a 20-year-old young woman named Sophia (Briana Rapa). Sophia is getting married. She dearly wants her father to walk her down the aisle. Unfortunately, she does not know his identity.
Sophia has discovered her Mom's long ago diary and identified three possible candidates to be her Dad. Secretly, she invites all three potential Dads to the wedding. They all accept and arrive within minutes of each other. In addition to Sam, already mentioned, there is Harry (Charles Fugate) a London Banker and Bill (Craig Benton), a world-trotting writer. Also invited are Donna's former bandmates, Rosie (Deb Bluford) and Tanya (Jennifer Mays).
Sophia's secret plan quickly unravels much to Donna's distress.
"Mamma Mia" is one of those shows that is a pleasure to revisit. It features the music of the 70's Swedish Rock Group ABBA. The direction and choreography by Lisa Stevens is beyond reproach. The amount of use they get out of a small stage with multiple drops, rolling platforms, and choreographed prop changes is remarkable. Costumes favorably compare with the West End originals. The live band, hidden under the stage, is top notch. The show ends with a mini-concert of familiar and delightful ABBA hits.
This cast is as good as you are going to find on any stage. In particular, Shanna Jones as Donna is super. She had a great voice and dances right along, but this Kansas City area pro possesses the ability to project remarkable eye content and expression transmission with her fellow actors and the audience. You have to love Briana Rapa as Sophia. Josh Franklin as Sam is excellent. Anthony Sagaria as Sky is a perfect love match for Sophia.
"Mamma Mia" continues at "New Theatre Restaurant through September 23. Tickets are available on their website or by telephone.
Photos are provided by New Theatre Restaurant.