CONSTELLATIONS Opens In Shizuoka, Japan This Week
Performances run from 6 to 8 May 2022.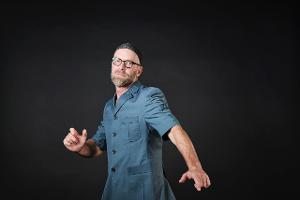 A Japanese version of Brett Bailey's Constellations will be presented this weekend by Third World Bunfight at the World Theatre Festival held at the Shizuoka Performing Arts Centre (SPAC), from 6 to 8 May 2022.
Based on the outdoor concept that was held on the banks of the Eerste Rivier at Spier Wine Estate last November, Bailey and the SPAC festival team will be working with eleven local performers - puppeteers, musicians, dancers, storytellers, thinkers, musicians and poets as the Guardians.
Constellations is Brett Bailey's arts project for the pandemic era, conceptualised and designed by him and produced by Third World Bunfight. The short season in Japan marks Constellations' third iteration and Bailey is delighted. "The landscape here in which Constellations will be seen is beautiful and magical, and I look forward to seeing how an event that was born on the banks of a stream at Spier Wine Estate, evolves in the forest at the Shizuoka Arts Park."
Third World Bunfight presents Bailey's diverse works: theatre productions, installations, operas, house music shows, and site-specific performances. His idiosyncratic, iconoclastic works focus a probing lens on the world we live in; in particular the post-colonial landscape of Africa, and the historical and contemporary relations between Africa and the West.
Constellations in Japan will follow the same format as what was presented in Cape Town, South Africa. Each night there will be three routes with three stops, and small groups of attendees will again be led to each performer by a designated Guide, walking along outdoor trails through a gorgeous part of the park. The only difference is that lanterns will replace the fires (outdoor safety rules), around which people will gather to be intrigued, inspired and moved. There is absolutely no technology in use either. Every stop is presided over by its own artist - a Guardian- who will host their own unique experience with their guests.
Essentially, Constellations is an immersive, nocturnal performance stripped down to its foundations: intimate, in nature, thought-provoking, without any frills. "In form it's not much different to how performances might have been thousands of years ago in communities all over the world," said Bailey. "It has a primal, ritualistic quality that appeals deeply to me. I have found that for performers and spectators, it is a very grounding experience. In the unstable era in which we are living - a pandemic, war, alienation, rampant consumerism - experiences like this are of deep value."
Constellations is at SPAC - Shizuoka Performing Arts Center, located at 100-1 Hirasawa Suruga-ku, Shizuoka-shi Shizuoka-ken, Japan 422-8003. ふじのくにa??せかいae?"a??c??2022 (festival-shizuoka.jp).