BWW Review: STEMA ITB Returns to The Stage with RATNA MANGGALI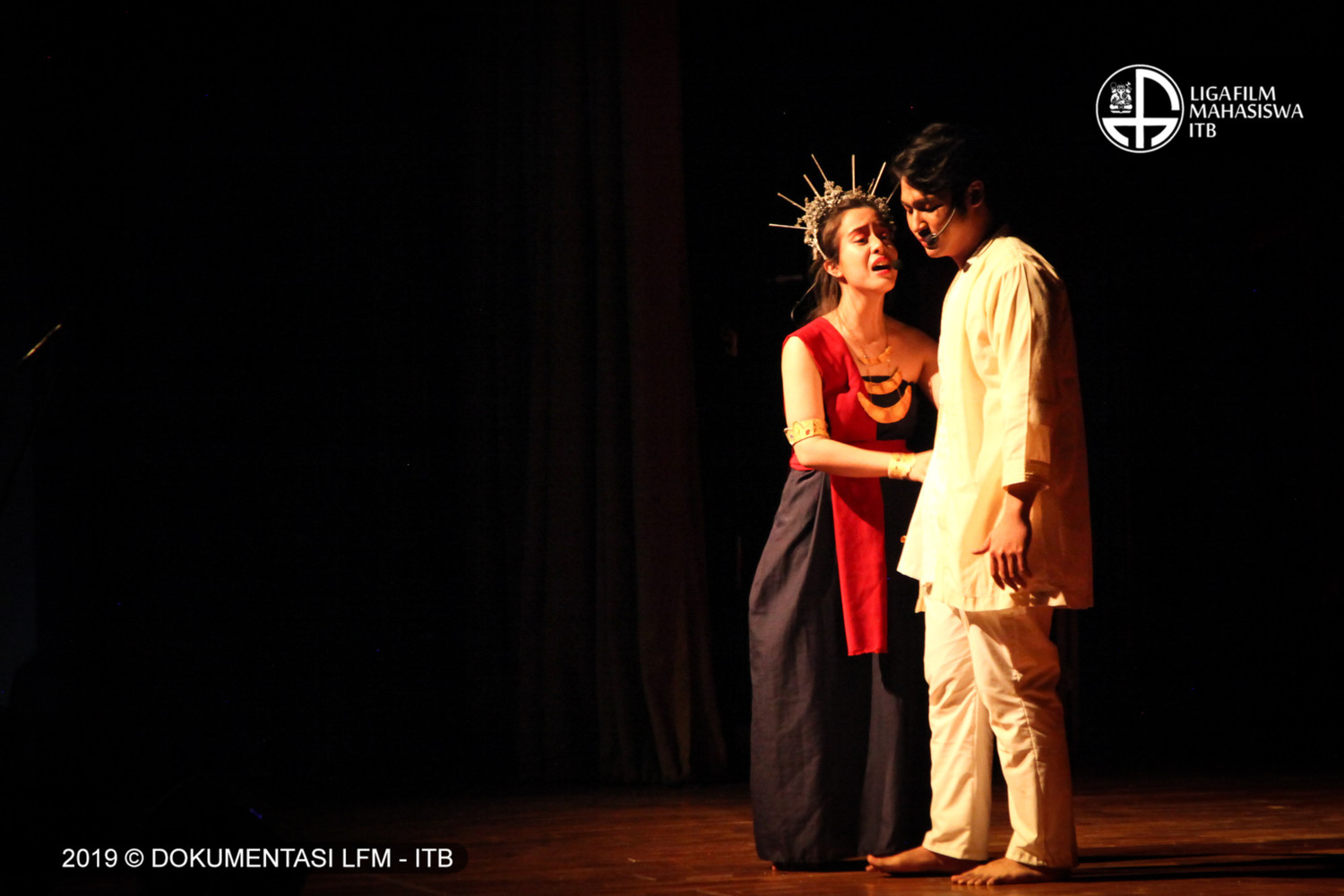 The sorceress slumps in grief as the bodies of her victims are strewn around her. Durga, the fearsome goddess, watches with indifference. It is one of the many sorrowful scenes from RATNA MANGGALI: PERIH SANG PUTRI PENYIHIR (RATNA MANGGALI: GRIEF OF THE SORCERESS' DAUGHTER) by Studi Teater Mahasiswa ITB. The show had two runs on Saturday, February 2nd 2019, at Teater Tertutup Dago Tea House, Bandung.
RATNA MANGGALI tells another interpretation of the Balinese 'Calon Arang' tale. In this version of the story (penned by Farisa Nabila), Calon Arang is a widow who resorts to begging to keep herself and her daughter, the titular Ratna Manggali, alive. Her begging earns the people of Girah village's scorn and she was cast away into the nearby woods.
She then turns to Durga, a warrior goddess, who gives her the power of magic through a scroll. Calon Arang uses this newfound power to lead a village of pariahs living in the woods. Ratna Manggali grows into a fair maiden, yet nobody is brave enough to court her due to Calon Arang's imposing presence as both the village chieftess and sorceress.
Trouble arrives when Ratna Manggali sees Bahula, a handsome kingdom official, across the river. In a bid to meet him again, she told her mother that the villagers are mocking her because nobody would marry her. The furious Calon Arang unleashed a curse upon the villagers.
Aware of the Girah village's plight, Mpu Barada, a royal advisor, sent Bahula to marry Ratna Manggali. Calon Arang was appeased; Ratna Manggali, too, found happiness. But the plot yet thickens when Bahula was given a mission to find out the source of Calon Arang's power.
The story of RATNA MANGGALI is a delightful twist to an age-old legend. It explores another side of the narrative, which typically paints Calon Arang as a ruthless witch. This time, she's a hardened woman led astray by her obsessive love for her daughter and said daughter's cunning ploy to get what she wants - love and companionship.
Satisfyingly, it does not simply swap the role of antagonist onto Ratna Manggali, instead making her a tragic anti-hero. Being smothered by her mother's protectiveness and without anyone to socialize with (other than her lady-in-waiting and only friend Janitra), her actions are understandable. Moreover, the consequences of her actions are worse than she intended, adding another layer of tragedy.
Other than the interpersonal complications, the script is also rife with social commentary, especially regarding the prejudice and outright hatred that people feel toward others unlike them. It is a brave and much needed message in Indonesia of today; the upcoming presidential election in April has created a divide along political, ethnic, and religious lines.
Scriptwriter Nabila's style is highly classical, employing monologues and ornate language. She had previously written RAHWANA: THE UNTOLD STORY in 2015, which was another play depicting a new take to a well-known villain from Indonesian folklore. Compared to RAHWANA, the character exploration in RATNA MANGGALI is deeper and more unpredictable
However, the script would benefit from another round of editing to make it flow better. That said, Nabila's style of writing is a great fit for greater-than-life stories with pronounced messages. Yet such literary stories can also be challenging to direct for contemporary casual theatergoers.
Tackling the challenge are Heriastuti Puteri as the director and Kamila Mardhiyyah as assistant director. The end result is respectable, though with several gripes that held the script from reaching its full potential. Particularly of note were some serious scenes that came across as melodramatic or comedic due to the direction and/or acting choices. In the few scenes employing most of the cast, the blocking and lighting could be improved to create more deliberate focus.
RATNA MANGGALI's artistic design (set by Zahra N.A.I., lighting by Himan Haryo, and costume and make-up by Samantha Olivia) is also a fairly solid attempt on the whole, with some room for improvement. Utilizing different leveling on stage could potentially highlight the dramatic scenes better, particularly for Calon Arang and Durga. The costumes deserve praise, providing memorable and sensible look for each character.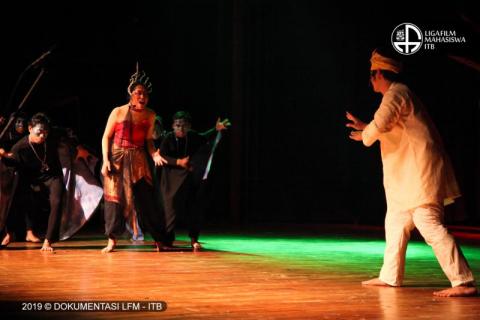 The score, by Geani Budiningsih, is mostly contemporary with traditional elements mixed in. The music is both pleasant and functional (and played beautifully by a live mini orchestra), but could use more variety among its numbers. The usage of musical underscoring also helped its atmosphere. Some scenes also made use of simple choreography; these are largely enjoyable to watch. However, there were also Western ballroom movements that felt out of place. Making use of Indonesian courtship dance might have lent more authenticity.
Where RATNA MANGGALI shined the most was, without a doubt, its acting. Kara Firza Mikaela portrayed the titular character and had great pull playing up her nefarious side, imbuing her with childlike cruelty. Ratna Manggali's mother, Calon Arang, was the most complex character, going from forlorn widow, to powerful sorceress, to heartbroken mother; this was the most challenging role of the production and Kamila Mardhiyyah ran the whole gamut seamlessly, stealing the show whenever she was on stage.
Ratna Manggali's husband Bahula was played with princely charisma by Rahmad Aji Rahadian, though his role could have used some more stage time to portray his dilemma in bertraying his mother-in-law. Eri Krismiyaningsih played the goddess Durga with utmost dedication, keeping an intense look as she observed the mortals.
Hasna Taqiyya played Janitra, Ratna Manggali's best friend, with great charm and joviality; she provided a lot of levity to the heavy script. William Justin rounded up the main cast as Mpu Barada, a fatherly figure whose gray morality jumpstarted the latter half of the play.
Unfortunately, the cast's commendable acting was brought down by technical issues in the Sound Department. Justin's microphone sounded quite off. And the sound mixing whenever there was music playing often go awry, drowning the character's dialogues and potentially losing the audience.
Overall, RATNA MANGGALI is a very welcome return to the stage for STEMA ITB, who has been publicly dormant for four years. It shows great potential from young Bandung thespians, who will surely excel even more given time and experience. STEMA ITB would also do well to invest in training for the artistic and technical side of production in order to create a more well-rounded show.
Photos: Liga Film Mahasiswa ITB
Related Articles View More Indonesia

Stories

Shows