BWW Review: PANEMBAHAN RESO Revives A Classic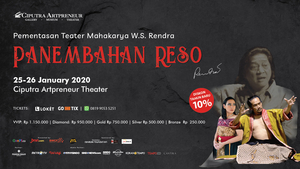 With excellent performances from a cross-generational cast, PANEMBAHAN RESO is a delightful watch. WS Rendra's biting political commentary is as relevant as ever, though the text does show its age.

BWCF Society, GenPi.co and Ken Zuraida Project teamed up to revive the legendary dramatist's 1986 piece. Written as a satire of the then-ruling government, its original production by Bengkel Teater had been met with opposition before finally ran for two days in August of 1986.

Director Hanindawan and co-director Sosiawan Leak assembled a team of actors well-suited to take on the heavy script. Particularly, the headliners, Whani Darmawan and Sha Ine Febriyanti, are well-acclaimed actors with recent hits.

PANEMBAHAN RESO tells a story of a succession crisis in a fictional medieval Indonesian kingdom. The King, foolish and aged, is seemingly teetering on the brink of death. Those looking to secure his throne include one of his wives, three princes, and his right-hand man, the titular Reso.

All the scheming and intrigue bring to mind Shakespearean tragedies; PANEMBAHAN RESO is not unlike an Indonesian cousin of KING LEAR, MACBETH, and HAMLET, with all the bloodshed that follows.

It's also stylistically similar, employing antiquated language, humor, and mannerism for the cast numbering in the dozens. Altogether, these trappings make for a distinctly classical theatrical experience (the 3-hour runtime with no intermission also adds to it).

Thankfully, the acting is strong all-around, lending the piece the gravitas it deserves and needs. Notably, theater veterans, including Rudolf Puspa, Dedek Witranto, Gigok Anurogo, and Kelono Gambuh (a stage name bestowed by WS Rendra himself) shared their honed expertise.

The most impressive performances of the night came from the headliners. Citra Award winner Whani Darmawan navigated the complex role of Panji Reso with great charisma and nuance. As the lead role in the sea of morally grey characters played by experienced actors, he managed to make Reso thoroughly fascinating to follow.

Sha Ine Febriyanti, a celebrated actress most recently remembered for her role in the movie Bumi Manusia, played the dignified and ambitious Ratu Dara. She was every bit as impressive as Darmawan. Watching these tour-de-force sharing a stage made for a memorable evening.

The main centerpiece of the set is a stage-wide set of steps. It's a simple yet elegant addition, creating a vertical space for the director to block these characters while symbolizing the hierarchy of caste and power; those characters closest to power can stand on the very top, while those proselytizing or biding their time take the lower levels.

This flight of stairs is framed on three sides by white screens that serve as the medium for shadow projections that serve to form imageries of place, time, and atmosphere. These silhouettes evoke the wayang (shadow puppetry) art, a delightful twist on contemporary projections technology.

Multiple award-winning costume designer Retno Damayanti is in charge of the costumes. The costumes bring together traditional patterns, modern shapes, and a selection of gorgeous fabrics for a distinctive and pleasing overall look.

The elegant production design and capable actors make PANEMBAHAN RESO a worthwhile watch throughout the considerable length. Its charm lies in the intricate political story and the timeless message of how unchecked ambition can drive people, and even nations, to ruin.

Related Articles View More Indonesia

Stories

Shows