BWW Review: KELOMPOK POJOK's PADA SUATU HARI is Greater Than the Sum of Its Parts
It has been 14 years since poet and playwright Arifin C. Noer's passing, leaving behind a trove of cinematic and stage classics. One of those, the stage play PADA SUATU HARI is still relevant, if not even more so. KELOMPOK POJOK theatre must have thought the same as they walked on stage on August 16th. Their contemporary interpretation was adept and enjoyable.
The play begins with portraits of the life of a happy couple projected on the back drop. Unfortunately, a technical problem made the pictures blurry and wholly illegible - which would be exacerbated by having the lighting directly shot onto them in some scenes.
Nevertheless, we were introduced to Kakek ('Grandfather', played by Heriska Suthapa) and Nenek ('Grandmother', played by Yasya Arifa), an adorable old couple who tease each other lovingly as they reminisce about the good old days.
Their moment of joy came to a sudden end when Bu Wenas (Devi) enters. A woman 'as thorny as a cactus', she maliciously flirts with Kakek, invoking old memories to boast of their closeness.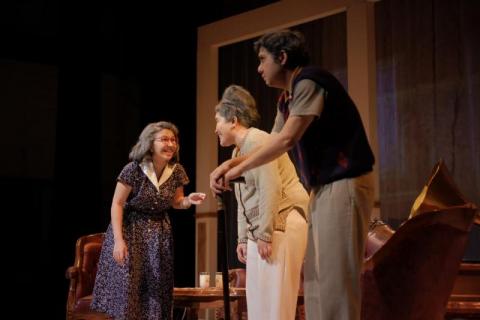 After she left, cracks appear in the couple's relationship, culminating in Nenek demanding a divorce from her lifelong companion.
Before they could work out the problem, more complications arise as their children (and grandchildren) arrive, with their own marital woes. As Kakek and Nenek admonish one of their daughters for giving up on her husband, they reflect on their own squabble.
PADA SUATU HARI is a light-hearted romp with plenty to say about the ups and downs of relationships, both familial and romantic. Director Iqbal Samudra understands the appeal of the script and worked with the actors to craft a highly enjoyable show. There were also some references to current events thrown into the script, though some fell flat, perhaps due to the unsubtle way they're being written or delivered.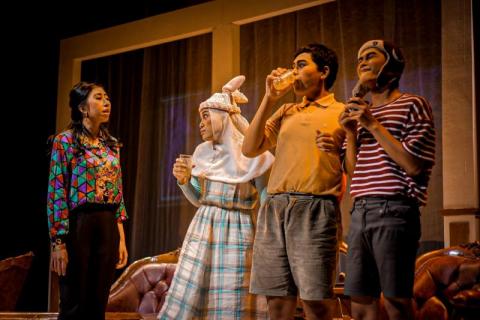 Interestingly, this production presents both Kakek and Nenek as giggling love birds, mirthful and even childlike in the way they banter and flirt with each other. Although Heriska and Yasya are both adequately convincing in playing these adorable elders, the scenes with only them tend to have a monotonous dynamic. Having more contrasting main characters would have allowed the actors to have subtler yet richer moments.
As an ensemble piece, PADA SUATU HARI truly got started when Bu Wenas entered the scene. Her words are slight but thorny; she wields them with an expertise, poking holes in Kakek and Nenek's relationship. Devi played her with grace, imbuing the character with a sincerity that elevates her from being a simplistic villain to a complex character with genuine feelings toward an old flame.
She also brought out different facets of the old couple - Kakek's sheepishness and his own lingering fondness and Nenek's jealousy. The verbal and emotional sparring between the two old women was exhilarating to watch.
Next comes the children, the mature and responsible Nita (Audrey) and the modern but emotionally wrecked Novia (Magda J.). The actresses played off each other really well and added another layer to the story; we get to see Nita acts as the sole rational member of the clan while Novia gives us a glimpse of Kakek and Nenek's wise but stern side.
Novia's children, Meli (Susi), Deli (Tama) dan Feri (Fahri) are a whirlwind on stage; the actors portray juvenile characters in all their innocence and annoyingness with high energy, with Susi standing out as the most convincing of the trio (though the bunny-ears hat helped).
Rounding up the cast are the exasperated housekeeper Joni - who's also interchangeably called Bustam and Mamet - (Randi Anggara) and animated chauffeur Pak Arba (Jonny). Though they are bit roles, Joni's snarky asides and Pak Arba's highly sprightly antics are always worth a chuckle or two. The way Pak Arba moves, with exaggerated and often nonsensical gestures reminiscent of a pantomime act, was exceptionally memorable as excellent bit of comedic physical acting.
After all these colorful characters left and Kakek and Nenek are once again alone in their home, they are left laughing at the silliness of their earlier argument. The couple share a tender moment as they tease each other, closing the show the way it began.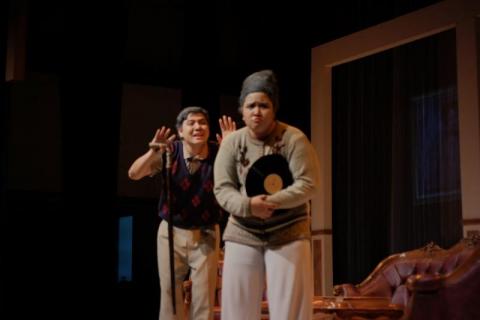 PADA SUATU HARI succeeded in presenting the absurdity in our daily lives. A big point was how parents can act immaturely like children too, mirrored in the dynamics between Kakek and Nenek with Novia and Nita and Novia with her children. It's a good reminder that adults are not always inherently mature and logical and a reality check might be needed from our loved ones.
Another message is not to give up on a relationship despite the bumps along the way. Kakek and Nenek's decades-long marriage was nearly thrown into disarray just because Wenas' brief visit, but after chiding Novia for running away from home due to a misunderstanding with her husband, they come back to their senses.
PADA SUATU HARI's cast altogether makes for a fun show with some great messages built in. And despite its faults, the show is worth more than the sum of its parts. It is a show that can only be realized owing to KELOMPOK POJOK's director, actors, and production team's great chemistry and trust for each other.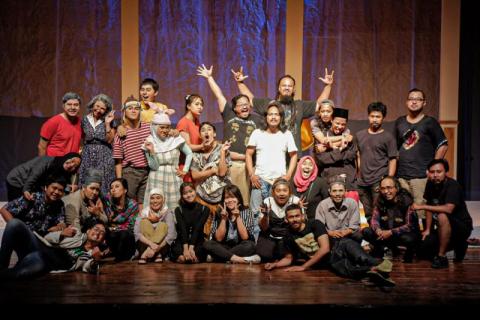 Related Articles View More Indonesia

Stories

Shows