BWW Review: JYPA's Take on NEXT TO NORMAL is Brave and Endearing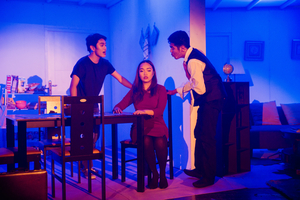 Pulitzer winning rock musical NEXT TO NORMAL is not the most obvious show to bring to Jakarta, much less by young actors still in school or college age. But despite the idiosyncrasy, musical community JAKARTA YOUTH FOR PERFORMING ARTS (JYPA) together with suicide prevention community INTO THE LIGHT tackled the challenge to highlight the issue of mental health awareness - by rocking out the stage.
NEXT TO NORMAL (music by Tom Kitt, book & lyrics by Brian Yorkey) is a work of unquestionable repute, winning not only three Tonys but also the coveted Pulitzer Prize for Drama - one of the only nine musicals to do so as of 2019. It depicts the tumultuous suburban life of the Goodmans: the mother Diana, diagnosed with bipolar disorder and desperately looking for a medication that wouldn't make her lose herself; the father Dan, who's trying to be the rock of the family without crumbling; the high-achiever daughter Natalie, prone to outbursts at her home situation; and the cheeky and sometimes bordering on malevolent son Gabe.
JYPA and producer Shana Miaziza Kharima licensed the musical through Music Theatre International to bring it to the USMAR ISMAIL THEATER HALL, Jakarta. The show ran for only once on Tuesday, August 22nd 2019, at 19.00. Posters and photos of JYPA's four previous productions fill the waiting hall.
Co-directors, creative designers, and JYPA co-founders Kyla Christie and Aisya Nabila (the latter also plays Diana Goodman) seem to draw substantial inspiration from the Broadway production; the set consists of six rooms, three on top and three on the bottom, bringing to mind the same verticality used back at the Booth Theatre by the Broadway cast. The rooms are furnished more richly than the minimalist Broadway set, however, injecting more realism to the scenes.
By sectioning the set into rooms, the creative designers can play with the lighting to set different moods for each room, or bringing them together when appropriate. On the costume front, the characters change outfits very frequently, further creating the effect of portraying a family going through the days of their lives.
It is on this set that we see the Goodmans interacts with each other, coming into and leaving the rooms as a metaphor for their ever-changing relationship. NEXT TO NORMAL is a show that not only hinges on the actors' personal acting chops - although portraying the highly disturbed and complex characters is a tremendous challenge in itself - but also the believability in how they talk, fight, love, and forgive among themselves.
As mentioned, Aisya Nabila spearheads the play as Diana Goodman. The 19 year old actress is currently studying Musical Theatre at New York University's Tisch School of the Arts; her training and experience are already evident in the way she lives her role as Diana, never once looking forced in the role as she faces the ups and downs of a flawed woman living with bipolar disorder.
Aisya's Diana carries with her a persistent expression of disorientation as she dangerously staggers on the border of delirium, making her look ethereal. She deserves praise for her consistent vocal control, even as the songs get more and more emotionally painful. A promising newcomer musical actress, Aisya would do well with more life experience to draw from for even deeper understanding of weighty roles such as Diana.
There is however a minor, but nearly ever present, sore point: her curls are too prim for someone who's barely managing to live a normal day to day life. When her hair is tied haphazardly as she undergoes medical treatment, the disheveled look makes for an even more believable portrait of a woman on the verge of a nervous breakdown.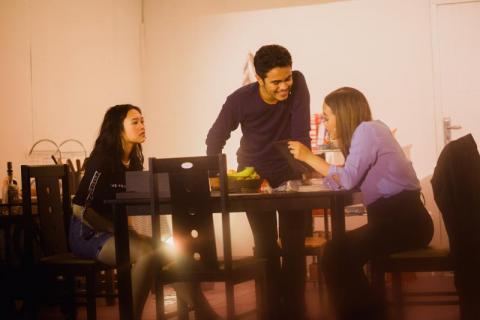 Playing opposite her is actor Mohammed Nabil Harmoun. Mohammed's run as Dan Goodman starts a bit rough, with him looking unintentionally awkward playing someone decades older. However, the actor settles into the role as the story goes on, with him reaching a dramatic high near the end of the play as he confronts Gabe and they sing a terrifying and heartbreaking duet. The way the actors physically struggle against each other, at the same time wanting of and afraid to let go of each other, is a powerful show of raw emotion.
Divanka Djamalus plays Natalie, whose age is close to her own. Although that might partially be the reason why she seems to be a natural fit for the role, her acting capability is also apparent in the snappy delivery of her often sarcastic lines. Natalie is a highly vigorous role, headstrong and naïve at the same time. Divanka brings Natalie to life with even more authenticity than the other characters and makes for an exciting watch.
Natalie's brother, Gabe, is played by Audric Ramos, whose profile states that he's currently under the tutelage of Indonesian singer and musical actress Andrea Miranda. Audric's youthful lithe energy is a great fit for the role of the agile and mystery-shrouded son, although some more exploration on the range of expression - both facial and physical - would elevate his performance to the next level. Vocally, his tenor makes for a satisfying rendition of "I'm Alive" - my favorite number in the score.
Rounding up the casts are Joseph Parhusip as Henry, Natalie's stoner boyfriend, and Aqsa Suraya as Dr. Fine and Dr. Madden, two of Diana's psychologists. Joseph plays Henry as endlessly carefree and instantly likeable. His often-awkward exchanges with the Goodmans are genuinely funny, bringing much-needed levity. And while Aqsa's roles are small, she manages to make an impression as the cold, professional, but also sophisticated psychologists. The moments where her character lapse into strangeness - becoming an unwilling tango partner to Diana as Dr. Fine and an imaginary rock star as Dr. Madden - are unexpected but entertaining.
Together, the cast have a charming chemistry to them. The winning couplet of the night was Diana and Natalie, whose complicated love/hate relationship was heartrendingly portrayed by the actresses. On the vocal department, the many harmonies of the score were delivered beautifully due to music director Edelweiss Angelita's efforts, with Act 2's "Song of Forgetting" and "I Am the One (Reprise)" being standouts.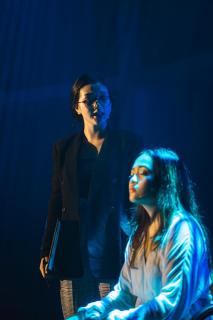 Where the show falters, unfortunately, is on the Sound Department. Some of the actors' pronunciation is unclear, partially due to inexperience in speaking in English and partially due to unpolished articulation technique, often coming off as mumbling. Some great lines of humor and drama are lost due to botched delivery. The sound engineering complicates matter, as a few of the actors' lines and even songs sound dampened. There are problems that can be rectified by better preparation in future productions.
On the production side, their decision to hold only one show and during a weekday is perplexing. More show times would have allowed more people to fill the seats. And holding the press conference (which was only one week before the show in NEXT TO NORMAL's case) at least a month or two before the show could have also helped promote it to a wider audience. As JYPA's vision is to create a self-sustainable performing arts industry in Indonesia, a deeper probe into the business side would be greatly recommendable.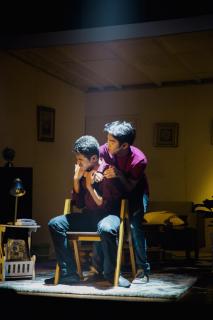 Nevertheless, JYPA's commitment to bringing a musical with an important story to tell like Next to Normal is admirable. The script in itself is heartbreaking, and it is impressive that such young actors could believably portray the story of the Goodmans, although with some imperfections. Personally, it would be great joy to see the actors revisit this script years down the line, after they gain more life experience and theatrical skills.
Overall, this production is further proof that the next generation of Indonesian musical theatre actors are not to be taken lightly. Their growing talent and brimming passion are already capable of delivering a both immensely entertaining and also touching show despite the flaws. With sustained passion and effort, JYPA's light will only shine ever brighter.
Photos: Jakarta Youth for Performing Arts.
Related Articles View More Indonesia

Stories

Shows