BWW Interview: Getting to Know PEPITA SALIM, the Indonesian Actress in THE KING AND I National US Tour Cast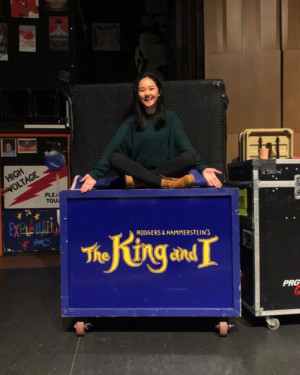 New England Conservatory student and musical theatre actress Pepita Salim is one of the few Indonesians working professionally in an US production - the national tour of Rodgers and Hammerstein's THE KING AND I. The show will run at the LEXINGTON OPERA HOUSE, Kentucky, on April 26th to 28th.
The musical tells the story of Anna Leonowens, a British governess in the court of the King Mongkut of Siam, and explores themes of love, unlikely friendship, and racial prejudice. The current US touring production is based on Lincoln Center Theater's 2016 production and has garnered considerable acclaim.
To learn more of the story behind her getting the role and the realities of working in a touring production, we talked with Pepita Salim herself.
Hi Pepita! Please tell us a bit about yourself!
Hi! My name is Pepita Salim. I was born and raised in Jakarta, Indonesia. I moved to the US for college in 2014, and have been going back and forth ever since! Currently, I am touring with the North American National Tour of THE KING AND I in the ensemble and an understudy for Tuptim.
How long have you been acting in musical theater and what are the highlights?
I grew up as a shy kid and so having the confidence of singing in front of people did not come natural for me. I played the piano and violin from a young age though, and so music has been a great big part of my life.
Starting high school, I slowly gained confidence and decided to take singing lessons and quickly found that it was my passion. I then went to college taking classical voice at New England Conservatory and I enjoyed it very much. However, there was always a part of me that wanted to try out for musical theater.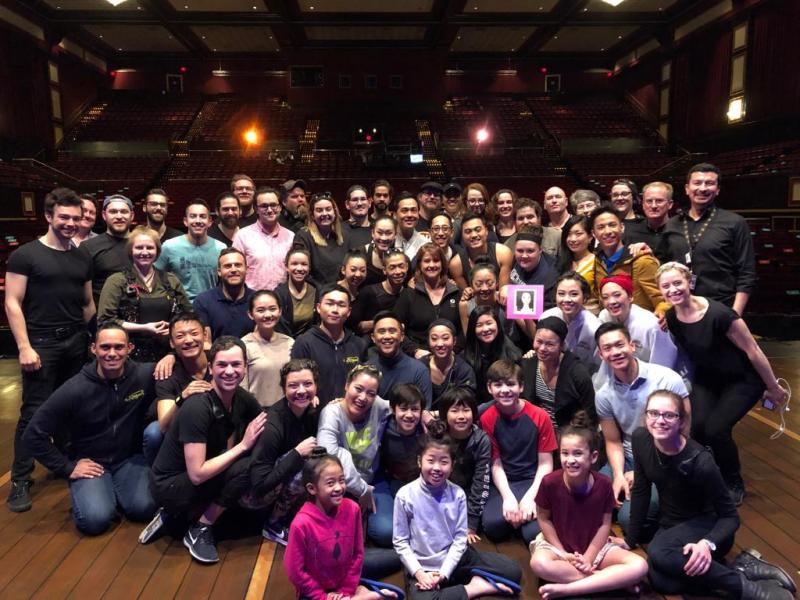 On my last semester of college, I decided to try auditioning for musicals in New York City because I didn't want to go through the rest of my life thinking 'What if?'. That's how I ended up auditioning for this musical. Coincidentally, the first and only musical I have been in was a school production of The King and I in elementary school when I played as one of the Royal Children.
How did you get into The King & I national tour cast? What was the process like?
I went to the open call auditions in New York. The first audition was the most nerve-wrecking because you go in the room and sing for less than 30 seconds and that's it! After that, I got a callback, followed by more callbacks which lasted around almost two months. Each callback, more people from the creative team are added in the room. The casting director was very encouraging which made the audition process go by smoothly. A few weeks later, I received a phone call from the casting director, telling me that I made it in the show.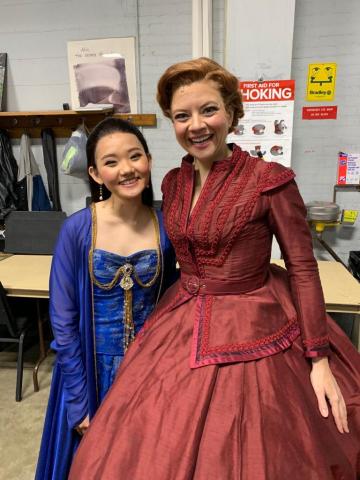 What is the life like for a touring cast?
It's actually very fun! We get to travel and work at the same time. We perform in the evenings on weekdays and have two show days on the weekend. The rest of the time, we are able to explore the different cities and try new things. I love how we get to perform in so many beautiful theaters across North America.
What surprised you the most about the job?
The thing that surprised me the most is how the crew is able to load in the show (set, props, costumes, sound, lights, etc) and load out from one city to another so quickly. They are able to fit everything into several trucks that travel with us on tour. It's amazing.
As an understudy for Tuptim, what's your take on her character?
Tuptim is a smart and strong girl. She knows what she wants and is not afraid of standing up for herself. She is curious and has the will to learn new ideas. Throughout the show, you can see her fight for love and freedom.
What do you do to stay in top shape for every performance?
The most important thing I believe is getting enough rest. I sleep at least eight hours every day and I need it because a lot of traveling and performing really drains the body. I also stretch and do warm-ups before each show to be ready.
And how do you like to enjoy your time off?
I love to explore the city; walk around and sight-see. I also love trying out new things, especially food. Each city is so unique to itself, and it's fun to learn and experience it. Other times, I'll just binge watch Netflix, or make covers for my YouTube channel.
What's next in store for you after The King & I?
For now I would love to perform more. But in the future, I hope to create a positive impact in society through music and the arts. I truly believe it has the power to bring people together and change lives.
Would you like to come back to Indonesia and perform here?
I am going back to Indonesia after the tour, hoping I can do some theater back home and also do some other projects. I also plan to try to audition more in New York in the future and seek other opportunities. I am also planning to make a concert back home.
Do you have some tips for Indonesian performers who dream of working on stage in the US?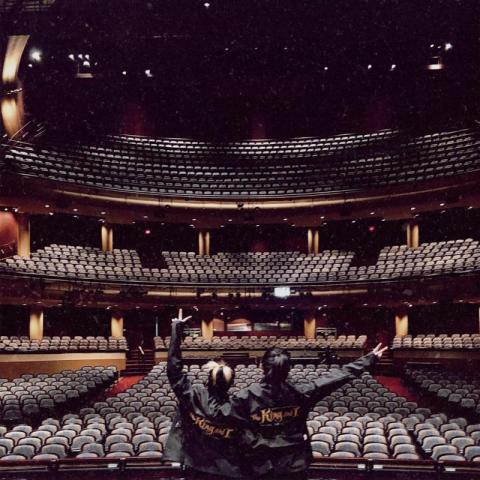 I believe training and practice is key. The more you do it, the better you would be. Start auditioning for musicals back home. We are so blessed that the musical theater world is growing in Jakarta and so there are more opportunities here than ever to perform and perfect your craft. Furthermore, keep watching more musicals and familiarize yourself with them. Always thrive for the best and never stop learning! The more you know, the better.
And finally, what's your dream musical role?
Tuptim was actually one of my dream musical roles and I am so blessed to get this opportunity. Some other roles I would love to do is Christine in Phantom, Kim in Miss Saigon, Eponine or Cosette in Les Miserable, or really, any Disney princess would be a dream!
To see more of Pepita's life on the tour, follow her Instagram @pepitasalim, You can also check out her covers on her YouTube channel. And to see where THE KING AND I National Tour is going next, check out the schedule listing.

Related Articles View More Indonesia

Stories

Shows