Review: DIALOGUES ON GRACE, A Daring Night of Theatre at 14 Pews
"What is your definition of grace?"
Playwright and documentarian Cressandra Thibodeaux posed this question to over 50 people - all of different backgrounds and different faiths - for her new documentary theatre piece DIALOGUES ON GRACE and, as you can imagine, their answers are as varied and complex as the human rainbow itself. At once deeply personal and undeniably universal, thought-provoking and incredibly moving, DIALOGUES ON GRACE is makes for an ambitious and daring night at the theatre.
DIALOGUES ON GRACE is structured around three questions. The interviewees are asked how they define grace, to share a personal story of grace, and if you have to believe in a god to experience grace. From there, Thibodeaux and actors Candice D'Meza, Marty Blair, and Roc Living successfully embody 18 different characters, each quickly, and deftly, developing a rapport with each other and the audience.
D'Meza has some of the production's most touching and powerful material - and lines that I won't dare spoil - as a transgender woman whose marriage goes unrecognized when her husband dies, a grieving mother in a gut-punch vignette called "Medical Waste," and as professor Dr. Aundrea Matthews, who drops the kind of wisdom you'll share with your friends. Blair tackles characters equally thoughtful, if seemingly more lighthearted, like an Iraqi man who's a huge fan of Carl Sagan, a Muslim proving someone's prejudices wrong, and an artist who uses the unclaimed, cremated remains of people in his work. Living is most impressive in his dual roles as Thibodeaux's boyfriend and father. (I know how that sounds, but it works.) And Thibodeaux is a commanding presence, leading the audience through her own story of grace, which at times has her hesitant and confused, accepting and grateful.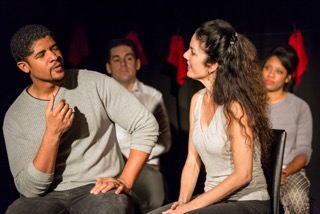 As I said, DIALOGUES ON GRACE is structured around three questions about grace, with Thibodeaux's own story offering a through-line in the script. Because the framework isn't that solid, a production like DIALOGUES ON GRACE needs a strong hand. Moving from one character to the next, one story of grace to another, prevents the show from ever lagging, but can seem to meander. Director Leighza F. Walker does her best, but will need a little bit of the audience's trust going in. I can tell you though, if you give it to her, you won't be disappointed.
14 Pews is an intimate venue, and the staging is no frills and bare-bones. Videos, pictures and intertitles add cinematic elements to the production that contribute to the feel of watching a documentary come to live, as does the lighting by Larin Pascal, which is masterfully used to frame the action and direct attention.
The sound design, by John Peeples, is also on point. The use of music throughout the show, whether it's an '80s interlude to the beat of "Blue Monday" or moments punctuated with beautiful a cappella performances - carried by D'Meza rich, gorgeous voice - of "Amazing Grace," "Battle Hymn of the Republic," and "Sometimes I Feel Like a Motherless Child."
Clocking in at approximately 70 minutes, DIALOGUES ON GRACE is truly on its way to being a complete tapestry - tight, lovely but challenging, begging the question, "how did you do this?" Tackling the subject matter alone - racism, anti-Muslim sentiment, transphobia, homophobia, etc. - is admirable, and saying so is no participation trophy. It's just true. The script is still prone to grabbing for low-hanging fruit (like a goofy white guy moment) and some of the character portrayals were questionable at best. But it doesn't distract from an otherwise compelling story.
Remaining performances of DIALOGUES ON GRACE are 8 p.m. Friday, November 25 and Saturday, November 26. 14 Pews, 800 Aurora Street. For more information, visit 14pews.org.