Review: ROMEO AND JULIET STUNS AUDIENCES WITH ITS CLASSIC STORY AND BEAUTIFUL DESIGN at Houston Ballet
Only running through this weekend, so buy your tickets now! You do not want to miss this beautiful masterpiece!
ROMEO AND JULIET...the classic, tragic love story of star-crossed lovers that seems to be performed again and again in movies, theaters, and more. As a theatre studies student myself, I am very familiar with the plot and the original show created by William Shakespeare. I have read the script numerous times for both English and theatre classes over the years; seen the traditional telling of the tale once at the American Player's Theatre in Spring Green, Wisconsin; and watched Franco Zefferlli's 1968 movie of the same name as well as many spoofs, such as the (dare I say) fantastic 2011 "Gnomeo and Juliet" animated movie. To say that our culture is (possibly overly) saturated with this tale is a fact that no one can deny.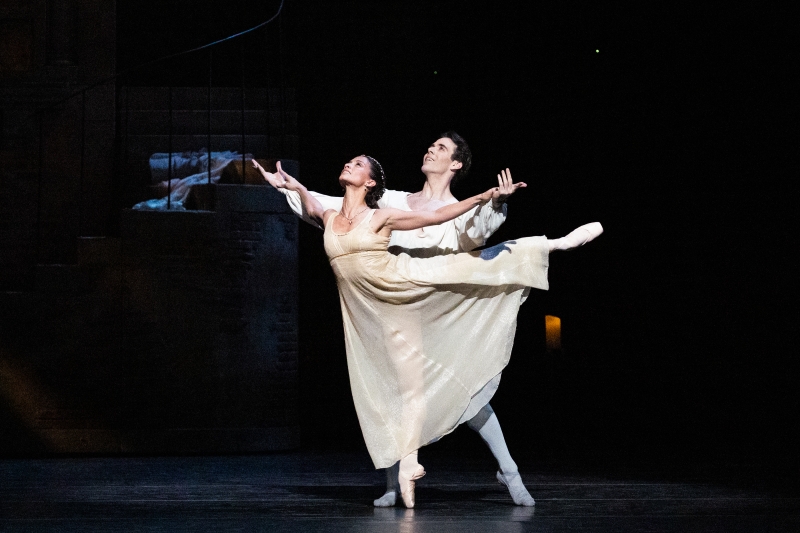 However, knowing the story of ROMEO AND JULIET, the talent of Houston Ballet's dancers, and the spectacle that the company can create with its resources, I was intrigued and excited to see how this legend would translate to dance. As I saw the production unfold before me, I quickly realized that this story should have been made into a ballet much earlier than it was (which was in the mid-1900s). With the luxurious ball, the daring sword fights, and the darting hidden romance, ROMEO AND JULIET is the perfect tale to be made into a ballet, and Houston Ballet's rendition was a beautiful portrayal of this. I am so happy that this ballet was brought back again since its first preview in Houston 8 years ago, and I truly believe that everyone should take the time to watch it before the production closes this weekend.
---
Some of my favorite parts of the production included the choreographed sword fighting in the market scene (Act 1, Scene 2) and the ball with the fabulous, paired dancing (Act 1, Scene 5). For both of these scenes, it seemed that everyone in the cast was onstage, and to see so many gorgeously dressed performers doing dynamic movements together was stunning. I enjoyed that Romeo was actually found out and shunned at the ball, too; that is not always how the story is told, but it created such a great scene of conflict and proposed resolution that ended up not being followed, making the ending even more tragic.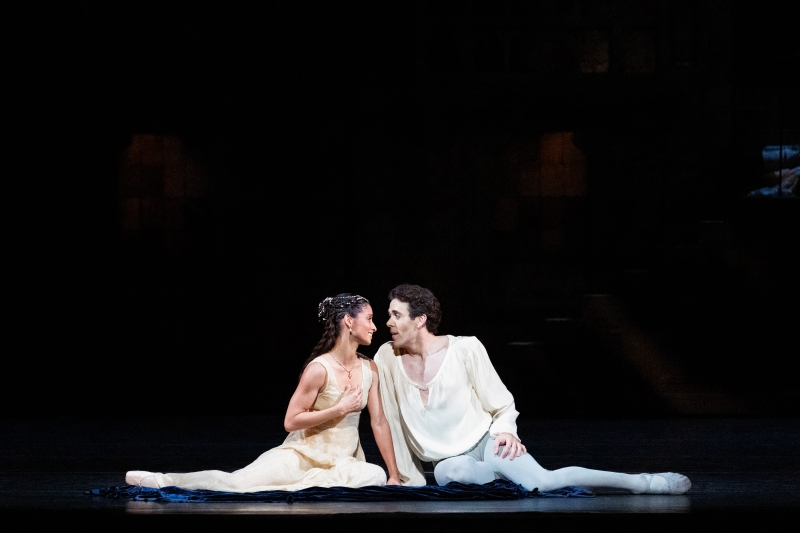 Other emotional scenes that got to me were when Romeo met with Juliet at her balcony (Act I, Scene 7), Juliet's dances with her parents, and the plague scene (Act III, Scene 5). The romantic love was put to dance so beautifully, and you couldn't help but feel the warmth between Romeo and Juliet. Juliet's dance with her parents when she was arguing against marrying a man other than Romeo was such a sad scene, especially knowing that she was eventually going to choose to take her own life despite how much her parents loved and cared for her. The plague scene was also hard to watch (in a good way); I have never seen that part of the show actually acted out. The plague is usually only talked about in the story, so to see the plague and how it ailed many was extremely impactful and vivid.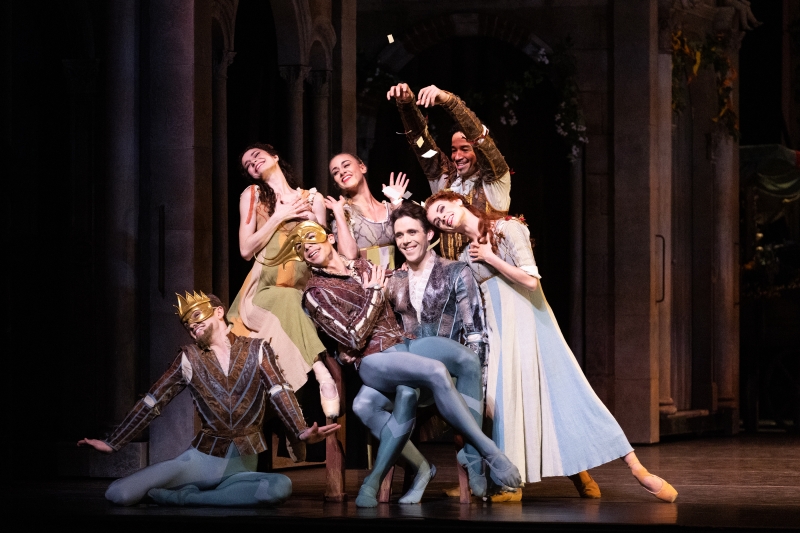 There are so many performers that caught my eye during the performance. Romeo's friends (Simone Acri as Balthasar, Jack Wolff as Benvolio, and Luzemberg Santana as Mercutio) were phenomenal to watch. Not only was their dancing so strong, athletic, and energetic, but their goofy characters stole the show. I always looked forward to whenever this trio walked onto the stage because I then knew that some entertainment was about to go down. The bawdy tavern owner's daughters (Mackenzie Richter as Katerina, Jacquelyn Long as Miranda, and Tyler Donatelli as Viola) paired with them so nicely, as well, and they all had such a good, friendly dynamic with each other, which reminded me of the cast of "Friends" (one of my favorite sitcoms of all time). Bridget Kuhns as the Nurse was so adorable to watch. She was so playful in her movements, and like Romeo's friends, she really brought out the comedy of her character as Juliet's best friend, biggest supporter, and confidante. I really liked that she was there for Romeo and Juliet's wedding; that is typically not how it is staged, but it just made sense to me.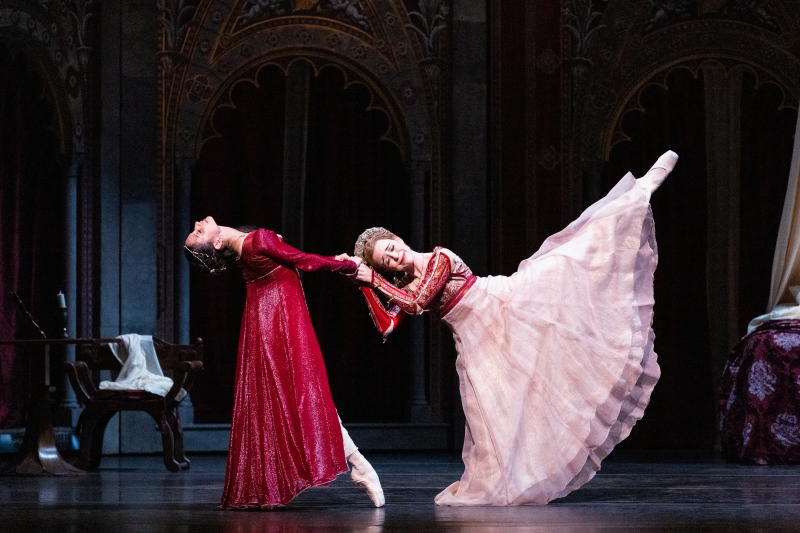 I felt that the mothers of both Romeo and Juliet- Estheysis Menendez as Lady Montague and Jessica Collado as Lady Capulet- had such emotional, compelling performances. Collado especially broke my heart whenever she found out someone had passed; by her acting, it was clear that she truly connected to the emotions of her character (and I am stoked to watch her perform SUMMER AND SMOKE next week with her strong storytelling skills!). I also want to give a shout-out to Rosaline (played by Yuriko Kajiya), who is usually only mentioned in the play and not seen. However, I really liked how she was made into a character who responds to Romeo's new love and basically calls him out for his flimsiness; how iconic! I always wondered why her reaction was never explored in the original source material.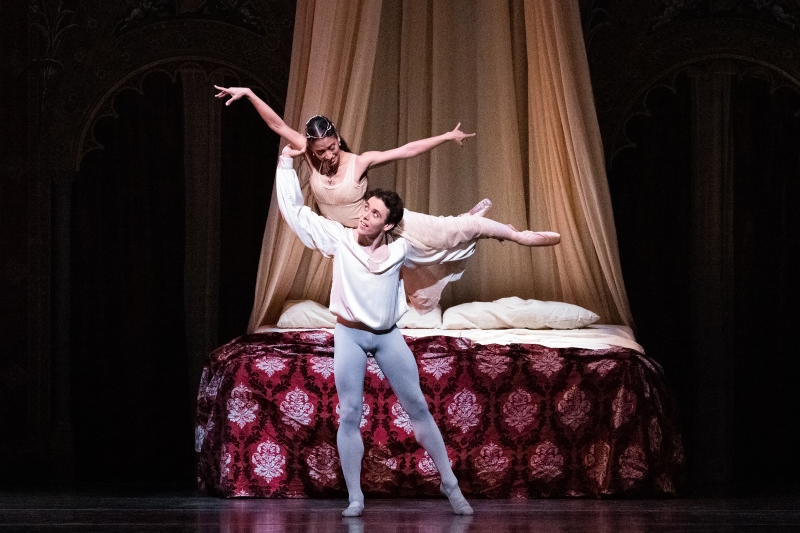 Last, but certainly not least, Karina González as Juliet and Connor Walsh as Romeo were wonderfully cast, and their movements together were so genuine and graceful to watch. I especially enjoyed watching González's facial expressions; they were incredibly powerful, and I felt that I knew exactly what she was thinking and feeling in each moment.
I also must give a shout-out to Roberta Guidi di Bagno's stunning costumes and set, Lisa J. Pinkham's moving lighting design, and Stanton Welch AM's dazzling choreography. Without these three individuals, this show certainly would not be as beautiful as it is. Roberta Guidi di Bagno is an acclaimed costume and set designer, and she imported her set materials and exquisite costumes from Italy, which added to the authentic Italian splendor seen onstage. Lisa J. Pinkham is a thoughtful lighting designer, adding such subtle but powerful designs, such as a flicker effect during the ballroom scene and a beautiful mixture of colors for the sky drop throughout the show. Also, the movements onstage lined up perfectly with Sergei Prokofiev's score, which I really adored as a primarily theatrical artist. I find that such scores as Tchaikovsky's "Nutcracker" are amazing but not as connected to the story, whereas this production's dancing coordinated with every note in ROMEO AND JULIET's music, making every move of the dance purposeful and intentional in propelling the story forward. This is due to the fantastic work of Stanton Welch AM; I am always impressed by his productions!
---
Everyone should be sure to come on out before this Sunday to see ROMEO AND JULIET happening at the Houston Ballet! You do not want to miss it. Shows are at the Wortham Theater Center, located in downtown Houston at 501 Texas Avenue at Smith Street Houston, TX 77002 across from the Aquarium. There are shows on Friday and Saturday at 7:30 pm and at 2:00 pm on Saturday and Sunday. Tickets start at only $25. Buy your tickets here!