BWW Review: THE BOOK OF MORMON preaches at Broadway At The Hobby Center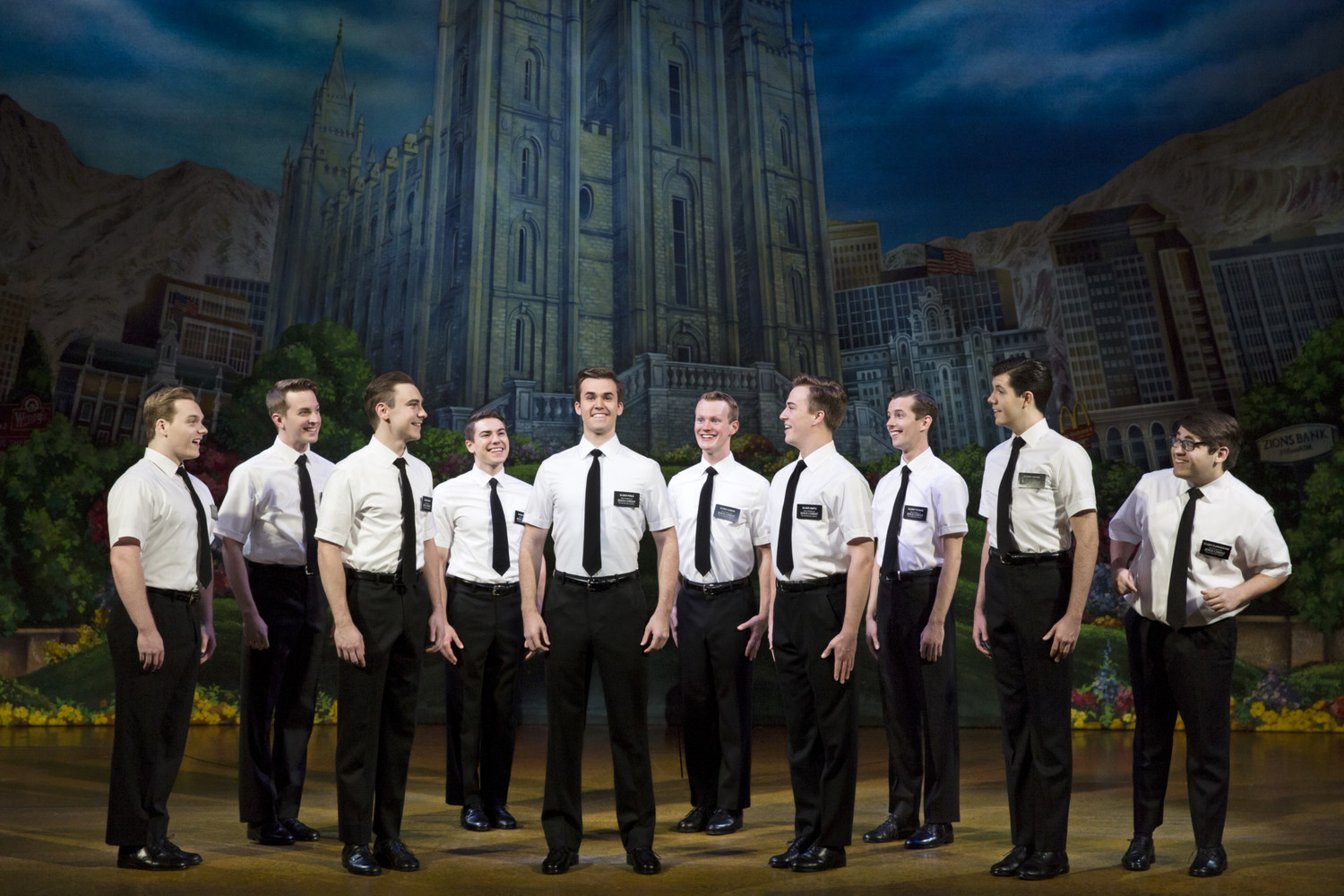 THE BOOK OF MORMON entered the pantheon of "musicals for people who usually do not like musicals" immediately after its premiere. The show attracts a wider than normal audience thanks to its connections to things like SOUTH PARK and AVENUE Q. It is perversely funny, profane at many points, but in the end shows huge heart and calls for the virtue of love and service to your fellow man. It's not exactly a family-friendly show, but it is one your 16 year-old son would prefer to see over THE SOUND OF MUSIC. Comic book nerds rejoice! Your pop culture foul-mouthed musical theater savior is here. Hello!
---
It tells the simple story of two well-meaning Mormon missionaries assigned to go and testify for the Church of Latter Day Saints in Uganda. Africa is a setting neither of the Mormons expect, and soon realize the location has dire circumstances that could make this harder than they ever thought. The villagers are angry with God and under attack by a general who wants to mutilate their women. It tests their faith, but through guilt driven dreams of hell and creative license with their religious mythology they end up saving the day and some souls along the way. And they also manage to offend every single person in the audience before it's over.
The reason THE BOOK OF MORMON works is it springs from the twisted brilliant minds of Matt Stone, Trey Parker, and Robert Lopez. Trey and Matt created the animated series SOUTH PARK, and Robert Lopez helped conceive the puppet comedy AVENUE Q. They crafted an insanely fast-paced book that whips out impressive songs bordering on Sondheim in their narrative complexity and density of words. But the twist is the lyrics and plot points are peppered with F Bombs and jokes about Africa, AIDS, gays, Chinese people, and pedophilia. The combination of well sung songs about inappropriate observations is the genius of the show. And much like their other ventures, the material has smart things to say in an ultimately heartfelt way.
THE BOOK OF MORMON first hit Broadway back in 2011. It took over eight years for its collaborators to perfect from inception, and it has become an institution ever since. To date it has earned over $500 million in its Broadway run and subsequent traveling versions. The Mischer Neurosciences Broadway at the Hobby Center has brought in an outstanding touring ensemble to deliver all of this silliness to perfection. The piece demands singers and dancers who can elevate the material and sell it, and boy they do that for this Houston run. I have no complaints about the cast.
I was most struck with Liam Tobin who plays the pivotal role of Elder Kevin Price, a faithful earnest Mormon determined to do impressive things on his mission. He gets the hardest numbers of the evening, but sings right through them with perfect pitch and hair to match. Kayla Pecchioni brings to life the innocent and sweet Nabulungi, a villager who desperately wants to believe that the white boys can save her and get her loved ones to Salt Lake City. She has a crystal clear voice that delivers the songs far and above what they demand.
The night I saw the performance compulsive liar Elder Arnold Cunningham was acted out by Jacob Ben-Shmuel who is the standby. He was absolutely hysterical performing his elaborations on the sacred texts of the Mormon church. He captured perfectly the sweetness of what his character achieves and ultimately teaches everyone - that friendship is worth more than silly stories and our faith in them.
Honestly the entire ensemble kicks some serious butt. It's a large diverse group which is refreshing to see in a major musical. As throngs of Mormon Elders and African villagers everybody creates impressive harmonies and wonderful physical comedy. From beat to beat each one of them feels up to bringing this to Broadway, and their energy was relentless.
This is one is worth catching, and do it now! I wonder how well the show will age as the years march on and some of the pop culture references begin to date it. Will audiences in two or three decades appreciate a good Nicki Minaj joke? This is the only thing that concerns me about THE BOOK OF MORMON is like SOUTH PARK it may have a "sell by date" on some of its elements.
Hasa Diga Eebowai! You only have until January 20th to get to the Hobby Center and catch this production. You can find ticketing information at https://houston.broadway.com/ . Note that performances during the day of January 20th may be impacted by the Houston Marathon, so plan accordingly.

Related Articles View More Houston

Stories

Shows