Review: Skeleton Crew Revolutionizes the Alley Theatre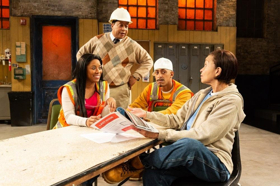 Today is the last day Dominique Morisseau's SKELETON CREW will run at The Alley Theatre. The play is the final chapter "The Detroit Project," a 3-play cycle which includes DETROIT '67 and PARADISE BLUE.
---
SKELETON CREW highlights the lives of three black blue collar workers-Faye (Lizan Mitchell), Dez (Brandon J. Morgan), Shanita (Candice D'meza)-and one white collar worker-Reggie (David Rainey)-and their response to the Great Recession in Detroit.
It is around 2008, around the time that Detroit Mayor Kwame Kilpatrick left office in disgrace, leaving behind him budget deficits and late financial audits. Faye has financial struggles that mirror the city's; Dez needs to carry a piece at all times (for safety); Shanita is having a baby in uncertain circumstances; and Reggie is ready to blow at any time.
Dominique Morisseau does something revolutionary with SKELETON CREW. She gives black characters a happy ending. (If you think this is an exaggeration, look to the criticism that Alice Walker received for ending THE COLOR PURPLE on a positive note.)
The Alley Theatre does something revolutionary as well-it stages this play with conviction, nothing held back. The production, directed by Taibi Magar, is amazingly rendered as she, as well as her cast and crew, pay close attention to detail.
Magar's approach makes sense. Dominique Morisseau rejects a summarization of Detroit. Though the characters are probably working in one of the major U.S. automakers headquartered in Detroit in 2008-Ford, Chrysler, and General Motors-Dominique Morisseau sets the play in the breakroom,which prevents the audience from conflating the men and women of the play with the machinery they work or the company they work for.
Instead Morisseau focuses on the everyday interactions. Labelled, yet still stolen ranch dressing. Fluorescent lights. A drab kitchenette. Lighting designer Jason Lynch is responsible for the blindingly realistic fluorescent lights. Scenic designer Kevin Rigdon deserves props for his props and set design.
Sound designer Mikaal Sulaiman mixes hip-hop and soul wonderfully, featuring Aretha Franklin and Detroit rapper Marquise Porter ("We Almost Lost Detroit") proving that Detroit is living.
Morisseau fills the play with meaty monologues, giving the actors a real chance to shine.
Morgan's performance as Dez is exhilarating; He expresses a full range of emotions. His character is coquettish then explosively angry and sensitive. Morgan retains the intensity of his character all the while exposing his (Dez's) vulnerability.
No one on the corner has swagger like Faye, who is played pitch-perfectly by Mitchell. Mitchell struts and slides around the stage like Huggy Bear, her pimp game stronger than Katt Williams'.
D'meza plays Shanita, a woman in her 20s with her head in the clouds. Shanita chooses a dying industry because she fears an office job-managerial-will be less satisfying. She is also pregnant and in a unhappy relationship. But she's a dreamer. And what would we do without the dreamers?
This is one of the best performances I've seen from David Rainey (Reggie). And while I'm happy to see him each year as the Spirit of Christmas Present in A CHRISTMAS CAROL, hopefully, the Alley will continue mounting productions like the SKELETON CREW that allow him to showcase his talents.
Financial crisis and decline, decaying population, corruption, broken dreams, a perpetual state of emergency. This is the Detroit we know. Dominique Morisseau shows us the Detroit she knows and loves through Shanita, Dez, and Reggie-a little dangerous and stubborn but also resourceful, loving, and full of dreams.